Happy June!! This post kicks off a little summer fun series, so what better start than a summer read? Have y'all seen the new book Whatever the Weather: Science Experiments and Art Activities that Explore the Wonders of Weather by Annie Riechmann and Dawn Suzette Smith?
You may recognize their names from me mentioning their Mud Puddles to Meteors blog and online community as an awesome resource for getting nature connection ideas. Well, they complied many of those ideas into the awesome new book!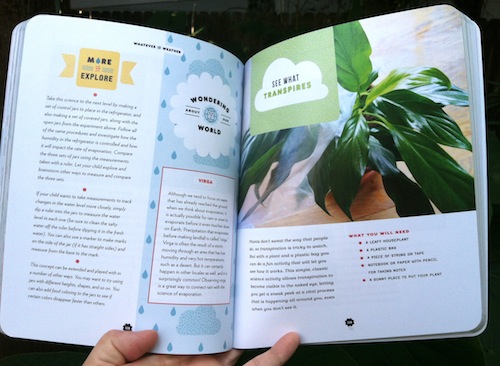 I am obviously a fan of online content, but the way I really love to get information is from real books. Colors and paper I can hold in my hands and spend time with in the woods, the beach, and places where there are no plugs and screens!
Whatever the Weather definitely ticks all my criteria for a great book: well researched content, great full color illustrations, and superb graphic design and formatting. It fits my hands perfectly – and I have small hands! This book is a delight for both adults and elementary aged children. Plus it is an excellent resource for classroom teachers, parents, and non-formal educators in community settings.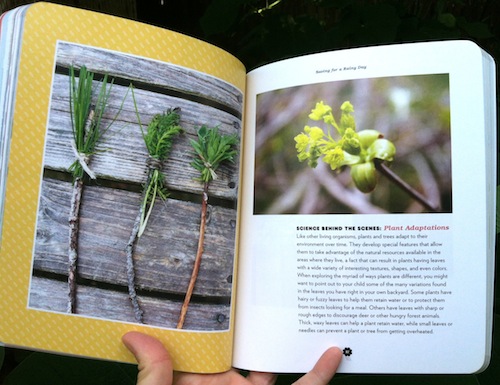 What I especially love about Whatever the Weather is that it explores creatively connecting with nature in all weather. It's so easy to feel unmotivated to get outside in weather that is too hot, cold, wet, or windy, but never fear! Whatever the Weather provides lots of practical information and inspiration for getting out there on those less than "perfect" weather days, and for the perfect days too!
If I had a penny for every time an adult had a weather excuse for why they "can't" get outside with their students or children I'd be very rich! From bugs to heat to snow to sand I've heard them all and I love that this book provides solutions and activities to eclipse all those excuses! And for those who live in climates where it doesn't get cold, the book offers ice and snow making alternatives using the freezer!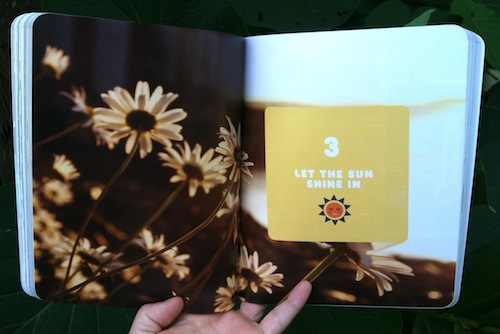 The book is divided into 4 chapters focusing on snow, rain, sun, and wind, rather than focusing on seasons. I love this because depending on where you live, average seasonal activities may not apply. The book provides both science and art projects and for each has lots of fun facts and really wonderful photographic illustrations.
It also provides info for preparation of the adult, supplies, and info and resources to answer the questions the children may ask while engaged in the book's activities. – Which is awesome because in my experience many adults have told me they avoid unfamiliar nature experiences with their children or students because they are intimidated by not knowing answers to questions the kids may ask.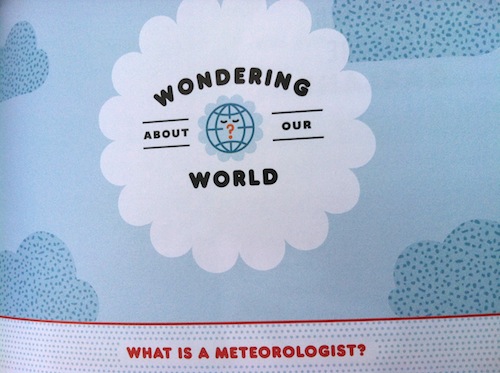 Additionally, throughout each section, there are fun fact tidbits, explorations called "Wondering About Our World" to get kids thinking about the way elements of weather affect the world, "Take a Discovery Walk" ideas to get the readers out exploring in all weather, and each activity offers "More to Explore" extension ideas to take the projects further.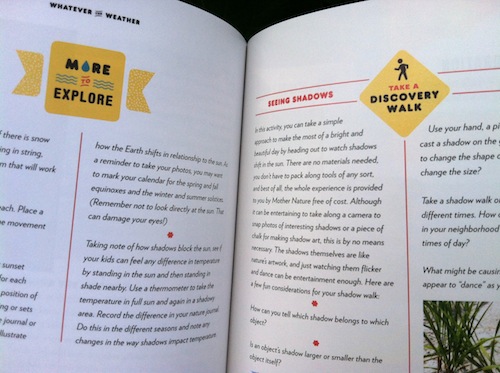 Never again will you feel trapped inside on a rainy day with this book! You'll be empowered, ready, and waiting for all weather whether snow, rain, sun or wind to get outside and get creatively connecting with nature!!
I definitely recommend picking up a copy or requesting your local library order a copy. You'll have a blast with this book all year round. It's so full of ideas don't save it until August!
What type of weather are you hesitant to get out with kids in?
What type of unusual weather do you love?
Share in the comments below!
Seeds to Sprout:
Get your copy of Whatever the Weather here or get the ISBN # to request a copy from your local library system.
Check out the Mud Puddles to Meteors site here
Check out this NASA website on weather and climate for kids for more weather ideas and activities.
Check out the NOAA page for kids and weather resources and activities.