Welcome to the fall
Draw Yourself Back to Nature eCourse
Blog Hop Day 1 !!!!
I warn you, there are going to be even more !!!!s than usual in this post because I am so psyched for the amazing artists in this blog hop & that early bird registration starts today for Draw Yourself back to nature starts today!!!!
Each day this week, one of the incredibly inspiring blog hop artists will be posting a tutorial of their interpretation of a theme or technique explored in the eCourse — on their own blogs!
AND each day, each artist will be giving away a prize!
From a
seat in the Connecting with Color: Color Theory for Nature Journalers eCourse to
hand drawn covers on Moleskin journals to
a Hummingbird kit to 2 Doodle Journals to
Original art work to
2 seats in the Draw yourself Back to Nature eCourse,
the prizes this hop won't disappoint!
Follow the Blog Hop posts each day this week and be sure to comment on the hop poster's blog so you can be entered to win the day's prize!
I will post links for you, here at Wings, Worms, and Wonder, each day to the blog hopper's blog posts too. Winners will be announced here in next Tuesday's blog post (10/13).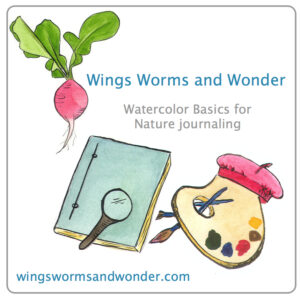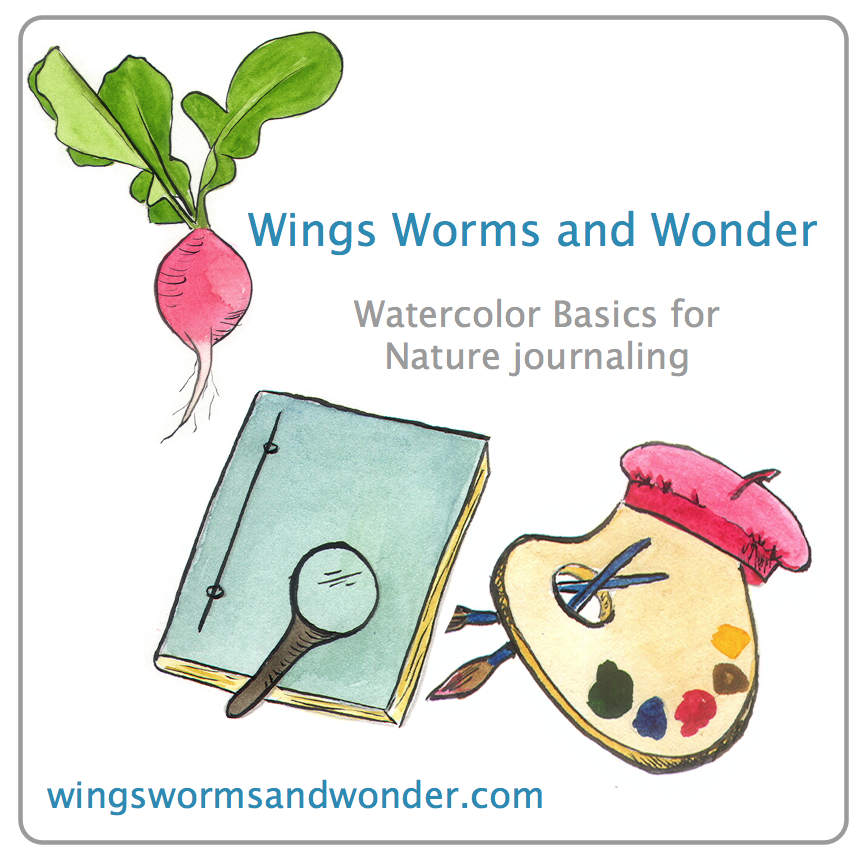 Also, be sure you register soon for the Live Journal Making Tutorial and Q&A Session this Friday, October 9, at 1pm, est! I'll be giving away a set of my Nature Journal Prompt Cards live to a lucky participant and there will be a session special too!
Today
I'm kicking off the blog hop with 2 videos on watercolor techniques for nature journalers. These 2 videos, and the more soon to come, are inspired by questions people often ask me on social media and at live workshops.
Watch the videos, then get out your paints and start playing around!
Today's prize will be a spot in the self paced Connecting with Color eCourse!!
Dry Brush Technique
Wet on Wet Technique
Tomorrow, be sure to hop over to the blog of artist Jade Kuei, aka Mumbot!
You are going to absolutely love her artwork, and she is giving away a Moleskin journal that she has hand decorated the cover!!
Be sure to check out her hop post and comment to be entered to win!!
Website: Portfolio of Jade Kuei  Facebook: Jade Kuei   Twitter: @mumbot
Tumbler: @mumbot  Instagram: @mumbot    Etsy: Mumbot
What did you learn new in these videos?
How can you apply these techniques to your nature journaling?
Share in the comments below to be entered to win!
Seeds to Sprout:
Early Bird registration for the draw yourself Back to Nature eCourse starts today! Click here to register at the $65 early bird price before it goes up to $85, 10/10/15
Already signed up for the self paced version? Upgrade to the facilitated version here at the early bird price of $20 before it goes up to $40, 10/10/15.
Register here to learn more and join the Live Tutorial Session and Q&A this Friday, 10/9, at 1pm est!
Learn more about Draw Yourself Back to Nature here!