Vermont in the summer, vacations, and sheep too?
Does it get much more fun? I don't know!
Today I am happy to welcome back Amy Parmelee to share all about her latest farm stay in Vermont! You may remember last summer's posy about her farm stay in Virginia, well she's hooked and explored a new farm experience this summer. Let's hear all about it!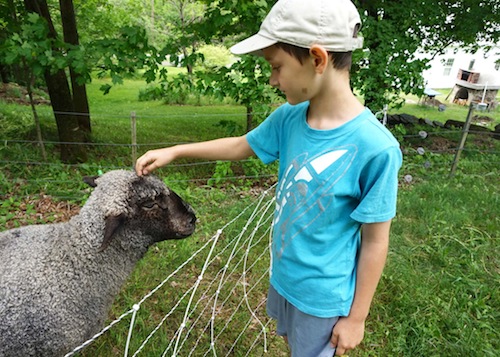 Our 8-year-old visits with a Romney sheep at Grand View Farm in Vermont during our farm stay there.
Last year, our family of three traveled to Virginia for our first farm stay vacation. It was pretty cool, so we decided to try it again in a different part of the country – Vermont.
I knew I wanted to stay on a farm with sheep, so I checked out www.farmstayus.com and simply searched for sheep farms online. I found Grand View Farm, about 30 minutes south of Vermont's capital of Montpelier.
The central Vermont location worked since the farm stay was part of a bigger trip that covered Vermont and New Hampshire, two states that I had never visited. Another mark in Grand View's favor was that the owner taught fiber arts classes and sold yarn that came from the farm's sheep.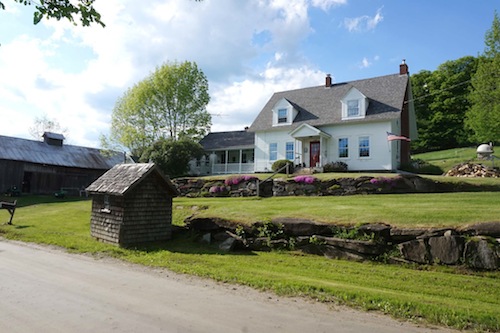 The Grand View Farm is a small family farm that also runs a bed and breakfast. We stayed in the left side of the house, with the front porch.
Just like traditional hotel vacations, farm stay sites have various amenities. They also vary in opportunities to interact with the farm residents. Our Virginia farm stay actually operated as a teaching farm, whereas, our Vermont farm stay was at a small family farm that also ran a bed and breakfast. Both of our experiences were great, but they were quite different, too.
The sheep at the Grand View Farm have a great view of the farm and mountains in the distance.
In Vermont, we had our own living space in a section of the family home.  The house, which was built in stages starting in the 1800s, had its own entry and porch, complete with rocking chairs, for guests. A small flock of sheep, along with their guard llama, were in back of the farm. Some young chickens were kept off to the side, and three pigs were busy churning up the ground across the dirt road. A garden was between the house and the sheep in the back.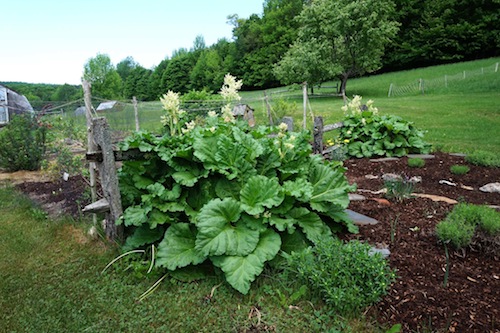 A small garden and a greenhouse help to supplement the farm's food. We were treated to homemade currant jelly for breakfast one day, along with fresh herbs. The birdhouse behind the huge rhubarb plant also had a nest full of chickadee babies.
Our time at the farm was too short, just two days (and three nights). Our full schedule and the expense kept us from staying at the farm longer. While there, though, we tried to fully experience it.
Our 8-year-old son enjoyed watching and feeding the pigs. The three sisters were wary of us at first, running into their shelter, but they soon ventured out to see us. This was our first farm with pigs. We both learned a bit about piggy behavior during several feedings with Chuck, the farm's owner.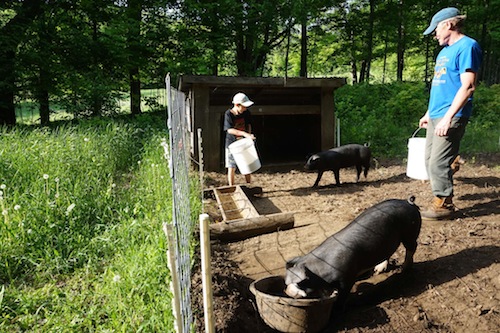 Feeding the three pigs was a highlight for this 8-year-old. Chuck was great about letting us know when he was about to feed them, so we could go with him.
The chickens were young and about a month away from laying eggs. Our son recalled his experiences with the chickens at the Virginia farm stay and talked with the owner, Kim, about how she could modify her moveable chicken house to make it easier to move. (Kim was very patient with his ideas, too!)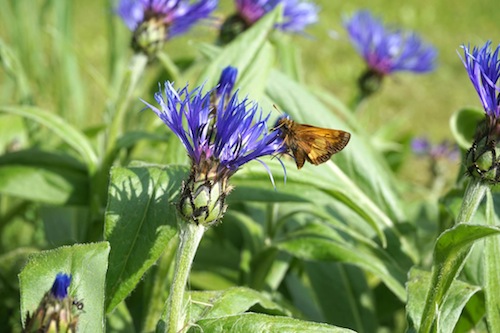 I enjoyed walking around the farm and checking out the different plants (and animals).
I enjoyed walking around the garden and seeing the different plants that were growing and seeing how the growing season differed from Florida. While the Southeast was preparing to end blueberry season, the farm's blueberry plants were still in flower.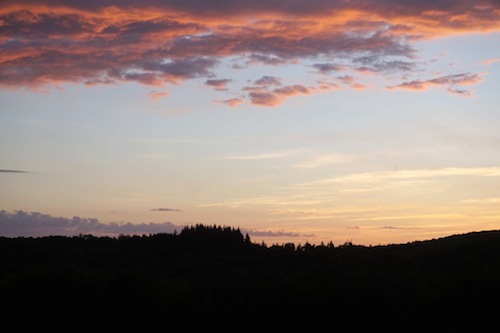 I enjoyed watching the sunsets in the evenings, especially with this stand of trees on top of the mountain.
It also was nice to walk around or just sit outside in the evening and watch the sun set behind the mountains. A stand of trees near the top of one mountain became the focus for many sunset photos.
Throughout our trip, we had cloudy nights. But one night on the farm turned out to be perfect. I wish I could have captured the view of the sky that night! What you can see once the light pollution is removed really is breathtaking. Unfortunately, my son had already fallen asleep and didn't get to see it. (The sun would wake us about 5:30 in the morning, and it didn't get really dark until around 10 p.m.)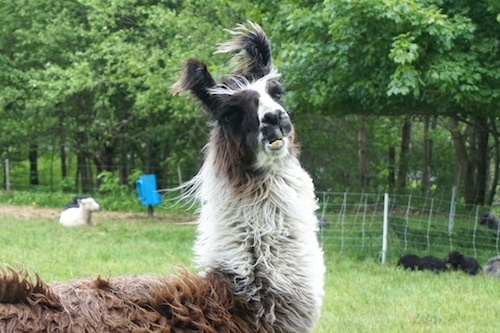 Alaska, who guards the sheep, takes a moment for a photo request as the sheep rest and graze behind her.
Because of our busy travel schedule, we weren't on the farm much during the day. On the one day we had set aside for "farm day," it rained all day and our host family had traveled to a baseball game for the day. I enjoyed some time on the front porch drawing before we took a trip to Montpelier for some sightseeing and dinner.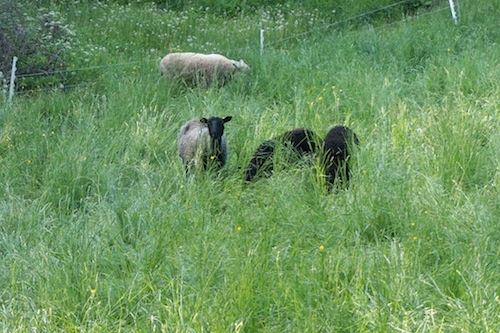 Some Gotland sheep enjoy munching on the grass. Grand View was the first Vermont farm to have Gotland sheep.
Overall, our farm stay was a success. We enjoyed some time away from the city, got a glimpse of a family-run farm and, hey, we got to feed the pigs.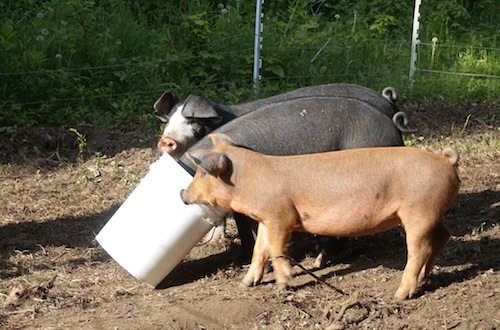 The pigs were an unexpected treat. The farm uses them to churn up the ground, and they do a really good job of that.
In addition to the tips I wrote about after our first farm stay,
here are a few more considerations.
Consider how far you are from "civilization."

If you need to bring supplies to your home-away-from-home, you may want to hit the grocery store before you arrive. We were a good 40 minutes away – and a few miles of dirt roads and mountains – from a traditional grocery store. Our stay included breakfast and a few amenities, such as a refrigerator, microwave and access to a gas grill with a single burner.

 

Easy fixings or a long drive to dinner were needed.
Talk to the owners of the farm before you book to see what you can do on the farm.

Make sure they know – and are comfortable with – the access that you would like to have. If you are going with children, see what activities are available on the farm or nearby for the children when farm chores are done. Are there trails nearby? Does a nearby city have a museum? Can you bring activities, such as simple art supplies, on the trip?
Schedule as much time on the farm as you can afford.

This way, you can settle into the farm life, (hopefully) see a brilliant night sky, and just spend time in nature, whether it's just watching the sunset over the fields, nature journaling or sketching.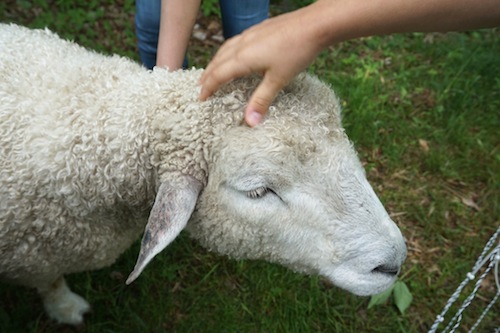 This lovely Romney sheep enjoyed all of our attention.
Have you been on a farm stay?
Share where and what you loved about it in the comments below!
If not, could you see yourself on a farm stay?
What kind of farm would you enjoy? Share below!
Seeds to Sprout:
Check out Amy's post on last summer's farm stay here.
Learn more about farmstays here at www.farmstayus.com
Check out Grand View Farm here, on IG @vtgrandviewfarm or on FB here
For the record, neither Amy nor I received any perks from Grand View for this post. We just hope to encourage more people to go on farm stays!
All photos in this post are by Amy!