Hello everyone! We're back from blog-cation and headed down an exciting new trail!
Lots of soul searching has been going on here at Wings, Worms, and Wonder this summer. From getting a new logo to deep consideration about the direction of this little creative nature centered company.
If you've been reading this blog for any amount of time you know that there has always been a focus on using the arts and gardening to connect humans to nature, I mean it's in the subtitle of my book after all, so no secret there!
The way the blog and what I offer has gone the past 4 years is, sometimes things are more garden-centric, other times more art. Sometimes ideas and activities are geared towards children, other times adults, and sometimes things are aimed at teachers and schools, while other times aimed at any and everyone interested in this topic.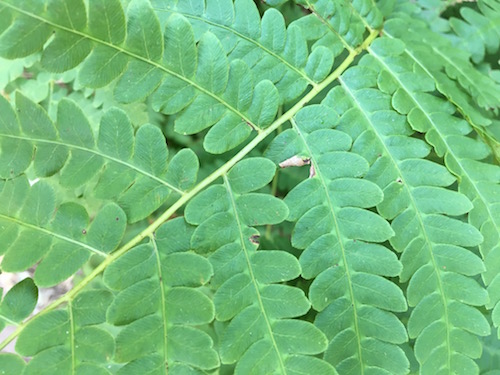 Well, you know they say you can't please everyone, no matter how hard you try, and being a first born, even if I say I don't , I do try!  But at the end of the day, it's impossible.
My attempt to serve you best is one reason why I sent out the survey in the last newsletter, to get a better idea of what you are interested in as I try to evolve and grow Wings, Worms, and Wonder as a resource and a company for you and me. I truly appreciate all your time and insights. Thank you to everyone who filled it out so far!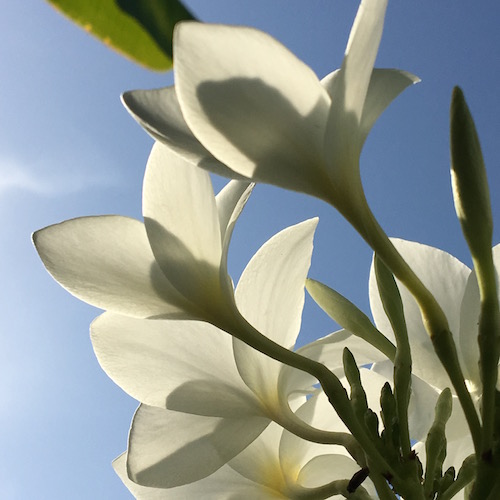 SO, here's a bit of a map of the new trail we're headed down. I hope you continue to join me on the journey! I have to admit, I'm pretty nervous writing all this to y'all. Life has proven to me time and again though that when we put ourselves out on the trail less traveled, the rewards are always the sweetest!
First on the trail we discover

,
To go with my beautiful new logo, a new website is on its way! I'm really excited to unleash that in the month or so! It will be a lot easier to navigate and will serve your needs and interests better!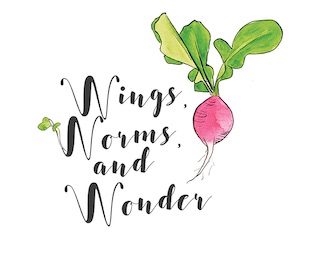 I am sooo in love with my new logo!!!!
Second

,
I've decided to send more energy into the art and nature journal side of things rather than in-person school gardening workshops. Art is where my true love resides and it's been calling me back for a while now, as you may have noticed.
Don't worry, this doesn't mean that I won't still talk about gardening sometimes. I will, I'll just be focusing on the creative connection and sense of wonder side rather than how to's of gardening as much. There are lots of resources for that out there so you will be fine – and you can always email me through the Ask Me tab on the website if you have a question! And I will still present at conferences here and there too.
So keep your eyes peeled for fun new nature inspired art to help keep you connected – from coloring books to garden journals to illustrated items and classes to Wings, Worms, and Wonder the print on demand version and eBook!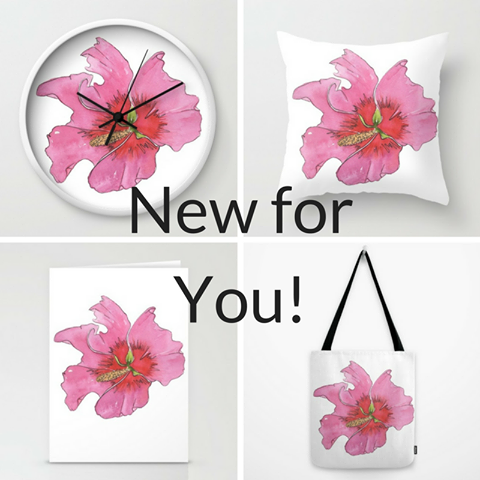 Third

,
You can look forward to plenty blog info and resources on the ways an art practice inspires our creative connections with nature and ways to deepen connections. In the long run, it's the internalization of the nature experiences that promotes ecological literacy. We need to focus on that internalization, and art is a fantastic tool to do just that. Wonder Wednesday activities will continue for at least the next year, so no worries.
So for all you Montessorians, teachers, parents, and guides, a stronger focus on nature journaling in your own life, and teaching environments, will help you better integrate your gardens and nature across curricula and programming, and will help you better prepare your students and children for their world.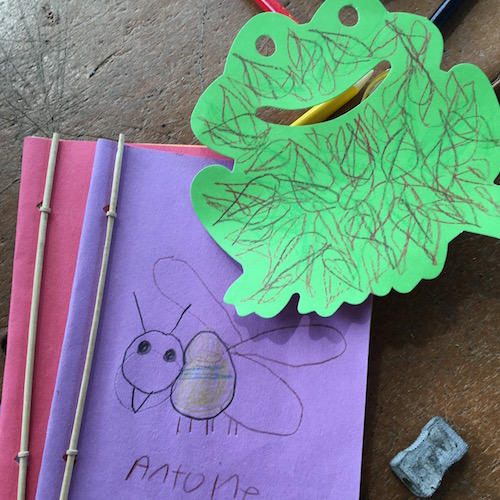 Fourth

,
There will be more ecourses to help you integrate more creative connections into your life and the lives of those in your circles. The Wings, Worms, and Wonder eCourses are:
1. great curriculum planning tools that prepare the teacher to help their students assimilate their connections with the nature outside their doors through journaling and visual art, there by deepening lasting connections and ecological literacy,
2. excellent resources to teach you to tap into the creative flow to bring peace to your daily life, and
3. they are fun – whether you have experience with art or not. If you want to deepen your connections with nature, encourage ecological literacy in yourself and those you care for, learn tools to help you slow down and make time to stop and smell the roses in life, and deepen your own relationship with the natural world just out your door, the courses do all that. They offer so much more than just drawing and painting.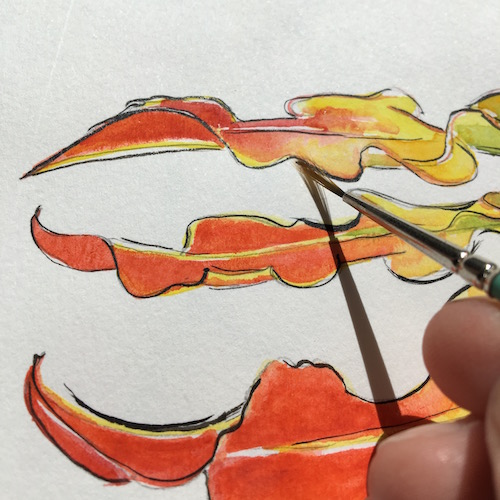 Will you continue to join me on this new Trail?
I hope so!! I look forward to the shift and am excited about the upcoming changes! I hope you are too. Actually things may not seem all that different from your side of things, so no need to worry. But I wanted to let you know that on my side, I'll be growing in the direction of more art and creativity, which in my opinion is what the world needs to help us become the ecologically literate culture the Earth deserves us to be!
Thanks again to everyone who completed the survey and I hope you are enjoying your gift! If you haven't taken the survey yet fill it out here and then email me when you complete it and I will send you your thank your surprise gift valued over $20!
What aspect of nature makes you feel instantly connected?
Share in the comments below! (for me it's garden plants and the ocean)
Share pics of your creative nature connections on Instagram #wingswormsandwonder
Seeds to Sprout:
Here's that survey link again https://www.surveymonkey.com/r/RWLXGH6
Be sure to sign up for the Wings, Worms, and Wonder newsletter here so you can stay up to the minute about VIP subscriber discounts, sales, and get lots of inspiration, gardening tips, nature connection ideas, and Wonder Wednesday activities delivered right to your inbox 2x a month! CLick here to join and get my eBook 12 Months of Wonder Wednesday Activities free!
Did you like the new nature illustrated items? There more like that to come! Notecards, Art prints, wall clocks, tote bags, indoor and outdoor pillows, phone cases, and more all to be had in my Society 6 shop! Decorate your life with nature inspired beauty! Check it out here!
Did you see my new mini coloring book in the Etsy shop? It's the first in my "Flora of…" series. This 3 page printable download is The Flora of Fun and features flowers the symbolize fun, friendship, and lightheartedness and includes their names and symbolic meanings on each page! + it's only $3!! Check it out here!