The winner of my Spectrum 2016 blog-hop give-away pass is
Sherry!
Congratulations!
Hali Karla Arts will be contacting you this week about your free pass to Spectrum 2016.
Sherry commented, "My favorite shape in nature is really the winding trails I walk down as they disappear around a bend. I'm always so excited to see where they go. I guess that would be a S shape? Also every other shape. Nature is just that awesome."
Well I agree, and I guess so did Random.org who drew your name from the list!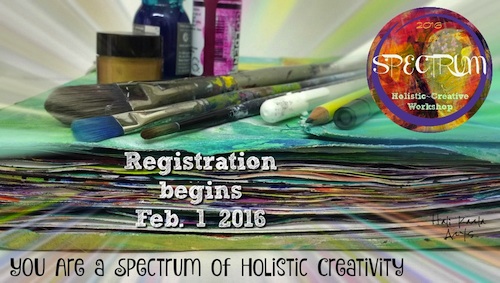 Pre-registration for Spectrum is now officially open – it's going to be such an inspiring workshop!
If you didn't win a give-away spot, you can join us at a special early-bird rate for the next 3 days.
Also – there is also the chance to apply for one of 15 all-new scholarship passes!
The scholarships are for those facing financial hardship, but who feel that Spectrum would be just the right support and enhancement for their 2016 journey. To find out if you are eligible and apply, click that link above, learn more about the program to make sure it's a perfect fit for you, and then scroll down to the very bottom of the page to access the scholarship application.
Thanks for playing along in the blog-hop – and, if it seems right, I hope to see you in Spectrum 2016 beginning May 2!