I am a big fan of educator and ecopsychologist Peter H. Kahn, Jr.'s work and his newest book The Rediscovery of the Wild keeps his bar up–high. This collection of essays (edited with Patricia H. Hasbach) focuses on the human relationship with "wild." The authors complied in this volume explore wild through many lenses including: relationships with natural wilderness, the contrast to domestic nature, our genetic need for wild, animals such as birds and wolves, children, technology, tiny wild–like germs, shifting baselines of wild, religion, and even a look at sexuality and aggression as a human tendency to wild (potential trigger alert with that particular essay).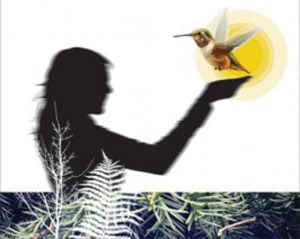 Cover art from The Rediscovery of the Wild
As someone who helps people connect to nature through primarily domestic means like gardening, I really enjoyed exploring perspectives on "wild." I always emphasize to both children and adults that no matter how controlled we think an aspect of nature is, that ii is in its essence wild. We have no control over the animals, fungi, and insects that will visit out garden and surprise us the next time we visit. These aspects of nearby nature's wild on the small scale may not be as breathtaking as a view of the night sky from a sailboat in the middle of the ocean or a face to face with a bear in the backcountry, but they are nonetheless wild and should not be overlooked as valuable contributions to nature connection. In fact, without small wild experiences, we have no foundation on which to place grand wild experiences–and really, is a ladybug larvae in a backyard butterfly garden any less wonder sparking than an elk? I don't think so, not when you take the time to slow down and let wonder into everyday life.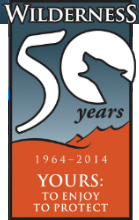 At the LEEF conference last weekend, the theme was a celebration of 50 years of the Wilderness Act. The Wilderness Act was a conservation bill that:
"Created a way for Congress and Americans to designate "wilderness areas," which represent the nation's highest form of land protection. No roads, vehicles or permanent structures are allowed in designated wilderness. A wilderness designation also prohibits activities like logging or mining.
Created the National Wilderness Preservation System, which manages the nation's protected wilderness areas.
Immediately put 9.1 million acres of wild American lands into the National Wilderness Preservation System, protecting them as designated wilderness."  (wilderness.org)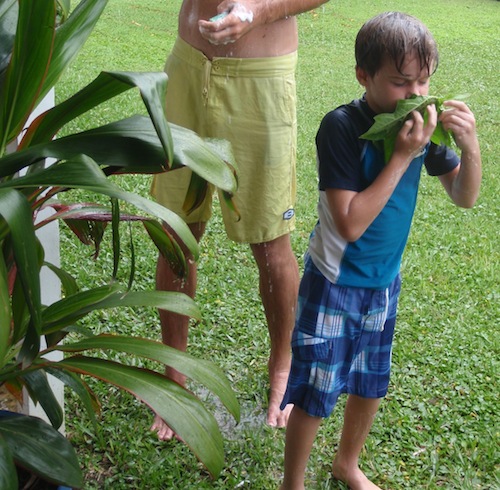 Here the boys shower wild after a rainstorm sent us home from the beach. They call this rain-off-the-roof-rinse nature's shower and wash with nature's washcloth (a papaya leaf from the nearby tree, which we learned happens to be high in saponins, so perfect for washing). Little bits of small wild make a big difference in day-to-day life inbetween the big wild experiences.
LEEF's engaging keynote speaker Steve Archibald has been a K-university level educator, workshop facilitator and Fish and Wildlife representative. He charismatically spoke on "What is 'Wilderness'?" sharing personal and professional anecdotes as well as the history of the Wilderness Act and its importance. I thought Steve was especially gifted at communicating effective ways to share story as a means for facilitating and inspiring connection to the natural "wild" that we as humans crave, but are so often deprived of.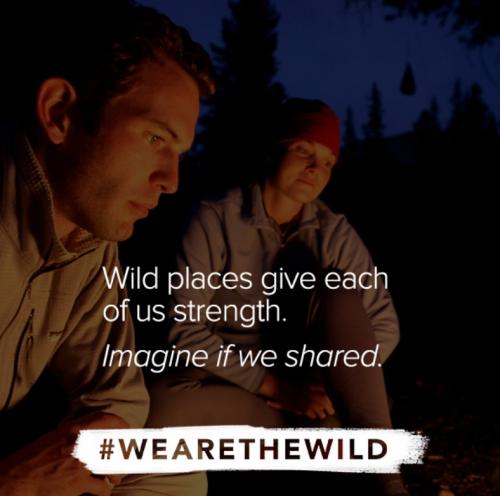 Inspire others and create connections by sharing your wild nature photos! (Photo credit Wilderness.org)
Preserving the natural biodiversity and pristine wilderness is important not only for the natural world, but also for human physical and psychological health. As Steve Archibald and many of the authors in Kahn's book elaborate, wilderness teaches us about ourselves and what humans are capable of. It teaches us how to relate to something bigger than ourselves of which we are not in control, and how that can actually feel great! Kahn also elaborates in this book, and in others, on the ideas of environmental generational amnesia and wilderness's crucial role in alleviating the lowered baselines of pristine nature for future generations.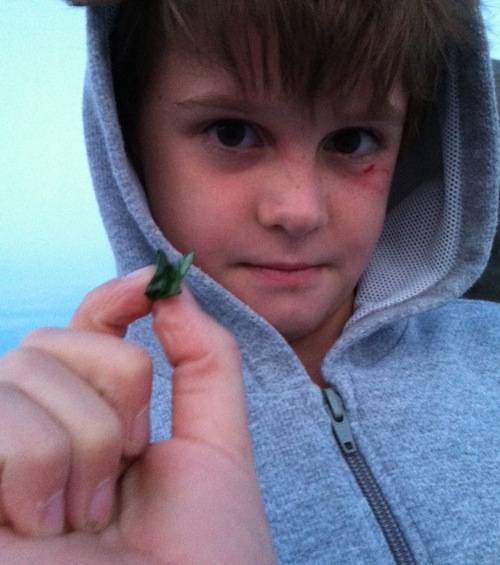 My nephews like to catch coquina (little mollusks) at the beach, pry them open and eat them. This one got spiced up by a wrap in a basil leaf harvested before we left the house. Culinarily creative for sure! Eating wild definitely connects us to the wild. I have been chomping on the chickweed in my yard recently. Wild snacking reminds me of my wild connections.
One of my favorite essays is "Children and Wild Animals" by Gail F. Melson. She elaborates on the important roles that self directed experience with "wild" animals in nearby nature settings play. "First, direct, unmediated encounters with wild animals, in which the animal responds contingently, are likely the most powerful in engaging with the animals as a social other. A child digging in the garden, for example, accidentally unearths an earthworm that then wriggles away from their hand" (110). I have experienced the shrieks of delight innumerable times of this happening. Real relationships with and understandings of the "wild" are built in the small domesticated nature settings. Children must have these in order to understand their place in the scope of big wild nature and adults must have understandings of their own small wild relationships so they can facilitate big and small wild experiences for children.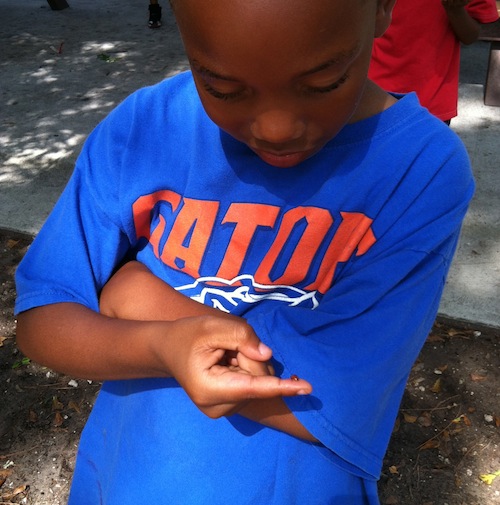 Natural wild brings natural calm and reflection. One of my students relaxes with a ladybug he found in our garden. This was a Friday afternoon, perhaps the wildest time of the week!
Wild is important. Small wild, big wild, one is not more important than the other because without one the other suffers. Rachel Carson shares stories of how she would get her small nephew up in the night to take him outside and experience a storm or a moon and how the sleep lost  was much less valuable than the impressions being made. I, and feel safe to say all the authors in The Rediscovery of the Wild as well as speaker Steve Archibald, agree. Remember, we as humans are inherently wild. Let's stay inspired to not let the children of today lose their natural wild to the unnatural wilds of the modern world. The wild is in us! Let's get out there and experience it whether in the backyard or a national wilderness preserve, or best yet, both! We owe it to our species and all the other species we share the planet with.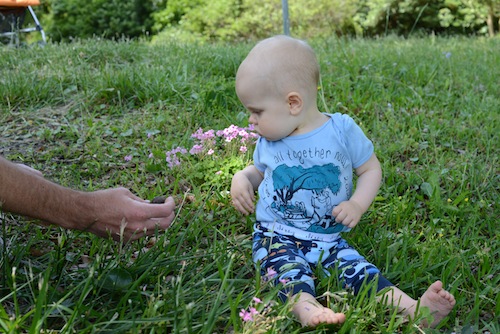 Very young children commune with wild in the smallest of things. Here my nephew explores black walnut shells and wildflowers for the first time–with an adult to share the experience. Rachel Carson would be so happy!
Remember, share your stories and knowledge of wild. They help others find the wild within themselves and inspire protection of and connection with the natural wild of which we are all a part. Celebrate Wild!! It is in you!
What wild have you experienced recently?
Share with us inspire us!
Seeds to Sprout:
Read the actual Wilderness Act policy
Watch a short video on the "Story of Wilderness Protections" by the Wilderness Society
Learn more about Steve Archibald
Check out The Rediscovery of the Wild and Kahn's other books too. But you don't have to take my word for it, read a review from the Ecologist here.
Curious about environmental generational amnesia? Learn more in this post I wrote on the topic!
See if there is a Wilderness Act celebration or event near you!