I have been waiting all winter for the perfect ice storm to get the pictures to make this post on rhododendrons, and Monday was the day! It was a 24 hour perfect set up of a hot Sunday,evening rain, followed by drastically plummeting temperatures, turning the rain to a sheet of ice over everything, and finally a wonder filled Monday snow day! Yay on so many accounts!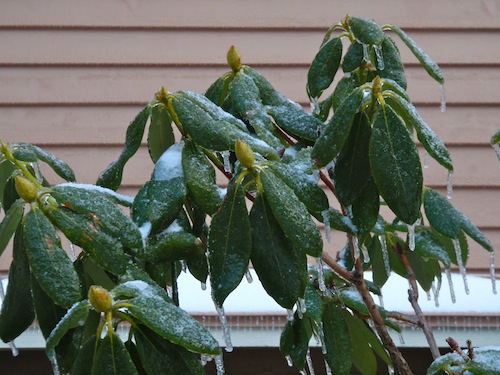 So what is so special about the rhododendron plant? Why does it deserve a post? Well, I don't really know! I first consciously noticed it about 15 years ago up here in the Blue Ridge mountains as sprigs of bright green in the winter, even though it had been right out the backdoor all my life. (And I call myself observant!) It amazes me how even when the leaves, buds, branches- everything- gets encased in ice, the plant doesn't mind. It doesn't hurt it one bit! That case of ice makes the plant look pretty, accentuating its deep green waxy leaves in the winter.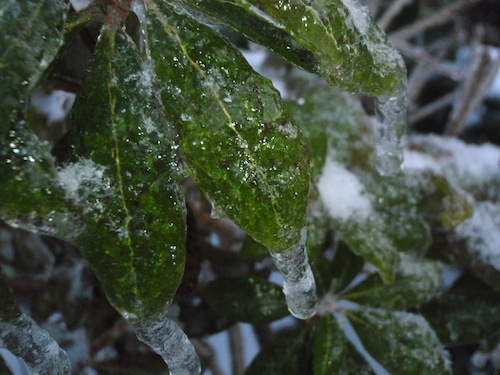 Most people enjoy rhododendrons as the sign that spring has officially set when the plant shows off its beautiful flowers, but it is the chill of winter that makes the flowers so pretty. Rhododendrons need those chill hours to develop strong buds, so that case of ice is actually good for the plant! These plants prefer to grow in zones 5-8 and like warm wet summers growing under a canopy of taller trees.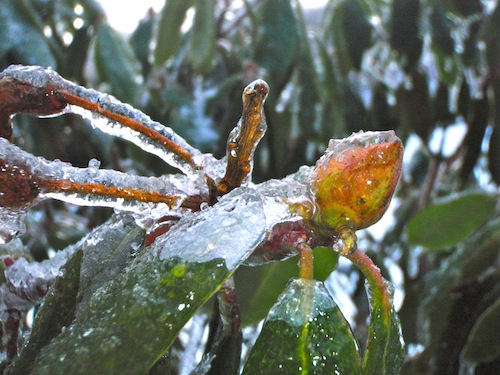 These hardy shrubs are in a genus of over 1000 species, including the showy subgenera of azaleas, and grow in 36 states. This family of plants is native to North America, Europe, Asia, and Australia and with that many species there are big, small, temperate, tropical, evergreen, deciduous, poisonous, and nonpoisonous varieties. The rhododendron is the state flower of West Virginia, chosen by public school students in 1903, and the national flower of Nepal where it is used for a variety of culinary delights.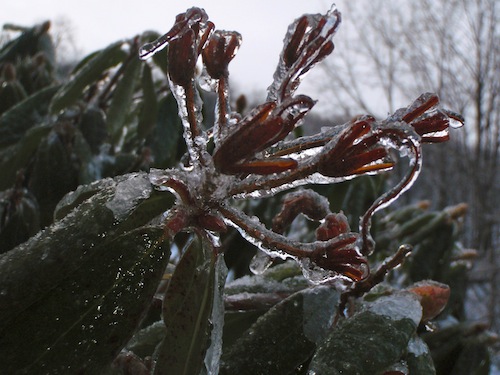 These cheerful bursts of winter green are a staple of our native natural environment that bring beauty in winter when covered in ice, in spring when full of blooms, in summer as lush green understory foliage, and in fall when adding contrasting green leaves to the reds and oranges of autumn.
So there you have it. Growing wild or as a landscape element, rhododendrons are pretty radical don't you think? We just learned more about a native plant outside our door and that is a great way to initiate place connections. Little by little we will get there while helping the children in our lives do the same!
 Have you ever noticed rhododendrons growing as landscape elements or wild in your area?
What do you associate them with? Spring, winter, flowers?
 Share your experiences below!
Seeds to Sprout:
Rhododendron plants even have their own society! Who knew! Get lots of info on the plant and growing it at the American Rhododendron Society site.
Check out what the National Gardening Association has to say about rhododendrons. I learned that they attract hummingbirds!
Not sure if rhododendrons grow near you? Check out the USDA's Plants Database site to see if they do!