---
Tea, like creativity, is a ritual. The preparation, the smell, the kettle, the cup, the spot we sit and sip, it all adds to the experience. It's a small part of the day, but when small things are done with mindfulness they can be rituals that bring joy to the routine.
Ritual also brings motivation and inspiration to our creative connection practice.
Sometimes, we allot time to connect with nature and/or work in our nature journal, but we just can't muster the motivation at said time. (And boy does that happen!) When it does, fall back on your ritual. Prepare your tea (or coffee or cocoa or whatever it may be) and focus on that process. Enjoy the artistry of every step.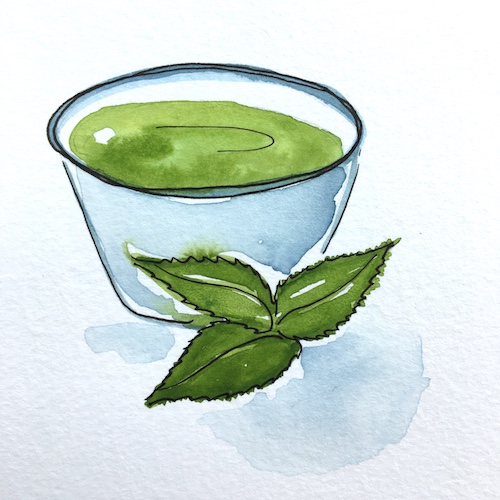 Then, sit and sip in your working space – indoors or out. Sensorially connect with the smells and flavors, the warm or cool contrasts. Consider the web of connection – plant and animal – that contributed to make the moment happen.
From microbes in the soil, to the plant growing in the sun, to the workers who picked and packed (hopefully in safe conditions and treated fairly). Consider the journey the dried leaves or beans took to reach you – their process.
And now, finally, the ritual of preparation. The moment when the process culminates in the cup. Enjoy every minute of it. Let all those lives and energies fuel your connection. By engaging with that ritual, and that cup of tea, you are now part of that web.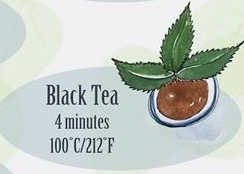 Take all the life force inherent in those tea leaves and let it power your creative connecting. Let the ritual support your creative nature connection practice. Trust the process and feel the connection. You are completing that complex cycle. Mindfulness, or ritual, honors that.
Ritual often gets bypassed for efficiency, which is kinda sad.
But it doesn't have to be that way…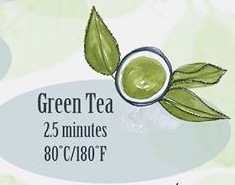 This week I had a wonderful conversation, in an interview, about the importance of slowing down for nature and creative connection. We chatted about different ways to make slow happen in our very fast paced modern life.
"The Slow Down" is where we make space for awe, wonder, creativity, and connection.
These days, we have to intentionally make things slow.
It can be tough, but we can all find 5 minutes to stop, still our bodies, quiet our minds – and when we think we don't have 5 minutes, that's when we need to stop the most, and ritual helps us have a reason to slow when we are moving too fast.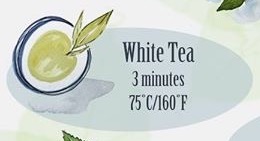 This conversation got me thinking about how tea of all sorts is a key player in the role of ritual in my life. It's such an enjoyable process for me. (ps- More details coming soon on when the podcast interview is live!)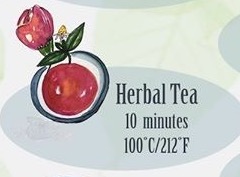 Back in art school,
I used to waitress at a tea room where I learned all these amazing nuances about the different teas from 4 women who had traveled the world in the name of tea exploration. It was fantastic – and what I learned has stuck with me all this time.
So to inspire a little slow down tea inspired ritual in your life and creative nature connection practice,
I have a printable for you 
with some of those tips I learned for brewing the perfect cup!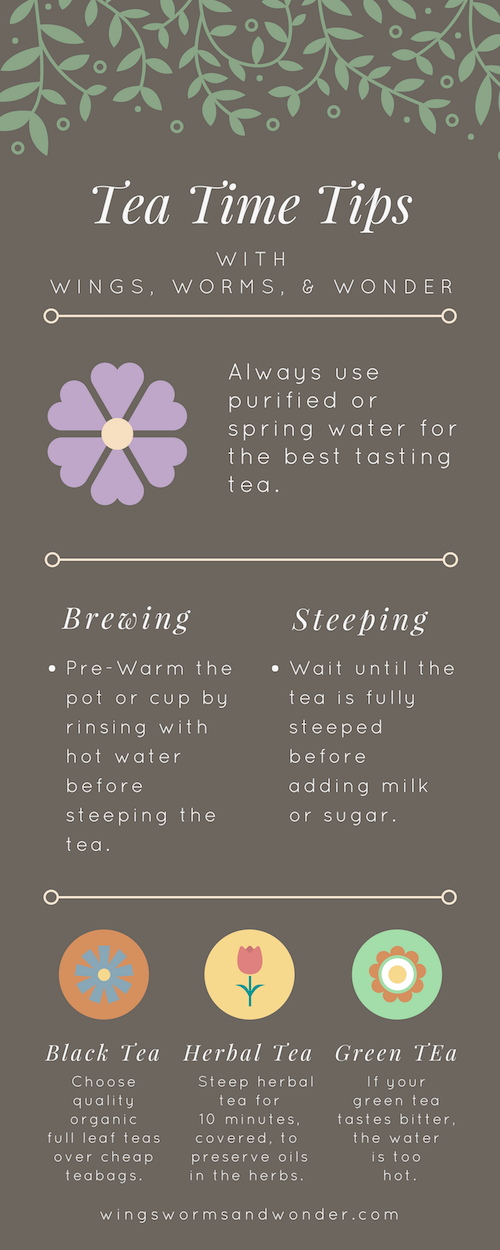 Print it out, pop it on the fridge, enjoy the ritual, and let the process and connection energize your sense of wonder and creative nature connecting!  Click here to download your Tea Time Tips printable!
And use the temperatures and times in the images included above to brew your tea just right. (Keep your eyes peeled, there's something fun in the works coming your way with those!)
Happy love day to you! You are an important part of the web of life – celebrate that with ritual, nature, and art!
What is your favorite slow down ritual?
Share in the comments below.
Share pics of your tea on Instagram #wingswormsandwonder !
Seeds to Sprout: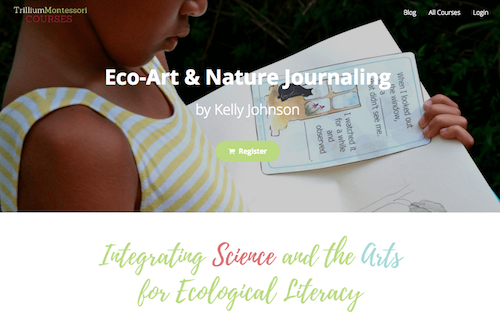 It's an encore presentation of my Eco-Art workshop from the 2016 Trillium Montessori Summer Summit! This is the first time it's been available outside of the Summit. & Not only that, we added as bonus my Nature Journal Prompts course which includes the PDF download of my hand painted nature journal prompt cards. Learn more and register here!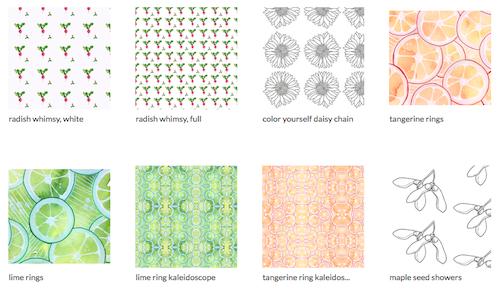 Great news! I have 6 new fabric pattern designs in the Spoonflower shop bringing the total to 10 options! Check out the new Lime and Tangerine Ring designs, as well as the Daisy Chain and Maple Seed Showers color your own designs I'm really psyched on.
And no worries if you don't sew, did you know that Spoonflower's partners will sew or upholster so many great items for you – from pillows to tea towels to couches – with the fabric design of your choice? So cool! And print on demand is so much better for the environment because only what you want is printed – no waste.