I'm deciding to keep it light this week because I am pretty productive with some fun things I have in the works for you and for me! I'm helping my sidekick Sean paint a mural (in my before life we painted murals all over the place together under the name Aloha Murals, but that's a different story), getting ready for the event at Forage Farm this weekend, brainstorming on the summer newsletter (super fun prize this time), and trying to wrap my head around the best way to go about a particular request (more on that and the prize soon), so I thought I'd share some of what is keeping me relaxed amidst life rolling in fast!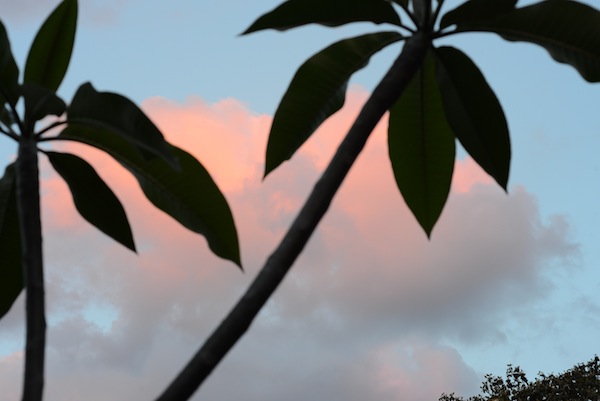 Frangipani silhouette at sunset. My favorite tree is finally blooming in my backyard and with a sunset like that who wouldn't take a moment to take a deep breath. (Did you see the photos of the yellow blooms on Instagram? No? Well, follow Wings, Worms, and Wonder and see lots of nature pics and more wonder inspiration!)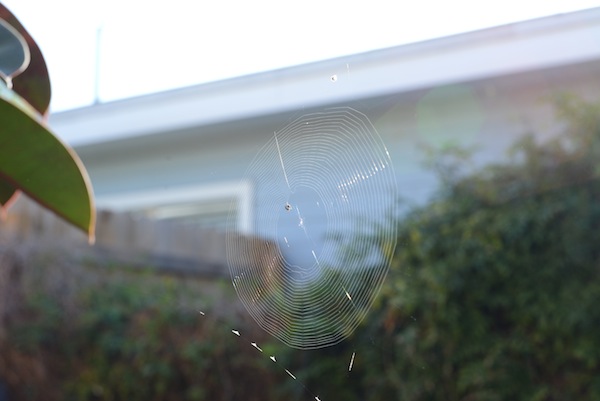 This web was in between my potted rubber tree and potted frangipani on my back patio. The morning sun was really showcasing this beautiful work. It's a Spiny Orb-Weaver spider. They are my favorite spider.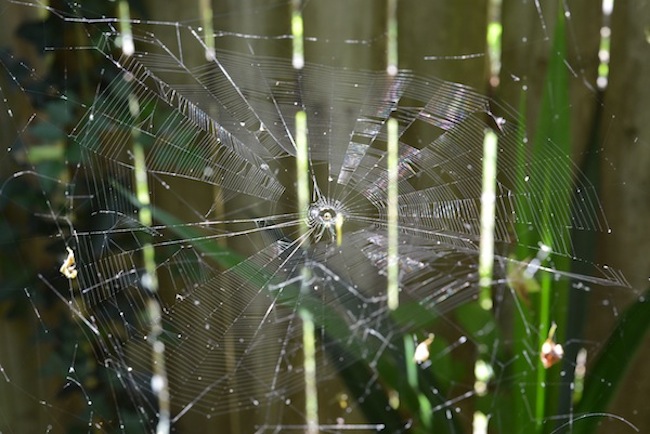 More busy web work on the other side of my house. It looks like this spider's web has been put to good use! I haven't figured out the name of this one for sure, but it is lime green with fleck of bright orange.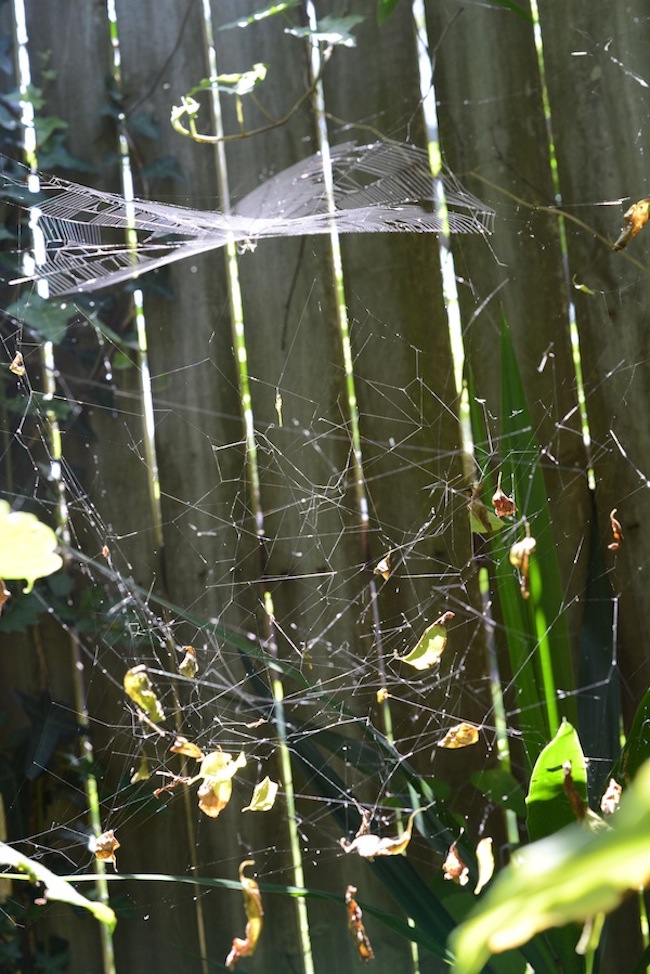 I thought this one was interesting because it is a double web of 2 different spiders. On top is the Spiny Orb -Weaver and I have no idea about the bottom, but it looks like some kind of crazy science fiction laser web. This is right outside my bedroom window and I look at it almost everyday to see what new is caught in it!
You may think I'm crazy leaving up spider webs, but if you leave a few up you discover that they are really interesting! They come and go without a trace, and of course I don't leave up ones that are in the walkways, but I just love to check them each day and see what's changed. It's a little bit of wild in my nearby nature that reminds me of the larger webs (pun intended) of which I am a part!
Leave a reply and tell us what is happening in your environment right now that helps you relax and create space for productivity?
Seeds to Sprout:
A little more info on the unique Spiny Orb-Weaver spider and common Florida spiders in general. Up close, these things are so strange and top heavy! I incorrectly called them crown spiders for a long time because it looks like their back is a king's crown.
A spiders of Florida photo gallery and the Florida Backyard Spiders website by Daniel D. Dye, for those of you without arachnophobia!
Learn to grow a frangipani (otherwise known as plumeria) yourself and add a bit of the tropics to your yard!
See the mural progress and some killer paintings at Sean Mahan Art