---
Summer time is upon us here in the Northern Hemisphere – solstice is June 20 to be exact. I for one am very excited about carving extra time into the longer days for summer reading! How about you? My book queue is substantial, and I hope to ingest them all this summer!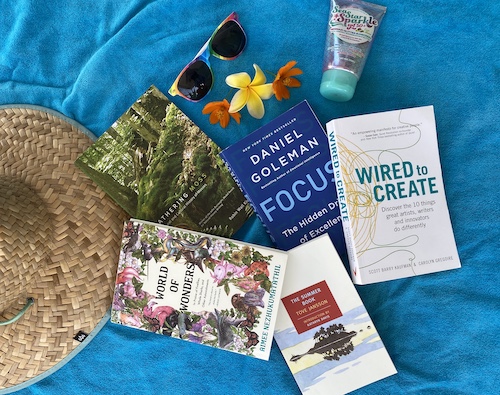 This week, I offer you a few books I've read in the past 6 months that made a big impression on me, or ones am looking forward to reading in the next two and a half. Perhaps you'll want to read some of them too and tell me what you think?
I divided the summer reading lists below into adult and children's books – but you know I love to read children's books myself for the gorgeous illustration inspiration!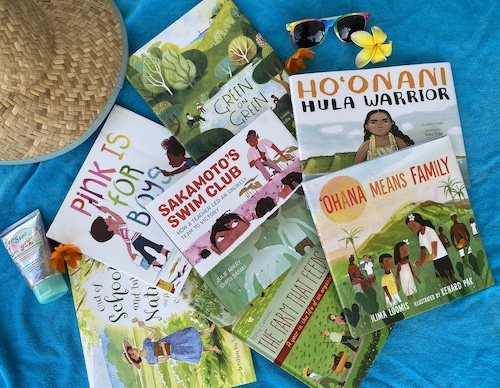 If you can't find the children's books at your local library (and don't have an obsession of buying children's books as pieces of art like I do), over the course of the summer, never fear! I will be reading them aloud and posting them on my IGTV channel in my "Story Time for the Young and Young at Heart" series!
In the meantime, you can also check out the 30 stories there already through my IG profile. (I have some great ones there for celebrating Pride month too.) Just click the little tv icon at the top of the photo feed.
---
World of Wonders: In Praise of Fireflies, Whale Sharks, and Other Astonishments
This book, by poet Aimee Nezhukumatathil, will be a treat to read. The description entices, "For it is this way with wonder: it requires that we are curious enough to look past the distractions in order to fully appreciate the world's gifts."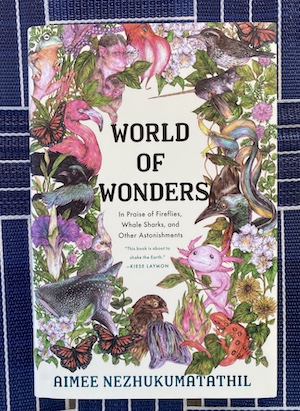 ---
Wired to Create: Discover 10 things great artists, writers and innovators do differently
A true gem of a book by psychologist and creative cognition expert Scott Barry Kaufman & Carolyn Gregoire, this book highlights the latest neuroscience and psychology with insights from some of the world's most creative minds.
(This photo is of the English publication of the book; I discovered unexpectedly when I bought it. The American edition has an aqua cover and the tag line of the title is slightly different. I only know because I accidentally bought both thinking they were like a companion set! oops. I kept this version because it was printed on forestry sustainable paper.)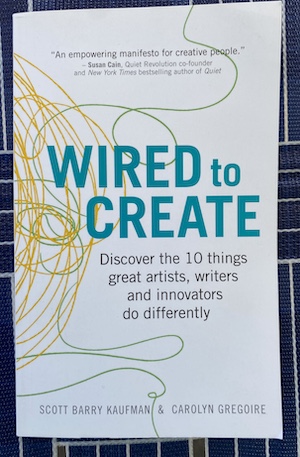 ---
The Summer Book
A quiet book, almost more a painting than prose, this thin book is another gift from artist and author Tove Jansson. I've been doing a deep dive on Tove's life and work (and philosophy of love & work) over the past few months, and while not all of her books are translated into English – yet – I am very excited to dive into The Summer Book during the first week of summer 2021!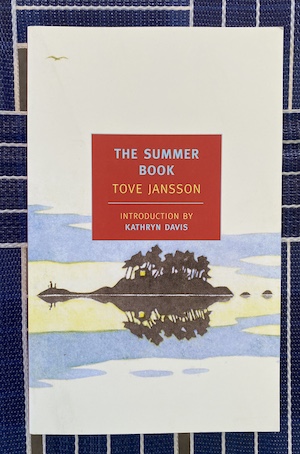 ---
Focus: The Hidden Driver of Excellence
The title is a little airport bookstore-y, but don't let that scare you off. This is yet another great book by Daniel Goleman. The neuroscience and psychology is popularized making this a totally acceptable beach read – that you also learn from!
In a world vying for our attention at every turn and dollar, strengthening our ability to focus is key for a peaceful, happy, and productive life. Gift yourself the paperback version of this book, unplug, and let your focus grow!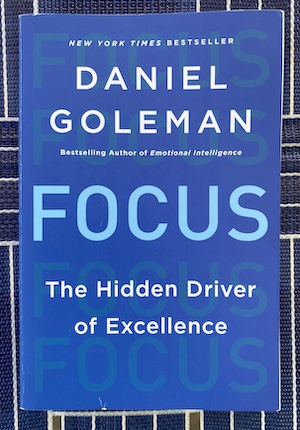 ---
Gathering Moss: A Natural and Cultural History of Mosses
This award winning book was Robin Wall Kimmerer of Braiding Sweetgrass fame's first book. She lived in the pacific northwest for a period of time exploring the science and wonder of the forest's carpet – mosses.
This nature writing combines science and reflection, biology and cultural teachings, through the lens of the life and story of moss. I plan to read this one while up in the mountains to spark my wonder of mosses while hiking.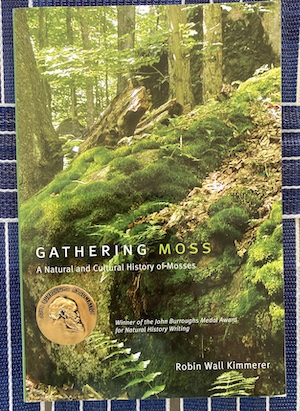 ---
Draw Yourself Back to Nature: Creativity, connection, and art-making with the natural world
Well, you know I'm super excited about my own new book, so I had to add it to the list! After two years of writing, revising, and illustrating, and many years prior developing the projects through my in-person and online workshops, I am beyond thrilled to offer a creative nature connection book specifically for adults and adolescents.
I sincerely hope that all who collect this book fill their summer with the nearly 100 creative nature connection projects, experiences, and Wonder Boosts! And every month of the year beyond too! I can't wait to see how you Draw Yourself Back to Nature!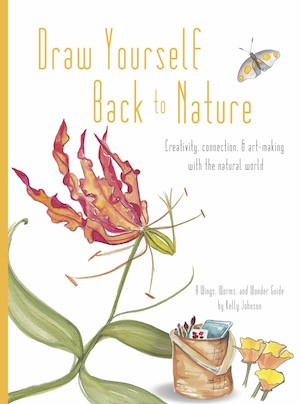 ---
Snow and Rose
Author and Illustrator Emily Winfield Martin has been one of my favorite artists and authors for going on about 10 years now. The art and writing in each one of her books is of the highest level of excellence – and on top of it, incredibly sweet, kind, and cozy. Her newest book, Snow & Rose, keeps in line with her ever growing repertoire.
When I learned about this book, initially I was a bit skeptical just reading the description, but I bought it for a young friend's birthday gift and read it first myself — in one sitting. I couldn't put it down. It was just as wonderful as her previous novel Oddfellows Orphanage. (Which you should also read!) If you like woodlands, mushrooms, magic, and sweetness you will love this book, regardless of your age – and of course it's gorgeously illustrated throughout!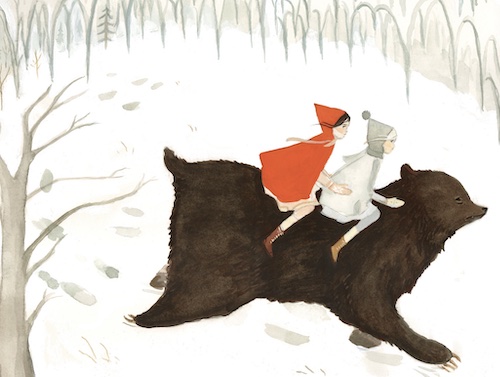 ---
Pink is for Boys
If I had a nickel for every time I explained that pink is just red with white in it and that all colors are for everyone I could take a pretty great summer vacation.
Written by Robb Pearlman and illustrated by Eda Kaban, this book is a great reminder that color is for all people, in all places, all the time! It also makes a great intro to color theory and paint mixing for all y'all leading arts based summer camps. (+This is the first book in the Story Time summer series!)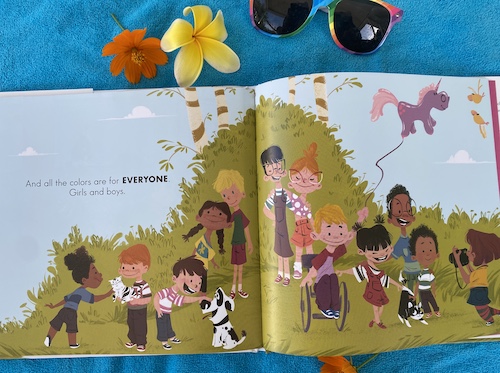 ---
Ho'onani Hula Warrior
Written by Heather Gale and illustrated by Mika Song, this book inspires all to embrace their inner warrior and be + express themselves in ways that feel most authentic.
An inspiring story that not only teaches about Hawai'ian culture, it also offers sweet and empowering representation to children who may not quite be sure where they feel most comfortable on the gender spectrum yet – While also reminding all that the most important thing is to help our friends be their best selves!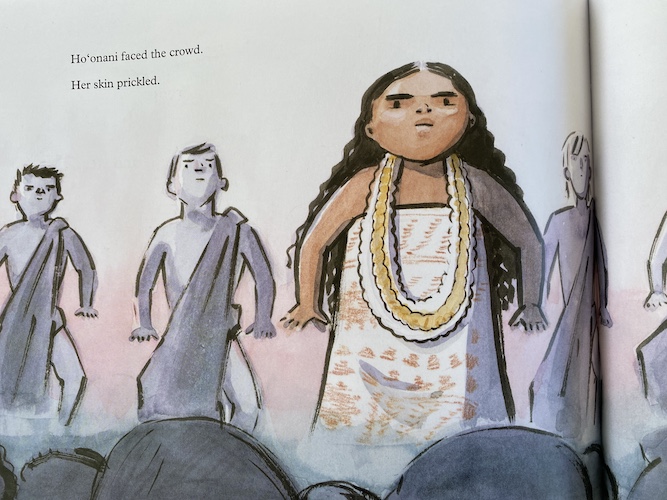 ---
Green on Green
A story across the seasons, this book by Dianne White and illustrated by Felicita Sala is as simply sweet as tea on your summer sleeping porch.
Don't let the simplicity deceive you though, the illustrations tell just as much as tory of a family's life connected to nature through the seasons as the pleasant and breezy verse. I'll let the author's words speak for themself, "A year is full of colors and changes and life and love."
(This book, along with its block print illustrated predecessor, Blue on Blue, are both up on my "Story Time" feed already!)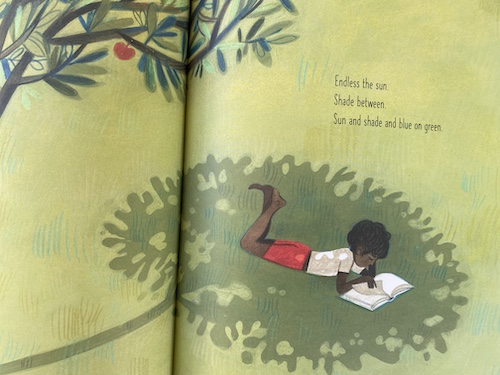 ---
Sakamoto's Swim Club: How a Teacher Led an Unlikely team to Victory
They say don't judge a book by its cover, but I admit, I saw the cover illustration of this book by Julie Abery and illustrated by Chris Sasaki and I was sold! I've never competitively swam in my life, but I just couldn't resist! The true story, told more like a poem than prose, is just all around fantastic
If you have summer swim team humans in your life, definitely check this book out! – And if you are looking for some summer nature journaling stylistic inspiration, this book is a must! The story is really inspiring – a classic underdog to victory type of tale – and it reminds us that with determination and creativity we can all reach gold!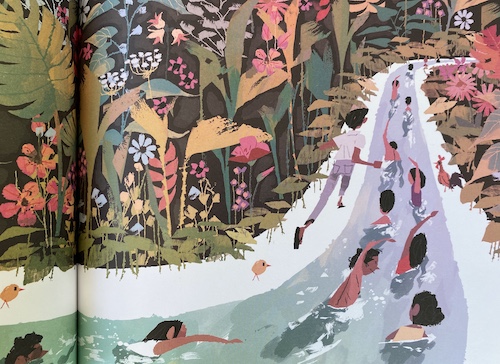 ---
Out of School and Into Nature: The Anna Comstock Story
If you've ever been to one of my nature-study workshops, or read my book Wings, Worms, and Wonder, you've heard me mention Anna Botsford Comstock. As an artist, author, scientist, progressive educator, and groundbreaking first wave feminist, she is definitely someone I look up to – a lot.
This story, written by Suzanne Slade and illustrated by Jessica Lanan, chronicles the life of Comstock from her own childhood immersed in nature to her academic career, her excelling at insect illustration, her self publication of her still in print book since 1911 – The Handbook of Nature Study, and more! Anna B. Comstock is one powerhouse of a person to motivate us to get outside, and get connected with a nature journal!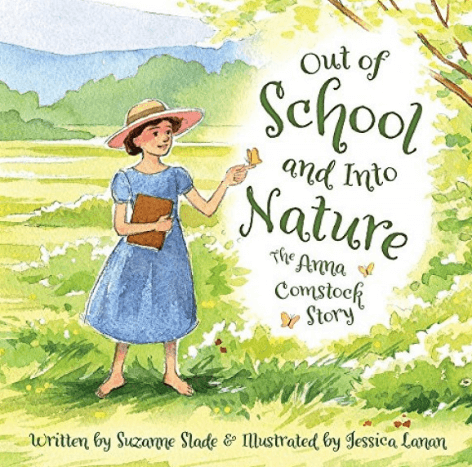 ---
'Ohana Means Family
This is another book with illustrations to literally do flips over in the summer backyard grass. Written by Ilima Loomis and illustrated by Kenard Pak, this book follows a repetition rhyme that young children will love – and have you read over and over again! But that will be a-okay because you will be so enamored with the art that you will be happy to read it 3 times in a row!
The story is a great lesson in savoring family traditions new and old – in all definitions of the word family – genetic, chosen, and every loved person in between! It will definitely inspire you to call up those you haven't seen in a while (because we are all vaccinated now, right, and it's safe) and get together for a luau celebrating your favorite traditions – old and new! Aloha!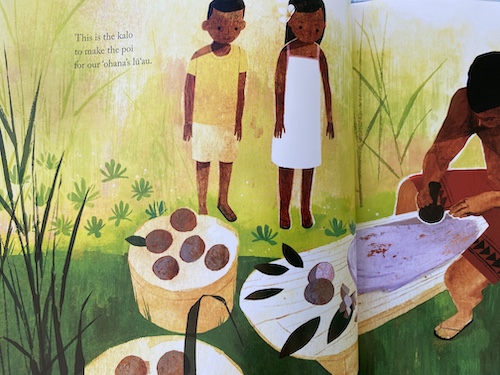 ---
The Farm That Feeds Us: A year in the life of an organic farm
Food and farm to table? Count me in! Humans of all ages will learn from this book. It really explains in depth the processes of a year growing veggies (+ beekeeping and chickens) . Whether you have a big backyard garden, or a single patio pot of tomatoes, this book written by Nancy Castaldo and illustrated by Ginnie Hsu will give you practical tips for keeping your plants healthy and thriving all year long!
I have to admit – I sure wish I had thought to write and illustrate this book myself! It is a great research resource and extension to Economic Geography lessons in the Montessori classroom, a perfect addition to any classroom with a garden bed, and every home gardener – with or without children!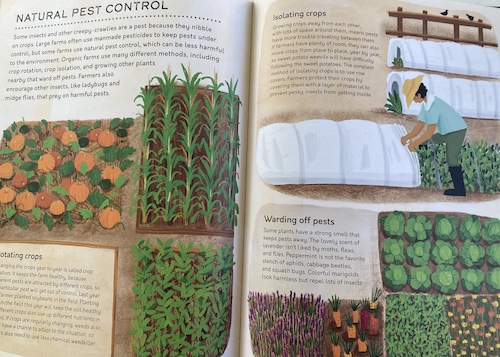 ---
What's your fave summer reading pick?
Share in the comments below!
Share photos of your summer Draw Yourself Back to Nature project fun on Instagram #wingswormsandwonder #drawyourselfbacktonature !
---
Seeds to Sprout:
Click here to get your copy of Draw Yourself Back to Nature here! World Wide shipping is available! Hooray!
Click here to treat yourself to the limited edition Wings, Worms, and Wonder + Viviva Colors watercolor paint set while they last!
Click here, if you live in the states, to get a limited edition set of the Draw Yourself Back to Nature book + the paint set together!
Click here to listen to stories in the Wings, Worms, and Wonder IGTV Story Time for the Young and Young at Heart series!
Click here to make a summer solstice flower crown with this Wonder Wednesday 95 project!
---