As summer approaches and schedules slow down, consider creating a summer nature journal practice with your children or journals to send home with your students to encourage a summer nature journaling practice. Nature journals is an age old method of connecting with place and the flora and fauna right outside your door. The journal can be as simple as a notebook or elaborate as a handmade book. It is up to you!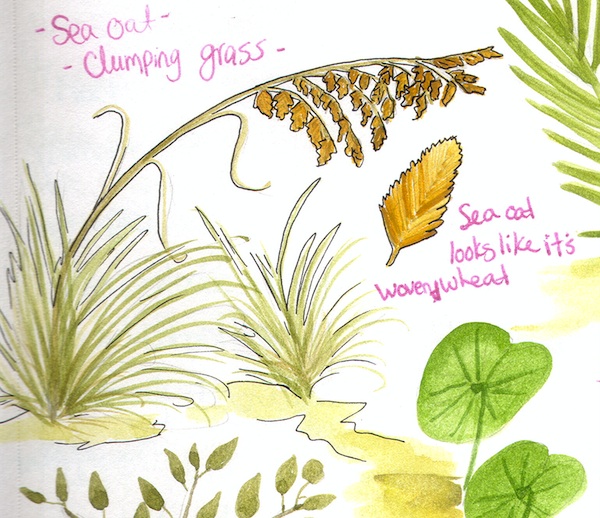 Drawings can be loose and on the fly if you like, or more technical. In this one, I sketched at the beach in pencil, then painted and added in some ink  after I got home. Remember: don't worry about getting hung up on the actual drawing if you are drawing with the children, it's not a masterpiece to be hung in a museum! Have fun with it; kids know this!
Nature journaling is not only a fun way to document your summer outdoor adventures, it is also a great way to get the kids to keep up with their writing, handwriting, and drawing. In my classroom, we used a simple bookbinder machine the school had to create journals with covers that the kids drew and filled them with the paper that has space for a drawing at the top and lines at the bottom, tied ribbons on the binding side, and attached a fun pencil. Voila! An inspiring end of year gift that is beneficial to the child academically and recreationally.
Combining notes with the drawings helps you to later remember what you were thinking about during a particular experience.
Why Journal? I think nature journaling is a key tool for helping children connect with their natural world. I know when I began journaling, as an adult, I learned things about my nearby nature environment that I had never known–and I condsidered myself very connected, or so I thought! I think nature journals are so important that I dedicated an entire sub-chapter to them in Wings, Worms, and Wonder. So here I offer a very short sales pitch on the joys of the nature journal.
1 Children to open up the channels of sensory impression and to become receptive to what is around them. This is something that will develop over time through a regular journaling practice, improvement of sensory observation, and by building a deeper relationship with nearby nature.
2 Children begin to see patterns and make connections they have never noticed before and the proof is through their own journal page. This promotes systems thinking and ecological literacy.
3 The nature journal is a place where you can document and explore your relationship withe the natural world you encounter everyday. It is a place to record and reflect on both scientific and creative observation and musings while discovering more about local flora, fauna, and place.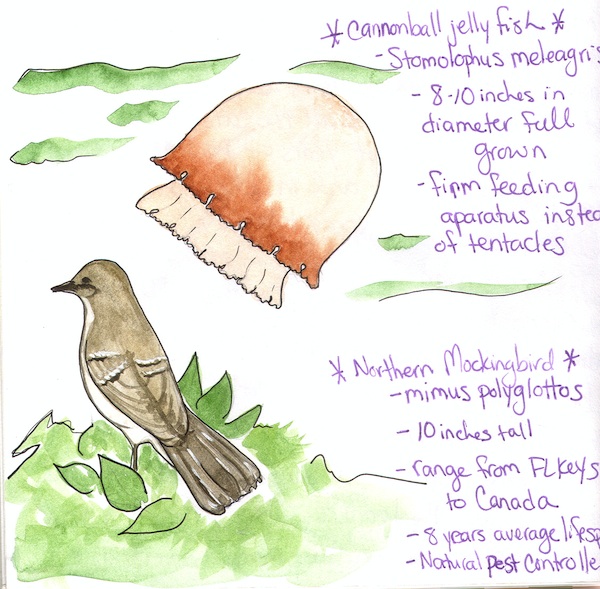 After drawing these from life, I did a little more scientific research and recorded it. An example of how the art inspired a the academics. 
Many families take summer vacation trips to unique places and the journal is the perfect place to document the nature found on the trip and then compare the similarities and differences with the nearby nature documented in their own yards. I had a student who's family would take their camper to national parks in the summer and she would draw the most fantastic pictures of what she was seeing in the journal and then document the way her 1st and 2nd grade mind was assimilating the experience (I taught a multi-year class so she did this for at least 2 years). She would bring her journals back to school the following year and show/tell me all about her trip. Imagine how great it is going to be when she is 30 to look back over her journal and reflect on how those nature experiences in childhood molded her adult life choices. She is only in 6th grade now, but the way time flies, she will be 30 before I know it!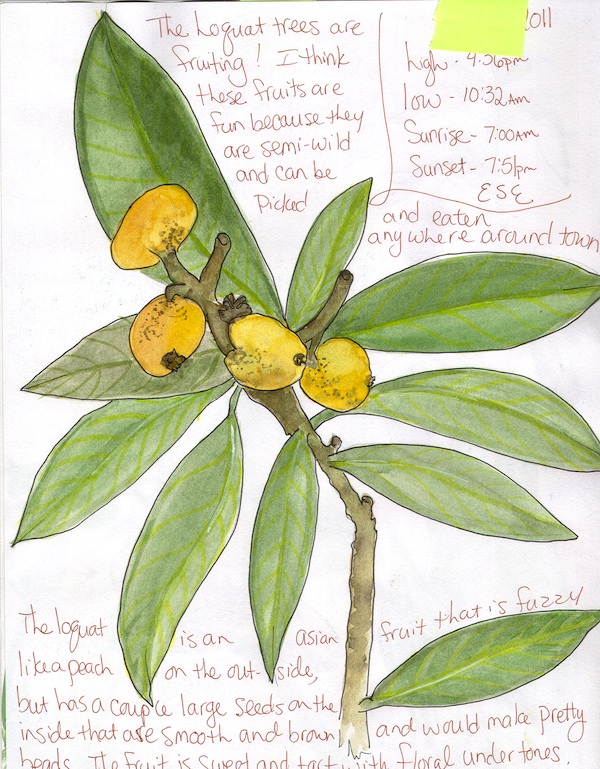 This shows how I created a format at the top with the date and some details that I find interesting that also help me track seasonal changes. Also this one shows my personal less botanical relationship with the loquat tree and fruit.
For those children who resist writing, just let them draw in the journal without pushing the writing side. Eventually their curiosity will urge them to document using both pictures and words to begin adding text to their visual documentation. Also, remember to model journaling yourself. If the adult the child spends time with is enthusiastic about journaling, the child will be too! Try to set, in your own mind or calendar, a specific time at least once a week for creating journaling opportunities. Get creative. Journal experiences can range form the backyard (perhaps the most important location for place connection so be sure to journal there often), to local parks, to museums, to botanical gardens, to zoos (I don't condone supporting zoos, but many people enjoy them), to farm visits, to the beach, to hikes, to larger vacations. The possibility and inspiration is endless!
Seeds to Sprout:
A great sample of nature journal pages and ideas for creating journals by Harmony Fine Arts on Pinterest
Smithsonian Education's Introduction to the Nature Journal. A link to a PDF download with ideas and instructions for journaling and interacting with the Smithsonian and National Zoo with journals.
Clare Walker Leslie's site. She is one of the foremost educator/advocates on getting people nature journaling. She also has some wonderful books for children and adults on the topic.
A Sierra Club guide to nature journaling
A standards based curriculum for integrating nature journals by artist John Muir Laws. I was fortunate enough to be sitting next to him at the NAAEE conference this past fall and not only is he a great artist he is a really nice guy too!