WOW and THANK YOU!!! Is all I can say to y'all for the wonderful support and excitement in last week's blog hop!!
Thank you so much for sharing your ideas, challenges, inspirations, and thoughtful insights about your relationships with nature! I feel like I got to know each of you a little better and I love that best!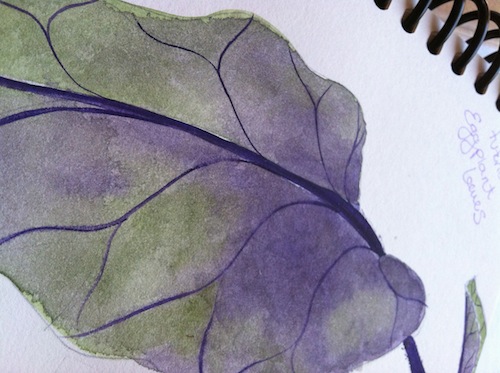 In Draw Yourself Back to Nature week 1 we explore how to paint leaves using the wet on wet painting technique.
And I am so glad y'all enjoyed meeting Dawn, Seemi, and Rob!! They are so great aren't they?!! I find each of them very inspiring in such complimentary ways. Don't you wish you'd had them as teachers as a child? I know I do!! Luckily we can have them as guides now!
Now this is what I call a monochromatic color scheme!!! Learn all about color schemes and how to apply them in Connecting with Color. 
So I know everyone is excitedly awaiting the big news of who the drawing winners are…… but let me share one more giant nature inspired thank you to everyone for participating in the hop and making it such a meaningful experience! 
So, out of curiosity, how were the winners drawn? I carefully went through all the blog posts here and on each of the hoppers blogs. Then I complied all the commenters names. To the people who commented on posts everyday last week, I gave a number. Then, I entered the total number of 5 day commenters into Random.org and it chose the individual numbers. Voila we have drawing winners!
Learn to creatively chronicle seasonal changes of nature's rainbow in your nature journal!!!
For me, Gloriosa lily reds mean it's summer! 
If random.org didn't happen to draw your name this time, I hope you'll still join the courses. It's a huge value for the price and invaluable, in that these courses give you the support and guidance to embark on your nature journaling journey + an excuse to get outside creatively connecting with nature! & children and seniors are always welcome to participate in the course with you!!!
The thumbnail sketch activity in Draw Yourself Back to Nature is a great way to get a little nature in everyday!
Quick recap: in the Bundle you get:
* Unlimited access for the life of the courses and online communities
* 16 videos
* 5 audios
* 8 Printable fun sheets
* Resources to expand your creative nature journaling journey
* Ideas to connect with nature on increasingly deeper levels for health and happiness
* Tips and techniques for sprouting, growing, and nurturing your artistic abilities
* A community of supportive like minded people on a similar journaling journey
* And way more inspiration and information than I can begin to list here!!! Just ask Dawn and Rob!
The analagous color schemes of summer zinnia's expressed in a week 4 painting technique!! Learn both in the Bundle!
By the end of the 2 eCourse Bundle you should:
*Have a deep understanding of how to open up all your senses to nature, so you will be an awesome nature observer.
*Have a nature journal routine developed as part of your daily life.
*Learned drawing and painting techniques for expressing your natural world on paper.
*Created 8 (or 10 or 12 or…)  journal pages within the guidance of the group to inspire your life's nature journaling journey.
*Have a flock of creative nature journalers with whom to share ideas, spreads, and nature and place realizations.
*Become immersed in and understand the bounty of nature benefits on a healthy lifestyle.
*Discovered new art techniques and hone your skills.
*Discovered how to nature journal with the family and how it integrates into daily life.
*Have a deeper understanding of color and color theory to support your painting journey.
* Achieved skills and techniques for color mixing, blending, and harmonizing on your journal page.
* Gained confidence in your ability to express the rainbow of colors in your natural world.
Ornamental artichoke's look good enough to eat…I mean paint!
OKAY!!! So without further delay…..
The drawing winner of a seat in Connecting with Color is
Chiska!!!
The drawing winner of the
Draw Yourself Back to Nature and Connecting with Color Bundle is
Talullah!!
Congratulations to the winners!!
And most of all congratulations everyone on making time to consider your relationship with and ideas on creative nature connection each day last week! Time for nature everyday makes us all winners!!!
I look forward to seeing your creative connections course communities!!
Let's let art be our guides to nature & nature sprout our confidence to connect through art!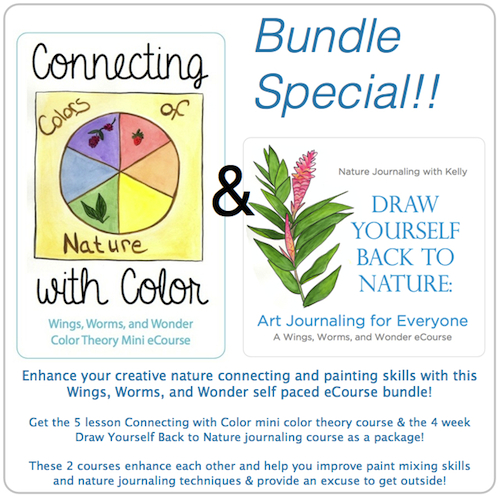 What would you most like to learn to draw or paint in nature?
Share in the comments below so I can help you achieve it!
Seeds to Sprout:
Drawing winners, I will email you with more information today. Check your junk if you don't see an email, or feel free to email me if you are super excited!!
Register for the Bundle today!
Register for Draw Yourself Back to Nature, solo, here!
Register for Connecting with Color, solo, here!
Happy full moon tomorrow!!
In Draw Yourself Back to Nature we creatively connect with all aspects of nature, even dinner!!