---
Floral and geometrics combine super powers in the turn-of-the-century art work of Stanisław Wyspiański. The turn of the 20th century that is!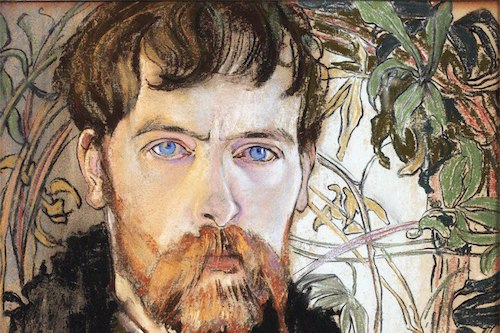 Self Portrait, (1869-1907)
Today, the designers and trend forecasters call this blending of organics and geometrics "floral clash," but this technique is anything but new. A quick search will reveal countless examples of geometric and organic imagery blended on popular products from shoes to pillows.
This trend owes itself to the artists of the Art Nouveau movement – and more so Mother Nature herself!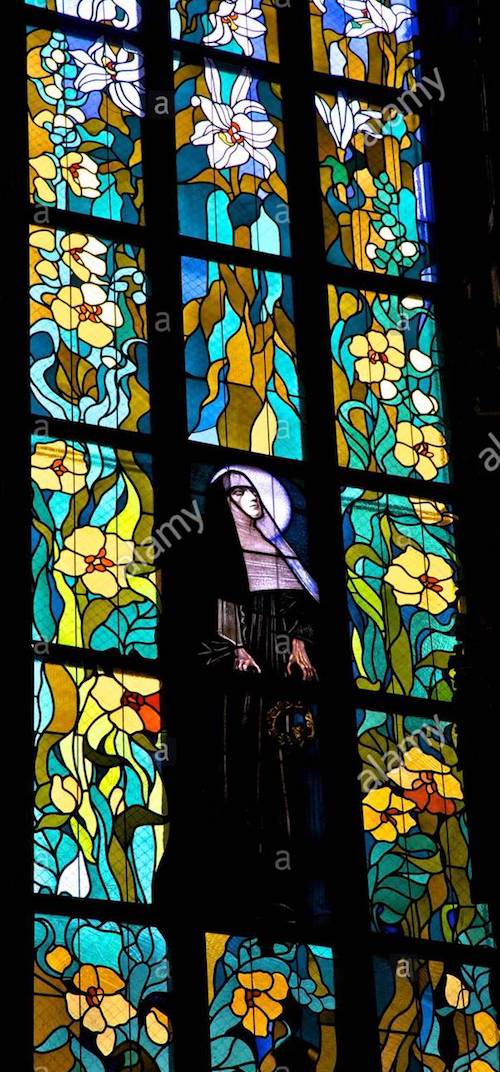 Stained glass is a great example of florals being juxtaposed with geometric structures. Wyspiański created this window for the St. Francis' Basilica in Krakow.
Many western European Art Nouveau artists used this technique, including famously Alphonse Mucha and Charles Renee and Margaret MacDonald Mackintosh.
But, Stanisław Wyspiański was an Art Nouveau star hailing from Krakow, Poland, so perhaps the Iron Curtain is why he is lesser known in mainstream art culture. Wyspiański wasn't pigeonholed into the Art Nouveau movement though.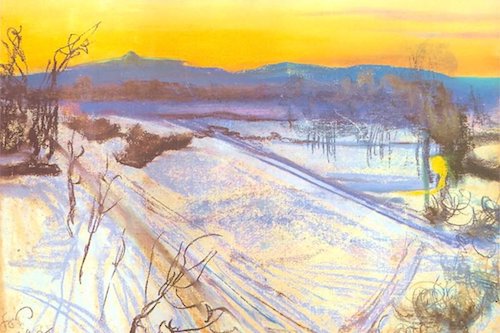 View of Kościuszko Mound
He was a real renaissance artist and excelled in poetry and playwriting as well as painting. Even in his short life and painting career (he died at age 38), Stanisław Wyspiański was very talented in creating landscape, portraiture, and design based paintings.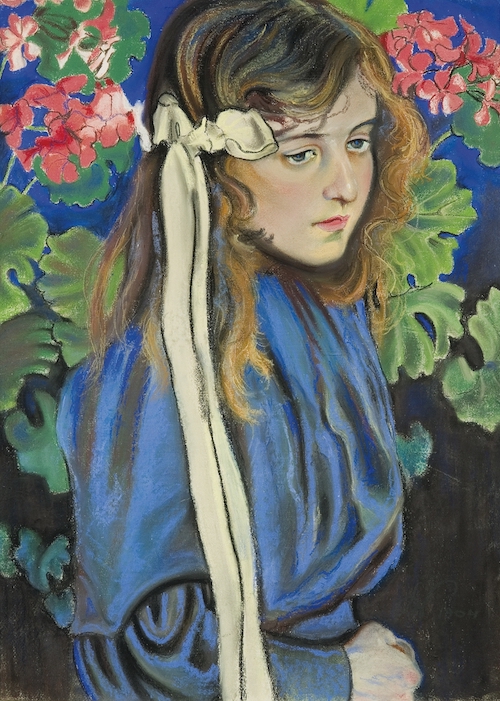 Portrait with Geraniums
Take a look at how Wyspiański combines geometric designs with the beautiful organic forms of nature on the walls of the St. Francis' Basilica in Krakow: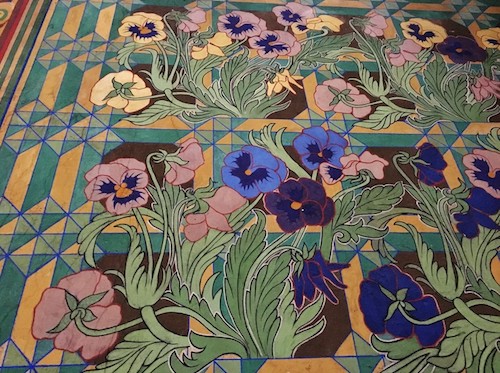 Above, ornate pansies overlap with the technical diamond shapes. It's the colors that integrate the imagery and the while outline of the leaves that pop the flowers forward.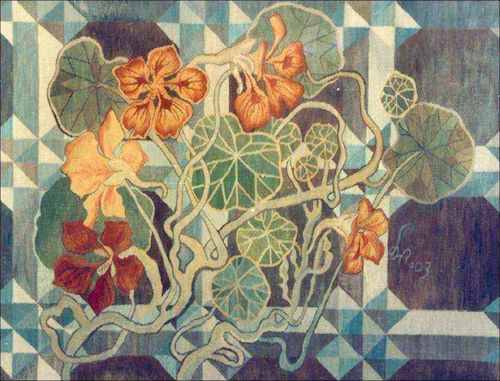 This time, he uses the color scheme to both blend and pop the images by employing a complimentary color scheme.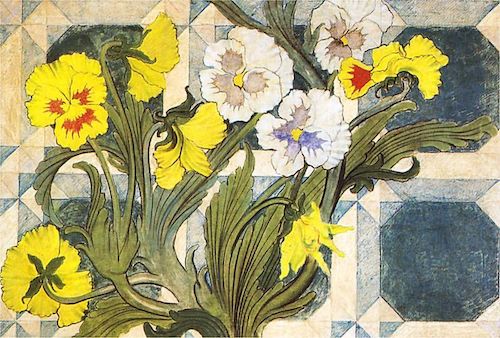 Here the saturation and temperature of the colors makes the visual contrast and harmony. The cool geometric background is much less saturated than the warm yellow flowers – but the organic white flowers ground the flowers in their geometric environment.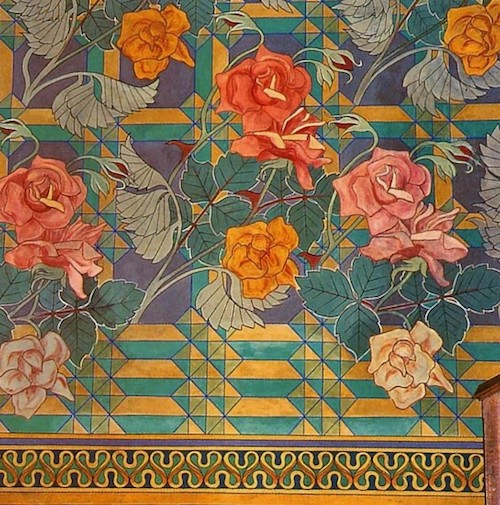 Notice how in this image, the saturation and color temperatures are equal, but the repeating border organizes the imagery. The border is geometric in its exact repetition, but also organic in form. The bright white outlines pop the flowers forward.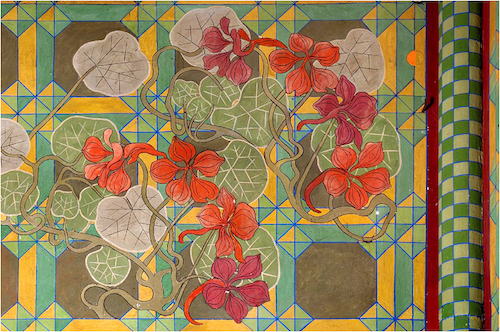 Finally, we see here above:
a repetition again of the diamond background which unifies all the imagery together within the larger environment,
an echoing of flower species (nasturtium),
the continuity of the white outlines and play of complimentary colors to pop the flowers off the back ground,
a geometric border,
a balance of hue saturation,
and use of color temperatures to integration all the visual action.
So the next time you see a "floral clash" while you peruse the shops, think of Stanisław Wyspiański!
What do you think of my version of floral and geometric blending in the graphic at the top? I had a blast making it by combining both watercolor painting and digital manipulations and geometrics.
Where have you seen this blend of geometrics and organics recently?
Share in the comments below!
Share your favorite displays and creations for floral clashing on Instagram #wingswormsandwonder !
Seeds to Sprout:
Want to learn more about color theory and how it can help you integrate, pop, and juxtapose imagery in your art? Click to check out my online class Connecting with Color – it's only $15! 
Like my floral clash image? You can find it on some pretty cool products in my Society6 shop! Click here to check them out and support all the free inspiration and activities of Wings, Worms, and Wonder!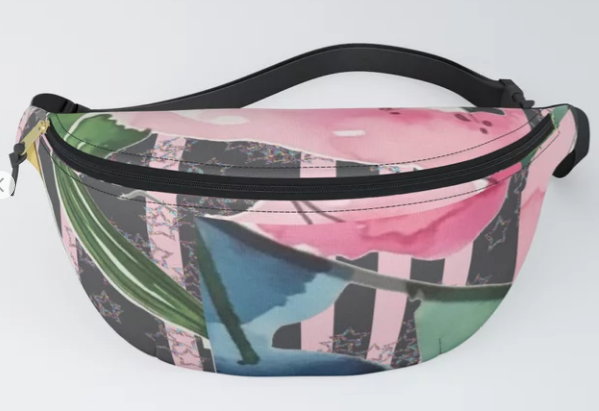 Add more nature images and activities to your everyday life with Wings, Worms, and Wonder! Click here to shop classes, fabrics, books, original art, and so many fun items from stickers to sketchbooks here!