Without further ado, I introduce you to Scott Candage. Scott is someone who is the whole package-fun, brilliant, kind, and good looking(!)- and I am so happy to be able to share his work with you in this spring guest post. A progressive historian and place scholar, a former high school history teacher turned rogue academic, and native to a beautiful island off the coast of Maine, Scott is someone to look out for. His work with displaced histories and memory is really cutting edge and absolutely fascinating, not to mention his writing is like a dream. You are going to be seeing his exhibits and  his writing blowing up so keep an eye out for his name on your local history museum's events page. I am so inspired by Scott on a daily basis and I know this post will inspire you- especially his ideas for sharing stories with your children and students! Just as nature experiences do, stories and connections to our past and place leave lasting impressions that greatly influence the choices we make as adults to protect and preserve our environment and culture- but Scott says this far more eloquently than I. Enjoy!
"Place and story are inseparable … By giving places a name and a story, I can contemplate and describe them and, in the most ancient sense, call them into existence.  We create ourselves from stories that conjoin us to places; bind us to each other; blend individual and communal identities; and provide definition, context and continuity, perspective, and personality.  These stories of ourselves are works in progress until death" (Archibald 1999, p.162).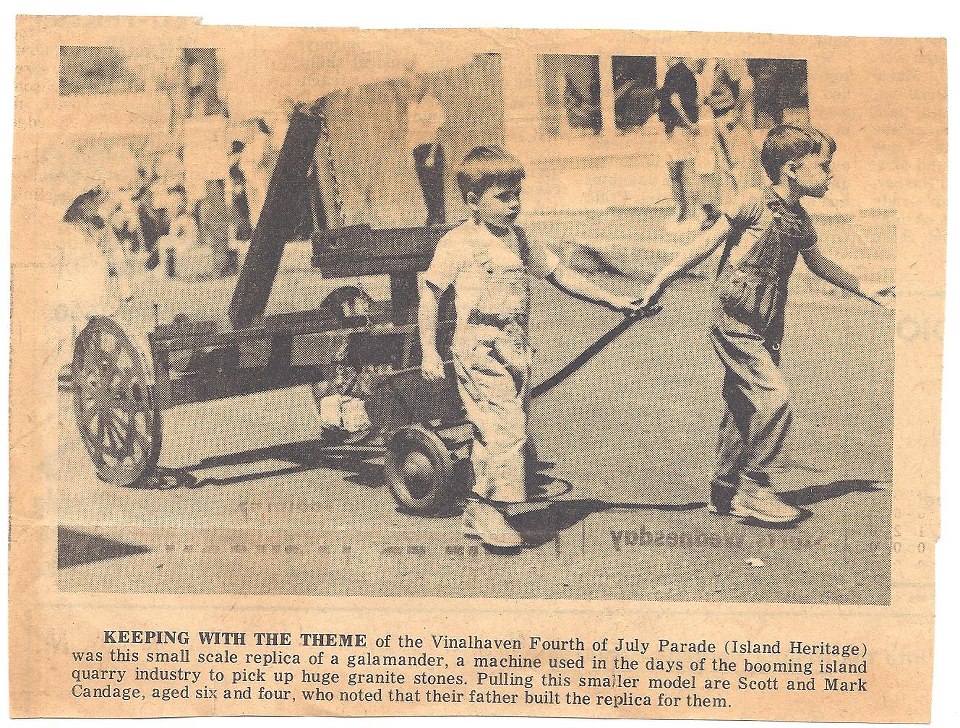 Recently, while sorting through a box of photographs and postcards collected by my grandmother over the years, I came across a yellowed newspaper clipping.  The image captured on the fading paper was of my brother and myself pulling a model granite-transporting wagon (called a galamander) in our hometown's annual Fourth of July parade whose theme that year, 1975, was "Island Heritage".  I chuckled a bit at the boys in the picture as I recalled the event.  As is often the case when I begin to remember moments from  my childhood, these memories came in the form of sensory flashes – the smell of the fresh paint on the miniature galamander, the roughness and splinters of the wood, and the tiny blisters on my hands from pulling the wagon along the parade route under a hot July sun.
It occurred to me, suddenly, that this clipping marked the beginning of a nearly 40 year fascination with the past and place.  That desire to understand, intimately and profoundly, my relationship with a specific place – Vinalhaven Island, Maine – and its past had most recently taken the form of a history-informed installation called "Hard Stone, Hard Choices," that I created as my MA thesis project at Goddard College.  This arts-based installation imaginatively presented ten individuals from the island's granite-quarrying period sharing their "memories" in a way that, I hoped, would affect visitors in emotional – not just intellectual- ways and encourage them to consider their own relationships with place and the past.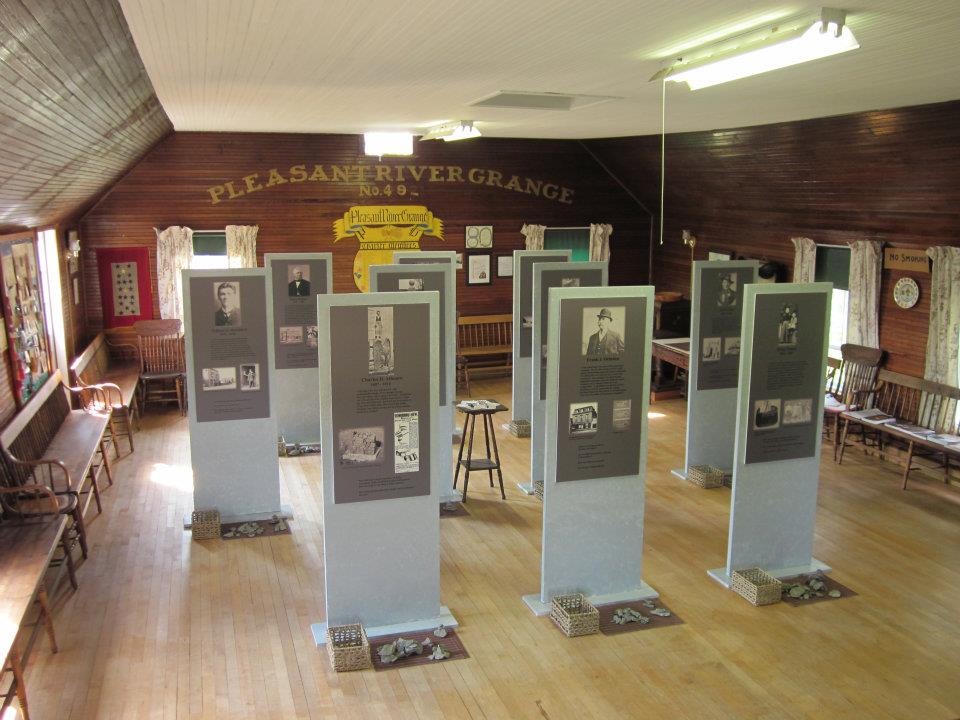 "Hard Stone, Hard Choices" Exhibit, original location
Place and story.  Place and history.  As asserted in Archibald's quote above, the relationship between place and narrative itself has a long history.  The stories we choose to tell about the past and place demonstrate what we as individuals, communities, regions, states, and nations believe is critical for understanding ourselves, creating shared senses of identity (which act to include some while excluding others), and for deciding what is deserving of preservation as examples of cultural and natural heritage. Stories are powerful, especially stories of place.  With them, we situate ourselves within time and space, selecting particular narratives to anchor us in a world that often seems adrift and where we live -our places-often increasingly feel like they might be any place.  Thus, stories we tell about the past and about place are not simply nostalgic or backwards-looking.  We use these tales to construct both the present and the future as we would like to see them.
The problem – ah yes, there is always a problem – is that there are a vast number of stories competing for the right to speak as the "true" or "authentic" record of  "what happened" and "where".  Thus story (fluid, changing, and adaptive) is solidified into "history" (definitive, fixed, authoritative).  While there is a growing and exciting movement to complicate and challenge what we consider history, for too long there has been a dismissal of local and state histories by academia as being light on rigor and heavy on personal and community narratives.  To that I reply "Hurrah"!  All histories are local -taking place in place. To dismiss such narratives reveals the power of academia to define "real" history and the elevation of national over local stories of place.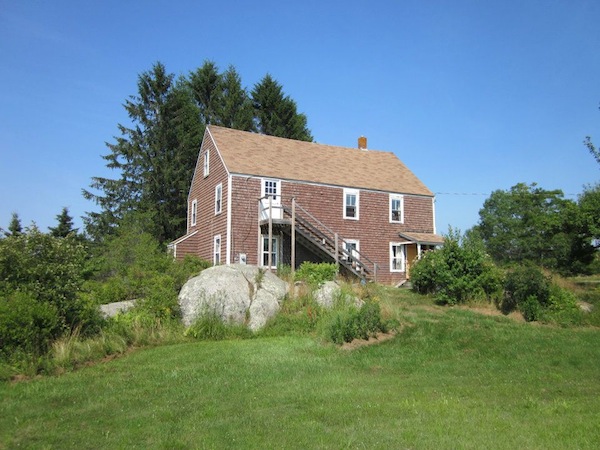 Should we, as advocates of local and community stories/histories, be discouraged? Not at all.  Stories of individual places (and the multiplicity of pasts that are to be found/created in such places) present an opportunity for conversations and civil dialogue about the relationship between "Where we are and who we  are".  These conversations are critical to moving beyond polarized communities to an increased appreciation and respect for the far more complex understanding of how these many stories reveal similarity and difference, inclusion and exclusion.  There is no master narrative, no "History". There are stories and histories of community and communities grounded in, and growing from, place.
And so, I turn back to that faded clipping saved by my grandmother years ago and think about my own sometimes complicated relationship with a place.  Some stories we tell are intended for those who will come after us.  Others we tell are for those who came before -like a 6 year old boy pulling a galamander in a 4th of July parade.
Some ideas for sharing stories about our places and our pasts:
Write a poem about how you feel about where you live or about how those feelings may have changed over time.

If you are lucky enough to live close to family members, gather everyone together to talk about your family histories and record them in some way.  If individuals feel uncomfortable being taped or videotaped, perhaps designate someone as an "official" recorder to take notes.  This could be expanded to a group or within a community where such stories about place could be shared in a safe and supportive environment.

Create a series of paintings, sketches, prints, etc. about where you live and about your memories of that place and its histories.

Take a walk around your community and look for examples in the landscape that tell stories about its history.  This activity could be done by yourself, include family members, or be a school field trip.

Visit your local historical society or museum.  These institutions often have opportunities to share your stories through oral history programs and encourage visitors to use their resources to learn more about place and the past.

Whatever you decide to do, please remember to share your stories.  By respectfully sharing our stories (even the ones that seem to divide us), we create community.
Scott Candage holds an MA from Goddard College where he pursued studies in Heritage and Cultural Memory, Place, and Interdsiciplinary Arts-Based Historical Interpretation.
Seeds to Sprout:
Learn more about Vinalhaven Island, Maine
Discover how to incorporate a place-based education methodology  into your teaching at the Promise of Place
Scott recommends checking out the Places Journal on Facebook for interesting thoughts  on place and design. They also have a newsletter you can sign up for to learn more about connecting to place.
Scott also recommends these books for learning more about place, culture, and history:
"Place: A Short Introduction" by Tim Cresswell (Wiley-Blackwell, 2004)
"The Lure of the Local: Senses of Place in a Multicentered Society" by Lucy R. Lippard (New Press, 1998)
"The Power of Place: Urban Landscapes as Public History" by Dolores Hayden (The MIT Press, 1997)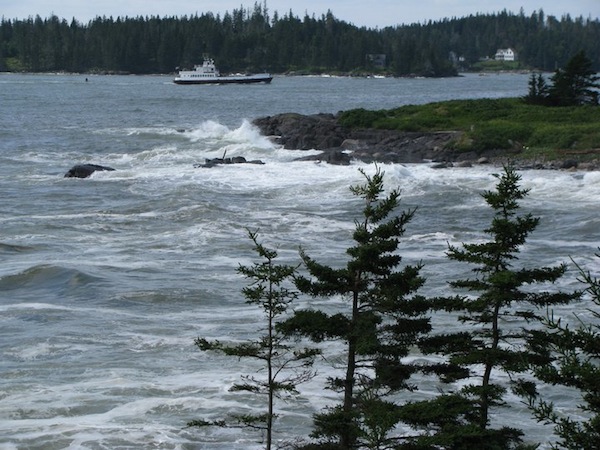 This is the ferry Scott takes to leave his island- a 2 hour trip to the mainland! How gorgeous is his landscape? No wonder he understands place on such an intuitive level!
Work Cited:
Archibald, R. (1999).  The places of stories.  In P. Forbes, A. Forbes & H. Whybrow (Eds.), Our land, ourselves: readings on people and place (pp. 161-167).  San Francisco: The Trust for Public Land.