For me, traveling really sparks creativity. All the new sights and scenes bring so many ideas for ways to improve the way I go about something or for creating new objects and systems to add value and ease to life.
As part of traveling, and life in general, I see a lot of art. Some I like and some not so much, but immersing myself in a forum where people are creating builds my own DIY desire to create art, gardens, and pretty much anything I'm brave enough to try. Do you find this to be true with your interests? I'm thinking it's probably pretty common, right? Handmade items make you realize that if someone else can do it why can't you? If I can grow a garden you definitely can, if you can fix a car, what's stopping me from trying? Only myself!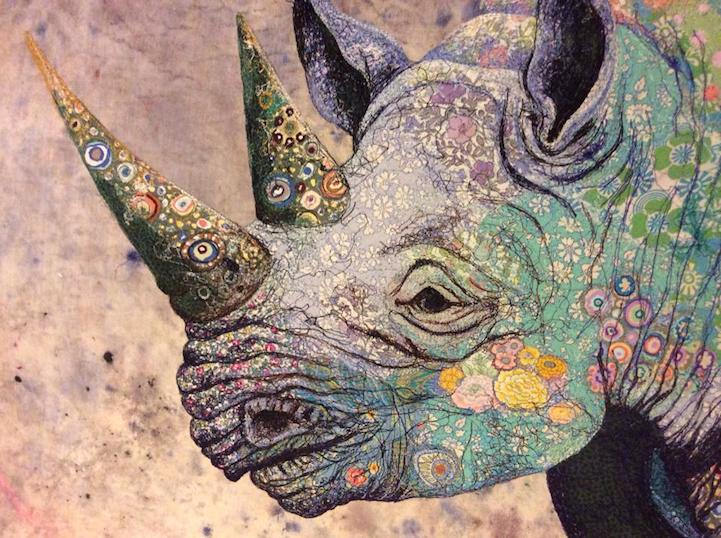 Look at that gorgeous fabric collage detail!!! (Photo credit Hi-Fructose Magazine)
Every once in a while, you come across something that is so great in and of itself you have no desire to recreate it. That is how I felt when I discovered the nature artwork of Sophie Standing. Her art is so intricate and beautiful I wouldn't even know where to begin! Her colorful textile collages mesmerize me with their nature themes, beautiful fabrics, and sewing detail.
Baobab Tree (Photo Credit: Sophie Standing Art)
Standing's technique is that she draws the animals or scenes first on fabric, then collages the fabric swatches, and finishes by drawing in details with her sewing machine. Amazing right?! The fabrics are collected from world travels and when she returns home to Kenya, Sophie draws on the inspiration of the life outside her door.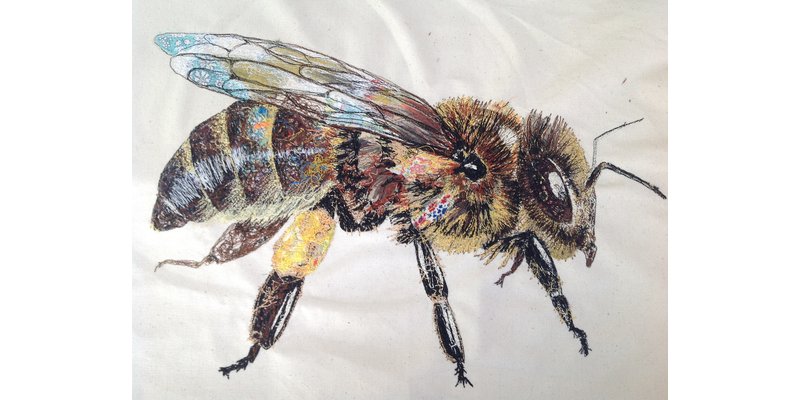 Honey Bee (Photo Credit: Sophie Standing Art)
As I'm sure you know by now, I love the idea of using art to enhance our relationships with nature. I love how Standing is raising awareness about endangered species in a way that uses beauty rather than fear. What an effective way to start a conversation about how we can live in harmony with the Earth!
Standing's fine art prompted me to create nature inspired art this month too – in the form of hand sewn garden accessories for children and grown-ups to enhance outdoor experiences! If you have perused the Wings, Worms, and Wonder social media or Etsy shop in the past couple weeks, you may have noticed that I have been sewing one-of-a-kind aprons for grow-ups and field bags for children that will help you get your seeds sown in the garden while sowing a sense of wonder too.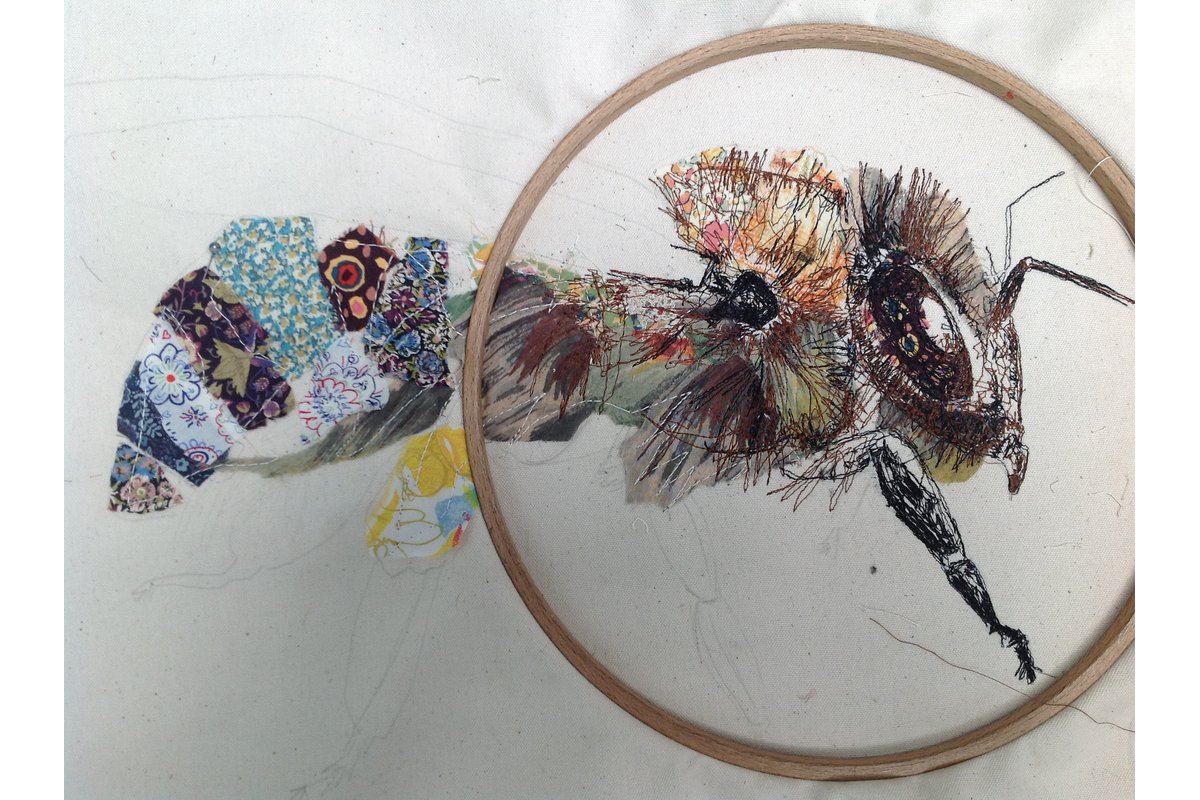 Honey Bee detail (Photo Credit: Sophie Standing Art)
From experience, I know that when you have systems in place for easily getting outdoors with children you will go more often and have more positive experiences. This goes for both the home and the classroom. My business coach calls this a smooth sailing system and I am all about them.
If you have a garden apron already stocked with your gloves, small scissors, maybe a tiny insect repellent, and whatever else you regularly wish for when you are gardening, you will be more likely to just grab it and get out into the backyard or schoolyard garden. Easy.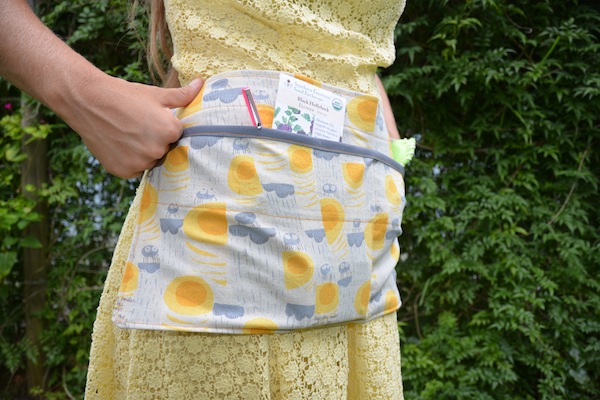 Or if you have a field bag for each child stocked with magnifying glass, ruler, nature journals, colored pencils, and anything else they like to use to explore you can get them outside discovering within a system that makes the children feel empowered to make discoveries- like scientists and artists. It gives them the right tools for the job and primes the children to know what to expect when field bags are in hand. (And also facilitates quick engagement while avoiding discomforts and disruptions.)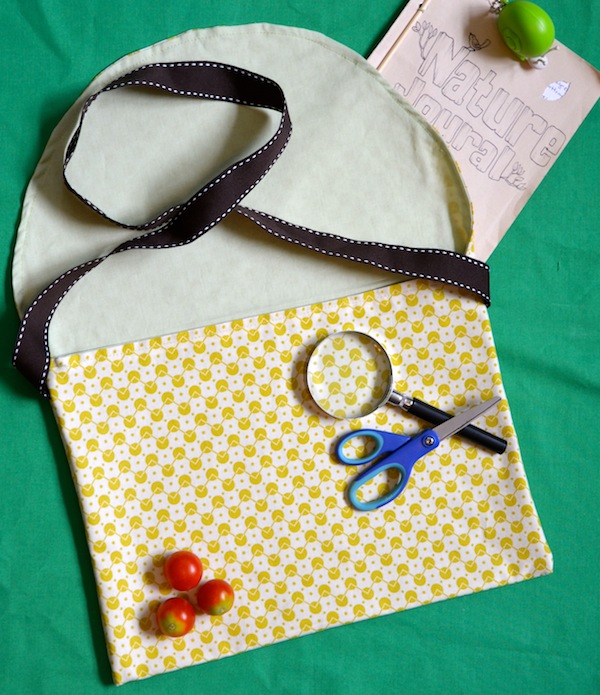 Outdoor adventure systems keep us prepared for almost anything and make our experiences fulfilling and productive – which makes everyone feel great! So whether you are discovering the inspiration from the savanna or investigating the caterpillars on the backyard tomatoes, having the right supplies and systems in place adds value to everyone's adventure and makes for smooth garden sowing!
I would love to hear what systems you have in place for outdoor exploration with children. Share them in the comments below!
Share pics on social media #wingswormsandwonder #childrensgardening
Seeds to Sprout:
Are you connected? I hope so! Link up with Wings, Worms, and Wonder on Pinterest, Instagram, Twitter, or Facebook and hashtag your pics #wingswormsandwonder so I can see your fun garden experiences! 
Would you rather be sowing than sewing? That's why I created these Nature Discovery Field Bags so you don't have to make your own from the pattern in the book!
I keep a separate garden apron and tote for each of my different children's gardens based on the various needs of each group and garden. That system keeps me sailing (& sowing) smoothly and assures I have all the supplies I need. Check out these Organic Garden Guide Aprons I created to cover all your garden and classroom extra pockets and hands needs!
Did you love Sophie Standings work and want to see some insane detail close ups of the stitching? Visit her website Sophie Standing Art and read an article about her work on Hi-Fructose.