This week there's lots of exciting creative nature connection fun going on here as we really get close to the live sessions, artist interview series, and opening day of Draw Deeper Into Nature!
BUT, before that happens May 23, Spectrum 2016 begins (yesterday actually!!) and I am so honored to not only have been featured as a guest teacher, but to have been asked for an interview!!
In the interview, Hali and I chat about nature, making nature inspired art, gardens, how I decided to focus on helping people connect with nature through art, and my process of using art to connect with nature through nature journaling and how that can really bring so much joy to daily life.
Watch the video interview here!
I think Spectrum 2016 is going to be so great. There are lots of interesting teachers to help us holistically connect with our creativity in so many different and unique ways, not just visual art! I am really curious and excited to learn from this vast group of teachers!
If a building and deepening your holistic connection with creativity seems interesting to you too, check Spectrum 2016 out here through my link!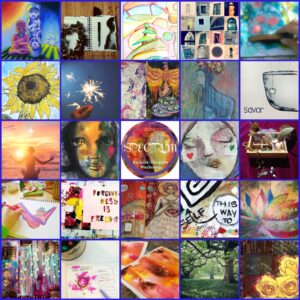 My project for Spectrum is far left column, second down – the sunflower!
And remember to get registered for the FREE Draw Deeper Into Nature live session today!! It's going to be lots of fun! Reserve your spot here for the May 18 event!!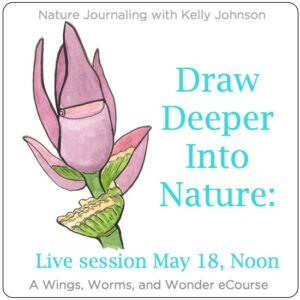 + Draw Deeper Into Nature starts in 20 days!! YAY!! It's going to really be great & I would love to have you there! Be sure to get your spot before the early bird pricing ends on May 18 at midnight!!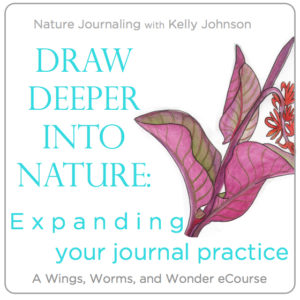 In the course we will draw, paint, explore new mediums, recognize our emerging styles, explore new styles, learn about color and how it affects us, bring awareness to breath work when we create, and most of all have fun, make new like minded friends and creatively connect with our natural world!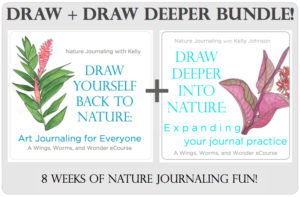 In the bundle you get my flagship class Draw Yourself Back to Nature in a self paced version so you can start right away and then May 23 you begin the facilitated Draw Deeper Into Nature! (+ there's a special private live session May 12 for bundle participants and course alumni!)
What do you think would help you deepen your holistic connections with your creativity? Share in the comments below.
Share pics of your creative endeavors on Instagram #wingswormsandwonder !
Seeds to Sprout:
Check out my interview on the Hali Karla Arts blog here!
Register for Spectrum 2016 here! This is my affiliate link, so as a teacher in the course I get a little financial love! Let's share creative connections together for the next 22 weeks!
Learn more about all the wonder-filled things Spectrum 2016 involves and includes here in this video by Hali Karla!
Have you registered for the Draw Deeper Into Nature live session May 18 at noon est yet? It's FREE! Reserve your spot today while they last!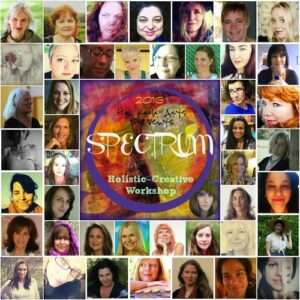 Here are all the Spectrum teachers!!