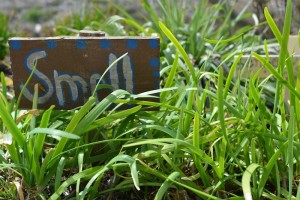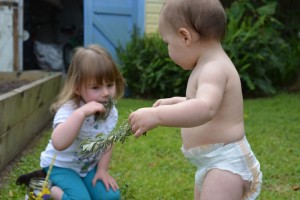 I think that one of the most fun things to do in the garden is to create sensory exploration activities, hands down. They are so simple, yet create such as great impact on all age groups of children. I love to watch children taste an herb such as stevia and see the look of surprise as they discover that a leaf tastes sweet, gingerly touch aloe spikes, or discover the fresh smell of lavender after rubbing their hands through the plant and relate that smell to their bath soap.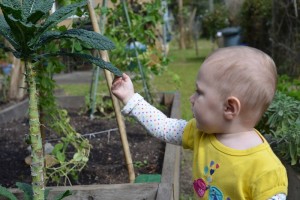 Those experiences are amazing with any age – even teenagers and adults, but I really love to watch infants and toddlers sensorially explore the garden. Everything is so new to them and they approach the plants with such curiosity. I feel like it is a gift of wonder to  share these first experiences with this age group, especially when they are tasting in the garden, since oral exploration is inherent in their plane of development. So often we have to tell children of this age not to eat something, that it is a real treat to create an environment where tasting is allowed.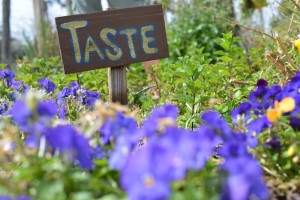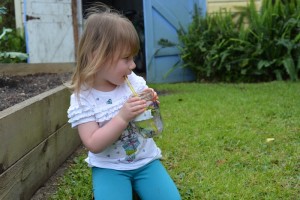 Beyond providing time for the child to take sensorial strolls, both guided with naming and independently enjoying the pure sensorial experience, it is fun to create an activity such as herb water infusion in the garden for the child to discover, work on, and taste. They can pick herbs and edible flowers and then place them in cups of water and enjoy! They love to pick and place and then stir it all up with the straw.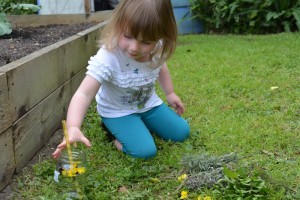 Use a clear vessel so the child can enjoy the beauty of what she is infusing.
These light infusions are a treat for nearly all the senses. They engage, touch when the child picks and handles the leaves, smell when they choose an herb by the way it smells, sight when the child chooses which herbs to pick and sees the beauty of the glass with the infused herbs and flowers, and taste when the child tastes the actual herb and drinks the infused water.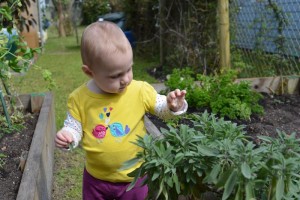 Picking the herbs requires careful consideration.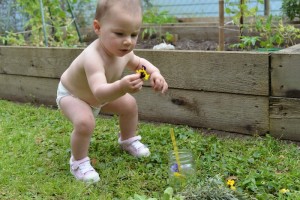 Even infants find joy in this purposeful work.
I bet you can tell how much fun I was having with these friends of mine in my garden. They were all so purposeful in their interaction with the plants, and really took the work seriously. They connected with the garden on a deep sensory level while improving spacial awareness and fine motor skills. It can be easy to overlook the benefits and lasting connections that sensorial garden exploration can bring to very young children. I hope this activity sparked a little wonder and perhaps inspired you to create fun and delicious experiences in your garden for friends of all ages!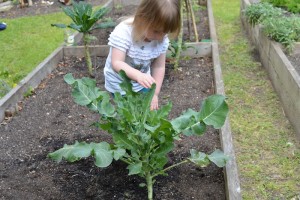 Seeds to Sprout:
This is the Playful Learning activity that provided me the inspiration to create my own version.
More on the benefits of sensory play in the curriculum
Sensory experiences for infants
Sensorial and Montessori Philosophy
Edible sensory activities for very young children from the blog Creative with Kids
Developmental benefits of sensory experiences in early childhood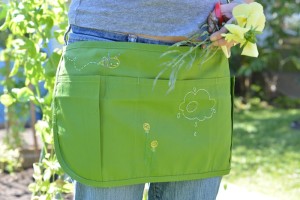 Remember to sign-up for the newsletter before March 20th if you want to be entered in the drawing to win this apron!