Depending on where you live, you could still have a month of summer's slow ease or you could already be gearing up setting up your classrooms and/or buying your child's supplies. If you're like me and my mom friends, I bet you don't even want to think about it!!! Can't we slow time down a little??!! One more week?!! PLEASE????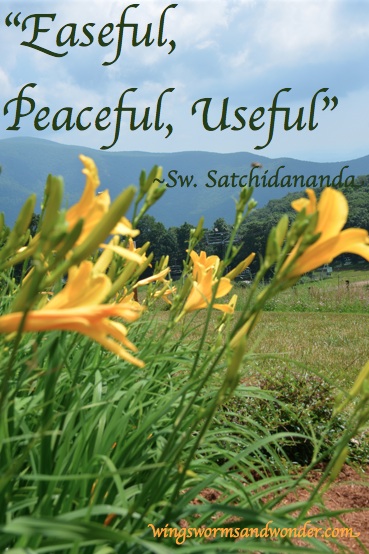 We all love the relaxation summer brings, but what do you do to stay easeful, peaceful, useful during the school year? Do you have certain systems that keep things running smoothly, do you scheduled in down time, do you have an exercise routine? If you're like me, you probably do some of each.
For me, schedules and systems keep things in order and allow me precious decompression time. If "read on the beach from 9:30-11:30 on Thursday" or "Tuesday, 2:30, go stare at the distant trees for 15 minutes" is on my schedule I'm going to do it  – and I end up being more productive and creative the rest of the day (and week) because I gave myself space and sunshine. I keep having to learn the hard way that an easeful body and peaceful mind give me the useful life filled with wonder and freedom that makes me feel great!
Let us know in the comments what keeps you 
easeful, peaceful, and useful…
I could always use another idea!
Seeds to Sprout:
New!! Keep up with the Wings, Worms, and Wonder blog posts easeful-ly with Bloglovin!!
Did you catch yesterday's super easy and fun fig Wonder Wednesday recipe? Celebrate summer with this sweet treat!
Check out all the new handmade items in the Wings, Worms, and Wonder Etsy shop! I just added new Garden Party Flag Bunting! Great for back to school teacher gifts, garden party fun, and outdoor exploration!