What do you think Cezanne meant by this?
To me, he meant that the harmony and connection you feel while in nature is parallel or the same as the harmony and connection you feel while you are creating art, or even viewing art in certain cases.
So when making art while in nature, as Cezanne often did since he was a post impressionist painter, wouldn't that be an ultimate way to induce harmony? I think so!! I know it works for me!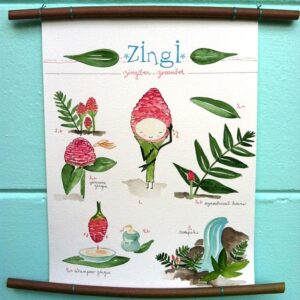 How did you like last week's blog hop and live journal making tutorial? I thought it was so fun to try the tutorials from such awesome artists. It got me really pumped for the Draw Yourself Back to Nature course starting next Monday! Yay!!
Even when art is a part of your job, it can be tricky to squeeze in time for art that isn't work related, so while the blog hop was part of my job, it gave me a great excuse to make time to creatively connect with nature and have someone else take the reigns and guide me. I had a blast making MUMBOT's vintage science poster tutorial last Sunday!
To keep the creative nature connection fun going,
I will be hosting a 5 Day Journal Prompt challenge leading up to the Draw Yourself Back to Nature opening day.
All you have to do to play is:
1. Follow @wingswormsandwonder on Instagram
2. Starting this Thursday, October 15, through Monday October 19, get the daily prompt from my Instagram feed. (I'll also post them here on the blog)
3. Make your jouranl entry in pictures and/or words from the prompt
4. Post it on Instgram & #wingswormsandwonder #drawyourselfbacktonature #5dayjournalchallenge
On Tuesday October 19, I will pick 2 winners from the Instagram # feeds and the winners will get digital copies of my Nature Journal Prompt Cards!! YAY!!! Winners will be announced on Next Tuesday's blog.
You could fill the journal you made with me in the live session or make one today with the replay!
Join the Journaling Journey!!
If it feels right, I hope you'll join me, the blog hoppers, and all the wonderful participants starting next Monday in the course! Take the step and schedule in time for nature and art induced harmony this fall!
Whether you are novice or seasoned in the realms of nature, journaling, and/or art, Draw Yourself Back to Nature is a wonderful community of creative nature connection inspiration!! It's so much more than just an art course!
"This course is like learning how to meditate. It gives you permission to stop to look at nature in a new way. The art process itself is rejuvenating, and the world around you slips away, even if it's just for a few moments.
Kelly offers such wonderful encouragement to pursue an aspect of oneself that might be full of uncertainty/discouragement! Learning so much about oneself through drawing/painting/nature connection becomes a necessary daily routine." ~Peggy Nolan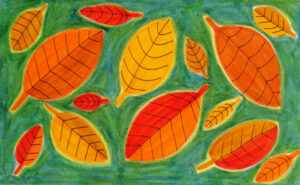 Now, what you've been waiting for…
The winners from the Blog Hop!!
* Monday – a free spot in the self-paced Connecting with Color eCourse: Jessica G.
* Tuesday – a Mumbot hand drawn cover Moleskine Journal and Mossy button: Patty
* Wednesday – an original nature illustration by Honeyberry Studios: Dawn Suzette
* Thursday – a Hummingbird themed Outdoorsy Box activity kit by Magical Musical Company: Amy
* Friday – a digital Daily Musings Journal by Mountain Mermaid: Peggy
* Grand Prize – 2 free spots in Draw Yourself Back to Nature:
1- Vanessa, Mamas Happy Hive
2- Kerry Hallat
Winners will be contacted shortly by the hopper who's prize they won!
Congratulations everyone and thank you so much for hopping along!!
What do YOU think Cezanne meant by "Art is harmony parallel with nature"? 
Share in the comments below!
Share pics of your blog hop tutorial projects and live hour journals on Instagram #wingswormsandwonder #drawyourselfbacktonature
Seeds to Sprout:
Register for the Draw Yourself Back to Nature eCourse here!! Join all the fall creativity fun! Connect with the blog hopper's and lots of creative nature enjoying like minded people of all ages and abilities!! Won't you join the fun? Give yourself, and family, the gift of creative nature connection this fall!
Did you miss the hop, all or just a day? Here are all the links:
Monday: Wings, Worms, and Wonder's Watercolor painting technique videos
Tuesday: MUMBOT's Mossy Vintage Science Poster tutorial
Wednesday: Honeyberry Studios' Leaf Doodle tutorial
Thursday: Magical Movement Company's Nature Art with Children tutorial
Friday: Mountain Mermaid's Doodlling Back to Nature tutorial
Friday: Replay of the live nature journal making tutorial – make your own easy nature journal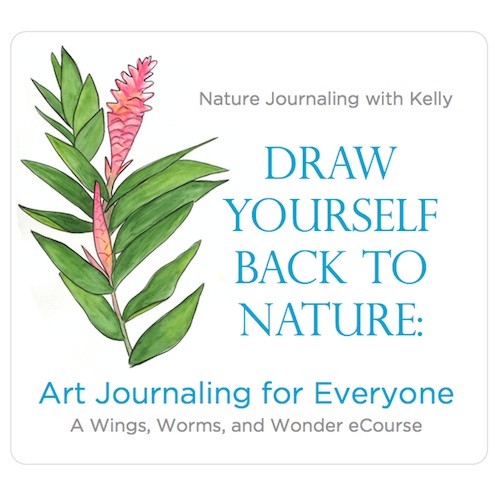 Join Draw Yourself Back to Nature and make connections with nature and a community of like minded humans that can last a lifetime!
Click here to register while you can! Course starts October 19!