In today's Seed Swap post we're going a bit of a different route. I am participating in the Blacksburg Belle Blog Tour and the topic revolves around digital products. So I ask you: In what ways can I offer you a better helping hand through digital products?
There is a funny old gardening quote that goes:
"My green thumb came only as a result of the mistakes I made while learning to see things from the plant's point of view." ~H. Fred Ale
I want to better see from your point of view and I'm a bit nervous to admit this. However…
The Nature Journal Prompt Cards that I created and released in August have not been the huge hit I anticipated. The few people that have purchased and downloaded them have given rave reviews, so why the crickets on the journal cards sales page? I was sure such a fun, creative, practical, affordable, and easily accessible (no shipping fees, yay!) item would be a big hit right off the bat!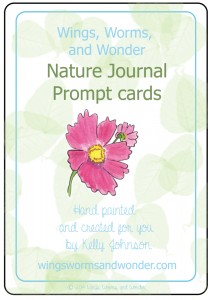 Maybe the launch timing was off with school just starting? Maybe I didn't get the word out enough? Maybe people don't really like nature journaling as much as I do or think they do? Maybe many people just haven't tried journaling in nature with children and seen first hand how the children love it? Maybe I missed another angle entirely?
I want to learn to create and sell digital products that help children and adults connect with nature more holistically…
Digital products that are fun, affordable, and use the arts to spark wonder and connection with the natural world through a gardening lens.
I want to provide you with the resources I wish I had when I was teaching and nannying full time, but didn't have the time to research and create.
That is why I want to learn to create and sell digital products. If I'm not actually helping, than what am I doing?
Like the gardening quote, I don't have a green thumb yet when it comes to creating digital products that you can't wait to put into action. I am still in the learning stage, and being a lifelong learner is great! I've always been one to jump in and learn as I go, so when these questions come up, in this case about creating digital products, I ask, otherwise I'll never learn to turn my digital thumb green!
From newsletters to special pre-launch discount codes to Instagram contests, what happened? Why all the crickets? I don't know, so I'll keep asking the tough questions and keep trying. How do you think I earned my green thumb for growing tropical fruits? Not from my Virginia farmer relatives that's for sure! I'll keep making mistakes and learning to see from different points of view.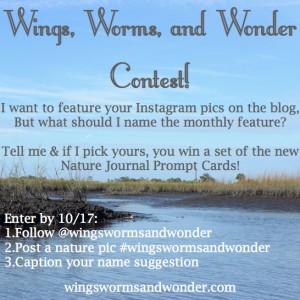 I have so many ideas for digital products that I think will help you connect children with nature from matching games to Montessori 3 part cards to video courses on how to build gardens, but just because I have the idea doesn't mean that it's exactly what you want or need.
SO, what do you want and need when it comes to gardening with children, nature connection support materials, garden building and integration resources, and sparking an unshakeable senses of wonder for a happy healthy green future?
Share in the comments below what digital products you wish I would make.
Share constructive ideas on what would make Wings, Worms, and Wonder digital products the best for you.
Thanks!
Seeds to Sprout:
Give the Nature Journal Prompt Cards another look and let me know what you think.
Check out this review of the Nature Journal Prompt Cards from Go Explore Nature. Is it in line with what you think?
Have you ever heard of Creative Live? They have online classes (free ones too!) on tons of creative living topics from the top creatives. Check it out
If you share this post on social media or pin it, use #bellelive so we can all grow together!
Here is the course I'll be taking to help me learn how to create better resources for you and the inspiration for this blog tour…
"Are you ready to make your creative work more lucrative, stable, and sustainable in the long-term? Join April Bowles-Olin for an introduction to digital products and how they can enhance your creative business. This course will show you how to produce and position viable products for generating multiple revenue streams and passive income. RSVP right here to watch it live and get access to the workbook for FREE. This post is part of the Create Digital Products blog tour."