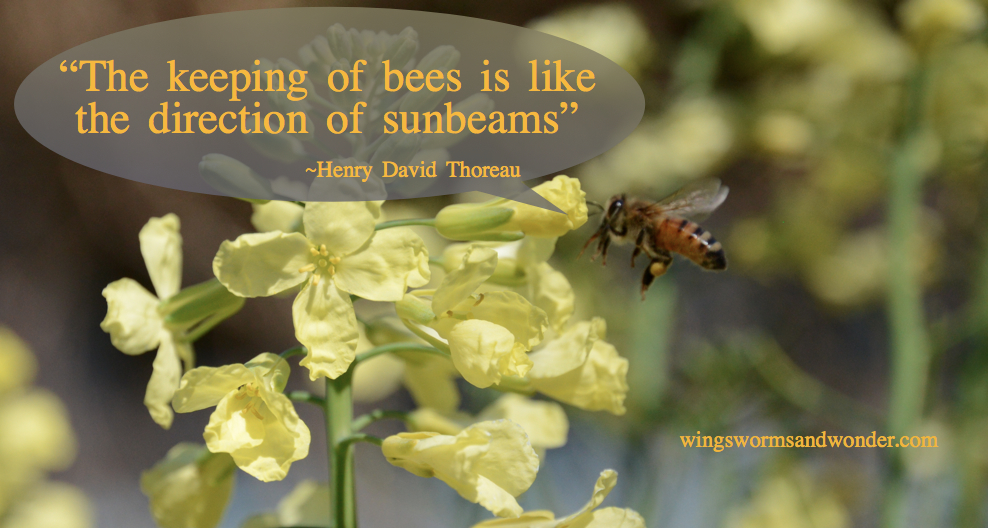 Check out the pollen sacks on that lady!
(Too sexist? I know, I just couldn't resist)
This month I have been hyper focusing on bees. I let the cat out of the bag a few weeks ago and told y'all about my children's book publishing contracts, but didn't let on any details, well children's book #2 is all about native bees! They are the unsung heros of forests and gardens! Here in Florida the bees are starting to emerge. I have only seen honey bees so far, this lady perusing my broccoli specifically, so I thought I would honor her and all her bees sisters, native or honey, today!
In Thoreau's day, keeping bees was a popular hobby for children and hives at schools were not uncommon. How do you feel about children keeping bees at school and in community garden settings? It can be a touchy subject with allergies and litigation fears. I think that if more people were educated on bees, beekeeping, and the difference between bees and their much more aggressive ancestors, wasps, we may be able to start to change the psychology and fear surrounding bees. (That's one of the themes in my new book!) One day, maybe honey bee hives and native bee nests at schools will be a normal addition to the schoolyard.
Do you know of any schools that have bee hives?
Share your stories of them! I would love to feature their beekeeping programs!