---
Do you think that we, as humans, are works in progress our whole lives? I do. I think there is always something new to learn and ways to improve ourselves. In our search for connections of all sorts in our lives, creative practices and the natural world are helpful guides.
However you choose to creatively connect, I imagine, if you are anything like me, you learn something new each time you venture out into the natural world.
Each walk in nature, new plant planted, or nature art journal page completed is another little quest completed on our search for connections in the web of life. According to theories in the field of Ecopsychology, when we understand our places and roles in the web of we feel happy, healthy, and creative!
So go ahead, get outside, spark some wonder, and connect with nature in the ways that feel most meaningful for you!
How does time in nature and assimilating your nature experiences help you know yourself better? Share in the comments below.
Share pics of your creative nature connections on Instagram #wingswormsandwonder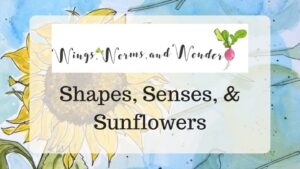 While you're over at the online school, join the new FREE class Shapes, Senses, and Sunflowers!
Tulips, pansies, camellias! Check out my YouTube channel for free spring flower sketching video tutorials!