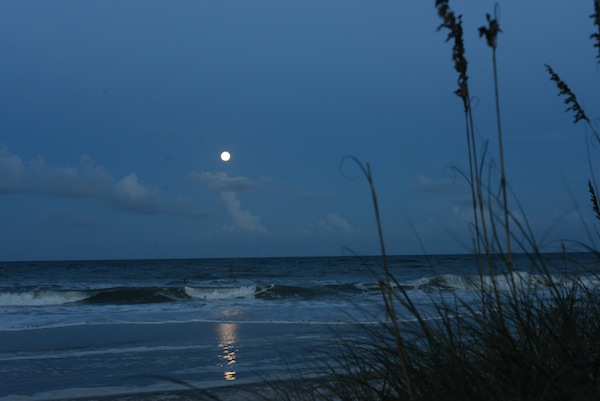 This was the full moon from Tuesday night. It was pretty cloudy so we couldn't see it until it was up pretty high.
I hope everyone was able to get out and enjoy the full moon this week! For me, it made a good excuse to take a break from indoor evening activities and get outside.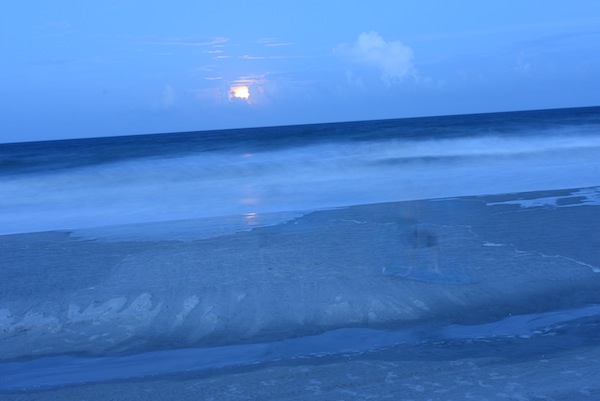 This is the harvest moon rising Wednesday night. Check out how the waves turned out in the long exposure.
For those of you not yet back in school, you may still have a bit of time to collect ideas and resources for building your outdoor learning environment and program. For those of you back in school, you can save these links for a teacher inservice day or next summer! There is a lot of information out there and it can take forever to weed through it all and then still feel like you don't have your head wrapped around everything you've collected!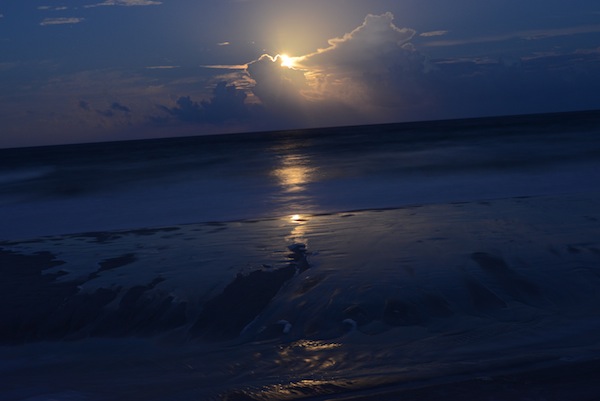 I think you could fool someone and easily convince them that this moonrise was a sunrise- so warmly colored!
Today I present a few activities and resources that you may find useful in your planning or at least to add to a short or long term wish list!
Share how you are integrating outdoor learning into your classroom or daily home life! Let's teach each other!
Seeds to Sprout:
Nature's Classroom Institute's new Vermi-Wormy Compost Lesson plan. This one I put in again in case it slipped through the cracks Tuesday. I kinda just snuck it in there before.
Whole Foods Market created the Whole Kids Foundation to support healthy eating lifestyle choices for children and is very generous in sponsoring school garden programs. They also have a great resources section for families and schools. Check out wholekidsfoundation.org
The EPA has environmental education resources and grants geared toward all ages-even programs for colleges. The programs I think that are most noteworthy are the President's Environmental Youth Awards which recognized environmental stewardship projects and winners get a certificate and letter from the president which a student of mine who won thought was pretty cool. (This award doesn't take much work and can be a useful tool for bringing local recognition to your program). There is also a teacher award so get a colleague to nominate you or better yet, nominate yourself! I bet you deserve it!
The EPA also has a student environmental blog, The ECO Student, that can be a tool for connecting your students with the wider conversation on environmental ideas and could possibly help you meet some technology and writing standards, should you have to contend with those.
If you teach older students, you may want to consider a research project on the Child Safe Playing Field Act. This is an effort made by New York State to ban pesticides from playing fields and playgrounds that passed last year, creating a model for future bans of harmful chemicals in areas that children of all ages play. Will your school be next? A Cornell University article pdf on the act with details on the specifics and healthy alternatives
PBS Kids has a site called Eekoworld for younger children to teach environmental concepts that is in no way a substitute for actual outdoor and nature experience, but does have games and information on different types of ecosystems, recycling, clean water and air, and both teacher and family resource guides.
If you are in NYC, Grow NYC is an organization that helps connect urban students with fresh foods and with becoming stewards of nature in the city. If you are not in NYC, check them out anyway because they have great education programs for K-12 that you could use as models for creating your own!
This one is an environmental education curriculum framework from Australia that could be a great resource for those of you looking to add ecologically literate language to school missions, curriculum, or missions. You don't have to reinvent the wheel if you have this!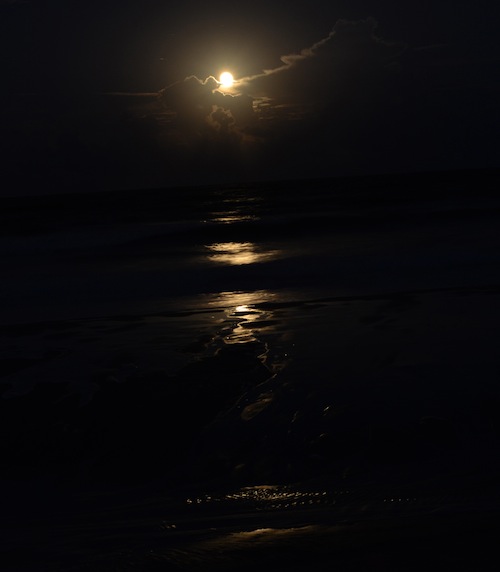 So beautiful!