So I'm on this little mid atlantic book tour and things are going great so far! It is a really perfect balance of teacher, student, and community workshops.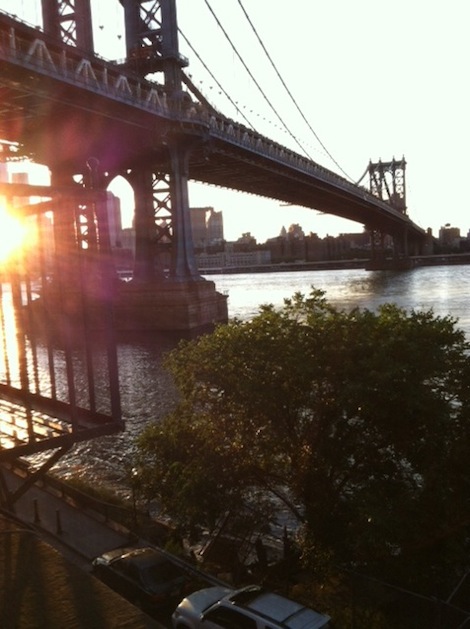 Stellar right? Who wouldn't relax?! This is my view of the East River from our place in Dumbo (Brooklyn, more on that in a minute, but I thought I'd catch your fancy with this sunset shot.)
The University of Richmond's Nature and Sustainability Institute workshop went great on Monday and I was quite impressed with the array of backgrounds from which the students were coming. Great work y'all, you're in the home stretch now! Keep creatively engaging your students and lessons in the natural world!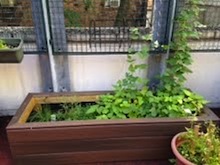 The Lemon Thyme in this planter at BHMS was remarkable. So lush and fragrant and almost making a ground cover of sorts! I am inspired to grow some this fall!
Now I'm in Brooklyn and in the middle of a series of student workshops at Brooklyn Heights Montessori School, which is absolutely gorgeous and has a cooking lab adjacent to a terrace with raised beds that is to die for! Today I created nature journals and explored the difference between monocots and dicots with elementary age students and tomorrow I will have fun with sprouts with the 3-5 year olds!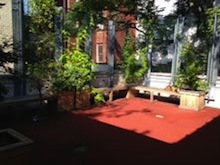 This terrace is such an oasis! Totally nestled inbetween trees and buildings, so quiet and peaceful. Lucky teachers and students! Maria Montessori would love this!
Then, Sunday wraps things up in Philadelphia with an open community workshop at the Wooden Shoe, which I am really excited about too!  (Come out and see me if you're in the area!)
All this traveling around can really wear on my immune (respiratory) system though. (Especially when you have an irresistible 14 month old nephew with a little cold that you can't keep your face off of!) So this evening it's been really nice to relax in Dumbo overlooking the East River and Manhattan Bridge, watching the geese and the water taxis roll by. I definitely wouldn't have expected a place so relaxing and nature filled right smack dab in the middle of the city. What an immune boosting oasis and what a great summer breeze!
So that's where I'm at this week, but next week y'all are in for a treat! Tuesday I will be featuring a guest post and Wonder Wednesday lesson by  writer, Journal therapist, and blogger Joanna Tebbs Young on the value of journaling with children! Be sure not to miss it!
Where is your favorite renewing urban nature oasis?
Seeds to Sprout:
In or near Philly? Come out to the Wooden Shoe July 28! I'll be speaking on progressive education and Nature-study and we will be doing some fun hands-on activities!
Check out Brooklyn Heights Montessori School! I wish I had children and lived in Brooklyn just so they could go here! And they go through 8th grade too!
Thanks to all of you are making me closer to my goal everyday! Remember the "senseofwonder2013" sale! Now through August 21, get a discount when you enter senseofwonder2013 into the coupon code! Buy a copy now before the sale and the summer gets away from you.
I had said I'd keep you posted on this so I'm sorry the community workshop didn't manifest at Bluestockings this summer. I'll be sure to let you know the next time there is a Wings, Worms, and Wonder community event in NYC, or anywhere else for that matter! In the mean time, contact me about scheduling a custom workshop at your community garden or school!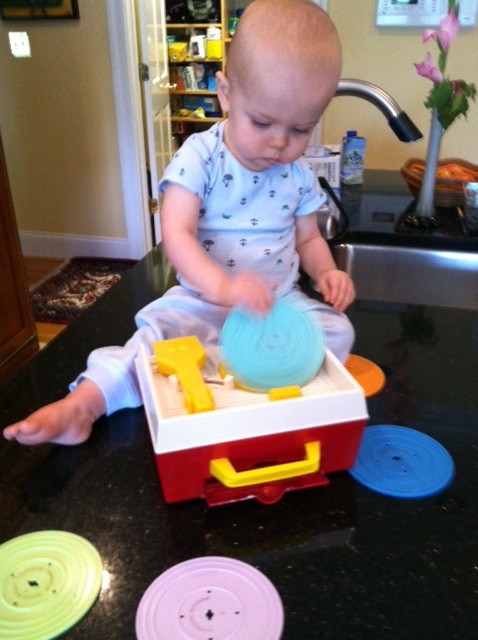 How irresistible is this little rascal spinning records with a rattly cough? (Sorry y'all I just couldn't help throwing this one in!)