---
Are you totally confused as to what this bizarre blog title has to do with May? Or maybe you think I've finally lost it. I wouldn't blame you! But hang with me and I think you'll have some fun this month. I discovered a list of so many quirky celebration days in the month of May!
We all know the classics like May Day/ Labour Day on the 1st and Mother's Day (in the states anyway) of course, but did you know that the 13th is frog jumping day or the 16th is purple for Peace day – not peace like peace on earth, but wear purple so the aliens looking down on us know anyone wearing the color is peaceful. How space aliens know this I can't say, but best to play it safe wear purple that day!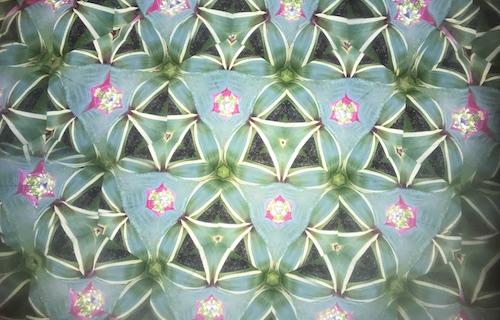 In today's post, I compiled a list of fun and unusual nature centric days to keep your May full of celebrating. Enjoy the days with the ideas I offer, or use the list as a series of nature art journal prompts.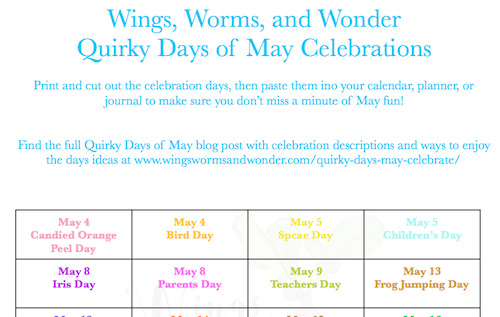 I even made a pdf fun sheet for you that you can tack to the fridge or cut and glue into your calendar so you don't miss a day to have some fun, gets some laughs, and spread nature and creativity across your May! Click the link in the Seeds to Sprout section below to get your pdf.
---
Celebrate the Days of May!
Remember to bring your nature journals along on all these May holiday nature inspired adventures!
May 4 – Bird Day:
If you've read my book Wings, Worms, and Wonder, you already know all about Bird Day, but if not, May 4 is the oldest day set to celebrate birds. Since 1894, people have been giving birds a bit of extra attention on this day.
On this day you could: get out and do a little bird watching and nature journaling in your nearby nature, set out a bird feeder or bird bath, or check out a local bird program at your local wildlife center.

May 4 – Candied Orange Peel Day:
Have you ever had candied orange peels? They are so good and easy to make! Chewy, sweet, and tangy, they are a great little treat, that offers a kick of vitamin C too! Dip them in chocolate for a special treat! Click here for a recipe to make your own. Be sure to use organic orange peels so they aren't waxed or sprayed.
May 5 – Space Day
This is just what it sounds like – so make a visit to the planetarium during the day and at night get outside and do some star watching! Explore and celebrate the final frontier!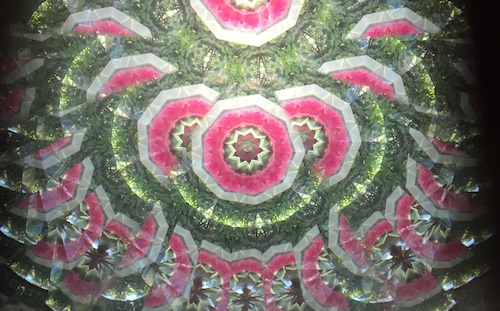 May 5 – Children's Day (S Korea)
After you go to the planetarium, have a picnic outside with some children – yours or borrowed from a friend. In S Korea, this is a national holiday where adults even have off work so they can picnic with their kids! You could even have a picnic featuring Korean food! If you do, be sure to invite me!

May 8 – Iris Day
Iris flowers were especially loved by the artist Van Gogh, so get some cut flowers or plant some yourself – then try to draw a picture of your irises inspired by Van Gogh's!
May 8 – Parents Day
In S Korea, on this day children give their parents real or paper flowers as a token of appreciation. Try to make some paper flowers yourself – maybe you can even make an iris! Here are some instructions to make your own paper flowers.

May 9 – Teacher's Day
Education is perhaps the most important thing that there is. It dispels fear, promotes love, encourages understanding, and opens up the possibilities of the world and human potential.  Celebrate the teachers in all forms (living, dead, personally known and unknown) on this day. Maybe even make a few extra paper flowers and pass them out to the teachers you know!
May 13 – Frog Jumping Day
It's just like it sounds. Get outside and jump around like a frog for a bit. You'll get your heart rate up and get a good laugh! Then, you can draw some frogs in your nature journal when you finish your jumping!

May 13 – International Migratory Bird Day
Migratory birds fly amazing journeys across the globe. It's totally mind blowing how things so small can travel vast distances using only their own wings. Take a bit of time to learn about some birds that migrate through your area on this day. If you have my book Wings, Worms, and Wonder, I also have a lesson on this in there too!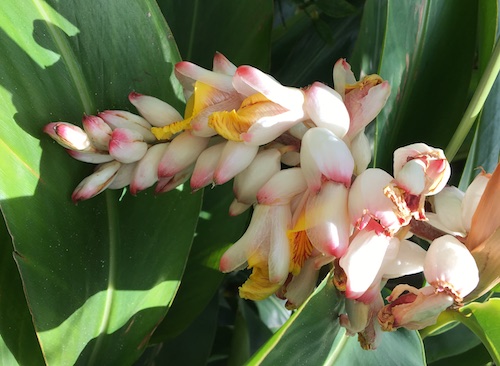 May 14 – Mothers Day
Get your moms out into Mother Nature on their day! Take a picnic, visit a botanical garden, cook them a farm to table dinner, and give them some of the paper flowers you made along with a bouquet of real flowers too!
May 15 – Chocolate Chip Day
You may be thinking what does this have to do with nature? Well, chocolate grows on trees doesn't it? Yep!  The cultural history and agriculture of chocolate is fascinating and also a bit scary when you discover that non fair trade chocolate is harvested by child slaves. Yikes! No more buying hershey or nestle brands!! (ps- I didn't capitalize those companies on purpose they don't deserve it.)
Take a little time to watch The Dark Side of Chocolate documentary and learn about this delicious treat while you snack on some fair trade organic chocolate chips! (This documentary is not developmentally appropriate for children under 12.)

May 16 – Love a Tree Day
We do love trees! Why not do a tree ceremony on this day? Get the plans to craft your own style of tree ceremony here from last month's Earth Day post!

They aren't monkeys at all, they're crustaceans. (photo credit)
May 16 – Sea Monkey Day
If you grew up in the 60s, 70s, or 80s you probably had some Sea Monkeys at some point. These little cult classic critters are actually just brine shrimp – not monkeys at all. As a vegan, I can't say I recommend growing them yourself, so how about instead learn a bit about brine shrimp and then draw them from pictures in your nature art journal. Or draw actual monkeys swimming in the sea!
May 18 – International Museum Day
Head out to your local natural history museum today, nature journal in tow of course, and spark your sense of wonder with the brilliance of nature's evolution!

May 19 – Bike to Work Day
Personally I think this should be everyday, but I know it isn't feasible for everyone. When I taught full time, I rode my bike nearly every day. The only days I didn't were the ones where it was pouring rain in the AM, and in FL those are few and far between.
It was really good for my own quality of life, mental & physical health, and really helped with transitioning to and from work life roles, but it also set an important model for the children that we don't have to be car centric if we choose not to be. There are options if you get creative.  If you can't bike to work on this day, maybe you can go for a bike ride before or after.

M
ay 20 – Pick Strawberries Day
Yum! Enough said!  If they aren't in season where you live, get some frozen and make a treat with them or draw them in your nature art journal. In my Draw Deeper Into Nature nature art journaling ecourse I have a whole lesson on drawing strawberries!
May 29 – Learn About Composting Day
This is a good day to celebrate, because I have learned in my years teaching gardening, that many people are intimidated by composting. It is really easy though, I promise! Check your local extension agency's website for tips and tricks, or attend the next workshop they offer on the subject.
If you have the book, I have a section on in it in Wings, Worms, and Wonder. Be brave and try composting, things want to decompose I promise! Just remember the most important rule of thumb – only fruits, veggies, and grains – no animal products in the compost!

May 30 – Water a Flower Day
This is a nice and easy one! You can water and plant some flowers in your yard, in a pot, or in a vase from a bouquet. Then draw or paint the freshly watered flowers in your nature art journal!
You could also contact your local community garden and ask if you and a group of friends could come out and volunteer to water the flowers and garden. I can speak from experience that watering help at a garden is a huge help. If anyone in north Florida wants to help me water any of the children's gardens on this day (or any day) I would gladly help make that happen!
Okay! Well that list should keep you neck deep all May in creative nature connection fun! I hope you enjoy celebrating!
What celebration day most sparks your wonder ? Share in the comments below.
Be sure to share your quirky May celebrations on Instagram #wingswormsandwonder !
Seeds to Sprout:
Get your Quirky Days of May pdf Fun Sheet here: quirky-days-of-may-funsheet
Click here for a recipe to make your own candied orange peels with this recipe.
Click here for instructions to make your own paper flowers.
Click here to watch Dark Side of Chocolate documentary. It is very well worth your time. you can save lives simply by buying fair trade chocolate.
Click to craft your own style of tree ceremony from last month's Earth Day post!
Click to learn all about sea monkeys here.
Click to check out my Draw Deeper Into Nature nature art journaling ecourse
Sorry to reference my Wings, Worms, and Wonder book multiple times in this post and then report it is currently sold out/ out of print. But I am working on making a second run happen as we speak!