---
Guess what? I'm teaching nature journaling in the upcoming online course –
Pull Pen Paint:
Strengthen Your Intuition with Journaling, Art, Tarot & Oracle Cards
It starts March 1, & since this is year 3 of the course hosted by Kiala Givehand,, there's already a ton of content in the class waiting for you if you join now during early bird registration. Bonus!
Pull, Pen Paint (aka PPP) is about learning to pull cards, interpret them intuitively, journal using your intuitive insights, and even take it a step further and use the cards to spark your creativity in an art journal, sketchbook, or on canvas.
(Sounds like this week's blog post right? Remember how I said that when you start thinking about something it starts attracting likes – well this class is all part of that attraction I mentioned! (Did you miss this week's post on Ekphrasis? Check it out here!)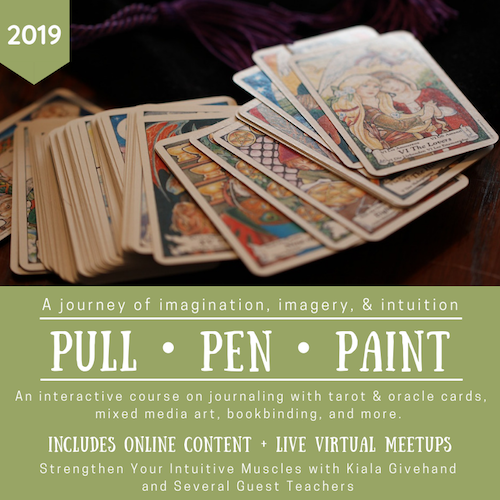 Kiala has brought together several teachers from all walks of life to share their love of journaling, tarot, and diving deep to uncover the answers that live inside of us. From Astrology and numerology to sound healing and crystals, it's going to be an amazing 12 weeks together.
And, to top it off, we will have several virtual sessions that you can attend live online and be in conversation with the teachers and other students. My lesson will be all about journaling as a way to connect more deeply with our natural world, of course, but I'll be taking that to new depths with some ekphrastic color theory explorations and more! It's going to be a blast. I sure hope to see you there.
---
What's Unique About this Class:
●  Multiple Teachers from various backgrounds (journaling, tarot readings, artists, healers, bookbinding, and more.)
●  Learning to make handmade journals
●  Art journaling lessons
●  Recorded lessons and LIVE virtual sessions (recordings made available after live session)
●  Focus on learning to listen to your inner wisdom/guide/muse
●  12 Week course with access until February 2019
●  $88 Early Bird / $111 after Feb. 28th
●  VIBRANT Private Facebook Community
●  Foundational Lesson Library with more than 20 lessons waiting when you register!
Sounds interesting right?
The class is all about how to use oracle and tarot cards for journaling, strengthening your intuition, and art making, AND we bring in all the things connected to the intuitive guidance systems (astrology, numerology, crystals, altars, rituals, nature, etc.) in an attempt to know ourselves better and more fully.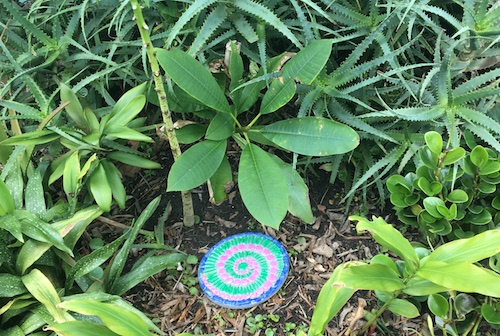 And, never fear, it's totally fine if you've never used a card deck beyond playing go fish! You don't need to own any kind of inspiration, oracle, or tarot deck, you don't have to wear a crystal around your neck, know your astrological sign, or even love to eat quinoa!
This class is for people of all experience levels who want use creative journaling to go deeper within themselves, their communities, and the physical and emotional world.

*** Next Wednesday, 2/20/19, I'll be doing a giveaway for a free spot in the class on my Instagram @wingswormsandwonder!
Be sure to check out my feed and stories on 2/20 to enter to win! ***
But you don't have to wait – you can click here and join today and get started on all the bonus content!
---
Seeds to Sprout:
Are you hesitant to join because you don't have any kind of deck? I'll be using my new Creative Connections Inspiration Deck in the course if you'd like to join me in using that, but it's not required by any means. Check it out here.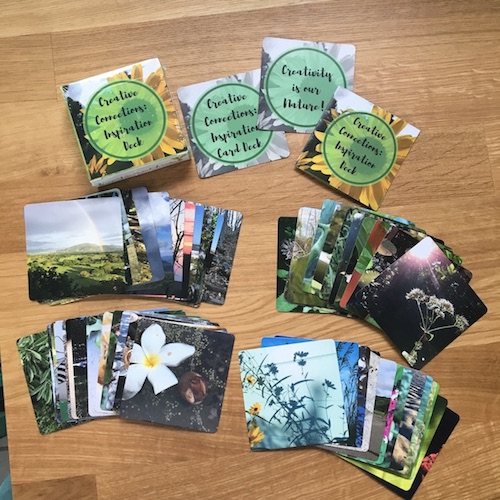 You could also use my Nature Journal prompt Deck for Children if you have that one! (It's really for the children in all of us :))
Or, you could even make your own deck of prompts – click here and modify this Wonder Wednesday activity with pdf printable to create your own!
---
FAQ
* When does the course start and finish?
The class begins as soon as you register. There are several "foundational" lessons to help you get ready for 2018. We begin with the official course on March 1, 2019. The course runs through May 31, 2019.
You will have access to the class and the content until February 2020.
* How long do I have access to the course?
After enrolling, you have access to this course until February, 2020.
* What if I am unhappy with the course?
We would never want you to be unhappy, so please purchase mindfully. If you are in doubt, please email Kiala with your questions. Due to the nature of the class and the fact that you will have instant access to some of the content upon enrollment, we do not offer refunds.
* I've never read tarot or oracle cards before. Should I still sign up?
YES!! Absolutely. If you are open to journaling with tarot and oracle cards, we'd love to have you. No prior experience required. We give you lots of guidance and ways that you can begin to learn how to use oracle and tarot cards.
*Which tarot or oracle deck do I need for the class?
You can use any deck(s) you want. Each teacher will be sharing their favorites with you, but you can use any that you like. You can even use an app on your phone if you prefer a digital deck. Based on the previous sessions of the course, you will likely find lots of decks mentioned during the course, so you may want to buy one deck to start and begin a deck wish list :-).
* Is this class about religion or does it focus on Tarot and Oracle as a different kind of religion?
No. This class has nothing to do with religion in the traditional sense. It really is a class about learning to tap into your inner wisdom in order to journal, create art, and be present more fully using tarot and oracle cards as a tool. You can believe in anything you want. As long as you are positive, open-minded, kind, and respectful of others, we welcome you.
*What Supplies do I need?
With this kind of course, it's difficult to give you a full supply list ahead of time. Each instructor will have his or her own list of supplies they are using for their lesson, but here is a general list of things you might want to have on hand or that you might want to begin to add to your collection.
Here are some suggested items:
A set of watercolors
Craft or acrylic paints
Brushes of various sizes
Pens for journaling
At least one Tarot Deck (and be an app)
At least one Oracle Deck (can be one you create)
The handmade journal you make for the class or a purchased journal
White gel pen
Adhesives — double sided tape, matte medium, and glue stick
OPTIONAL: A printer to print lesson PDFs
* How does the class work exactly?
Great question! There are multiple teachers in this course. Some of them will teach their sessions live that are recorded and shared in the classroom. The other teachers will teach pre-record lessons for you to consume at your own pace. The content for the class is held  online and you can access it 24 hours a day 7 days a week. We also gather in a private online room that allows us to see, hear, and chat with one another during live teaching sessions, study group, and artsy meetups. We will pull cards, journal, make art, and be in community holding space for our inner guides to play. All live sessions will be recorded and shared after the class session. We will also be in community in a private Facebook group. As soon as you enroll, you'll have access to any lessons that have been loaded to the classroom.
* When are the live sessions?
The live sessions are all at various times. We try to take into account multiple time zones as we plan the sessions. A schedule will be posted when dates and times for live sessions have been finalized.
* What if I can't attend any of the live sessions?
That's okay. Each session will be recorded and posted in the classroom within 24 hours. You don't have to be with us in the session to benefit from the content.
* What happens when I sign up?
You can access the class immediately! Depending on when you register, you'll see content in the classroom waiting for you. You can begin your journey immediately. You'll also get an email in your inbox welcoming you with some details to get you started.
* When does the early bird rate end?
The $88 price goes up to $111 on March 1, 2019.
* When is the last day to register for the 2018 session?
The last day to register is November 1, 2019.