Do you ever come across the conundrum of wanting to collage flowers, but not having any on hand? Or what about looking up something in an old book and a bunch of flowers or leaves fall out that you intended to make something with, but then forgot about?
I've always wanted a flower press, but never got around to getting one. And I've never found one that I really liked that didn't involved screws and what not. Then, last month a friend told me about a press he was making and asked if he could get my opinion on it, so of course I said yes!
Today, I am so happy to show y'all this hand carved and crafted flower press by nature journaling colleague Rob Terry! When I opened the box my wonder was instantly sparked because this is the prettiest (and easiest) press I have ever seen – and no screws!!
Check it out!!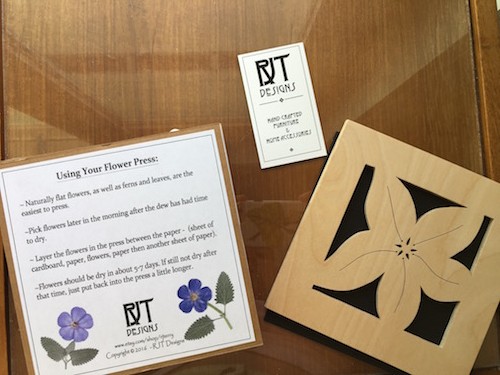 Look how pretty this press is!!
6×6 inch Hand cut (by Rob himself) birch covers, beautiful instructions, & 5 layers to press at a time!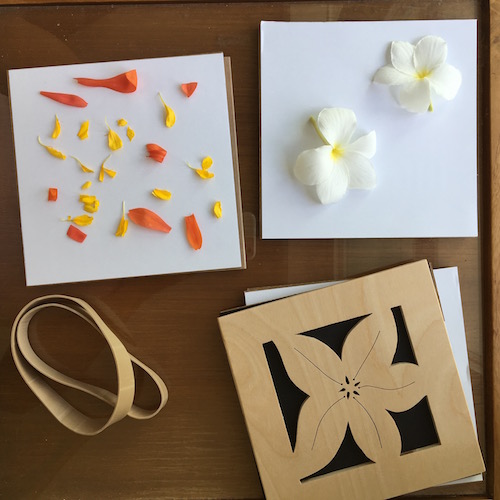 With no tools involved in the pressing and such a great portable size, you can take this press out with you in your nature journal field bag and press on site!
Those super strong and sturdy rubber bands hold the whole thing together nice and tight! I am looking forward to taking this press with me on my next hike and camping trip!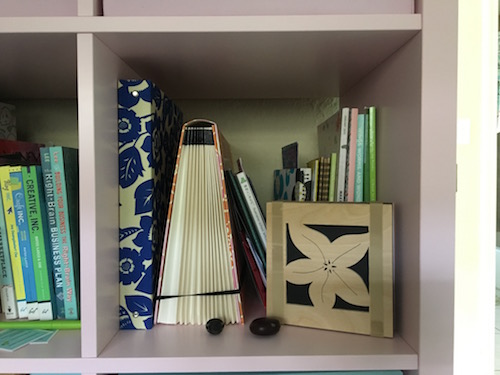 Once you get your flowers inside the press, pop it on your bookshelf and admire the beauty of the press itself while you wait about a week for your flowers to press!
I just love how it looks on my bookshelf. This press serves double duty as a pretty piece of art when not in use.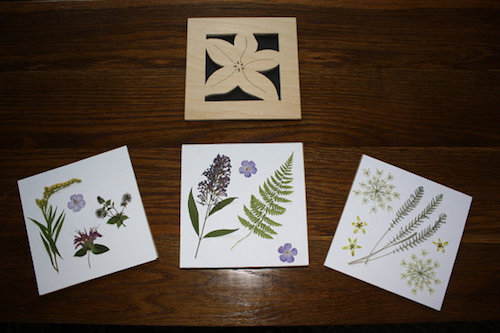 From ferns to flowers this press will flatten all the collage fodder you need!! (photo courtesy of RTJ Designs)
Now you can see why I wanted to share my review of this press with you and not just with Rob! I am absolutely thrilled with my press, and its results, and can't wait to show you what I make with my pressings!
AND…..
I am super excited to announce Rob is having a giveaway of a press to one lucky blog reader!!!!
All you have to do to enter is:
Follow Rob on Etsy here
In the comments below, tell Rob and I your favorite flower!
You have until Thursday, October 20 at midnight est, to enter and the winner will be announced here on the blog Friday October 21! Good luck!!!
(So sorry international readers but this contest is only open to people in the states due to shipping constraints. Don't worry, there's another giveaway coming up next week for you!!)
What is your favorite flower?
Let us know in the comments below. 
Share a pic of your fave flower on Instagram #wingswormsandwonder if you like!
Seeds to Sprout:
Too excited about this press to wait for the contest or want like 10 for gifts? Check them out on Etsy here!
Check out Rob's gardening blog here! Did you know he runs a children's garden at a local school too? Awesome right?
Check out Rob's school garden Instagram page here for some really beautiful garden pics! 
And a couple more pics of the press (photo courtesy of RTJ Designs)