Last Saturday was 13 degrees up here in the Blue Ridge, so we decided we'd take a visit  to the Rockfish Valley Natural History Center. This satellite of the Virginia Natural History Museum is located in the historic Wintergreen Country Store building, built in 1908, and is picturesque to stop and see itself.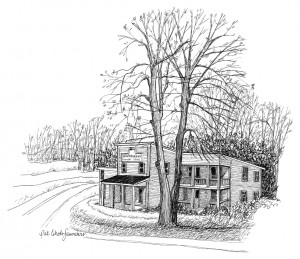 Wintergreen Country Store, Nelson County, VA (Photo credit: RockfishValley.org)
I've driven by for 34 years, when it was abandoned, was apartments, was a local art gallery, and for some reason, never stopped. Since it was taken over by the museum, I've been curious to stop in and it was the current exhibit on local biodiversity that finally caught me.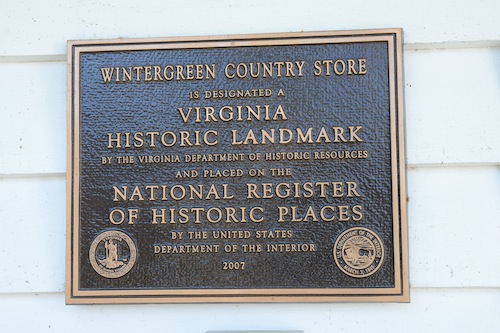 As these things go, even though the sign says open weekends 10-4 and it was 11 on a Saturday, they were closed. (A later look at the website taught me they are closed January-March, loose planning was the luck in this misadventure!) A peek in the window at the exhibit sparked my curiosity, but better yet was the surprise we found outside! Isn't that the case?
Nature's spontaneous discoveries always trump the planned activity, right?! Instead of reading interpretive materials on local biodiversity, we were diverted to go outside to find some of our own!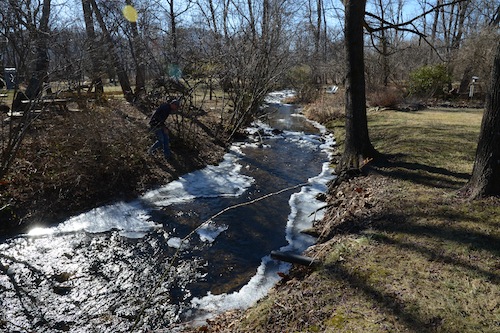 Surrounding the museum, is a wonderful little park (Spruce Creek Park) that is also the trail head for the Rockfish Valley Loop Trail. Since it had warmed up to 17 degrees in the valley, we figured why not take a hike!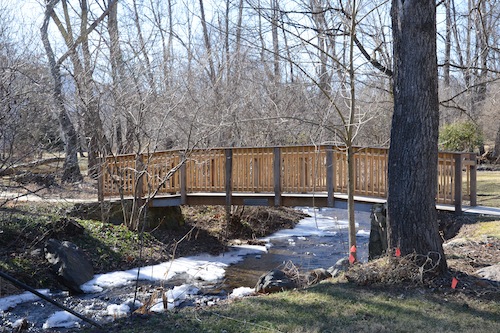 Spruce Creek runs through the park at the beginning of the trail where we had lots of fun checking out the ice formations in the quickly flowing water…and throwing rocks onto the ice, which made a superb sound!!! Kids would love this rock throwing and I definitely plan to bring my 2 year old nephew here soon for some sensorial nature exploration.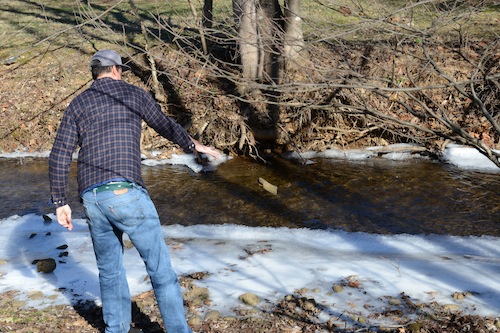 Even big kids like throwing rocks in a creek!!!
The park also had a little labyrinth, some sculptures, benches crafted from local slate, a really fun woven branch fort, picnic tables, and gravel paths. It appeared that they have some projects in the works as well.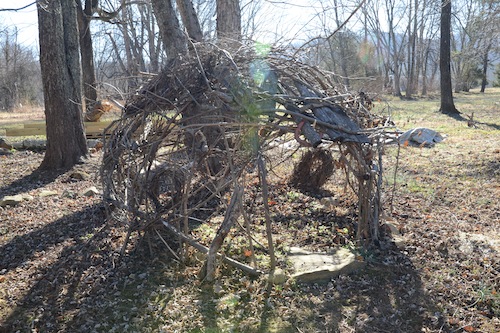 How great is this woven fort structure?! So fun!!
A walk through park, a hay field, and down a country road led us to a scenic viewing bridge over the Rockfish River. This was our final destination that cold day, but I look forward to going back on a warmer day to hike the rest of the trail! Along the way, we discovered an osage orange tree (which I was excited to see in the wild) and blue bird nesting boxes.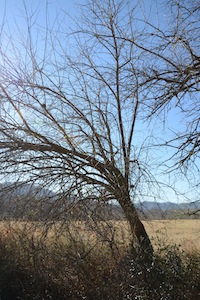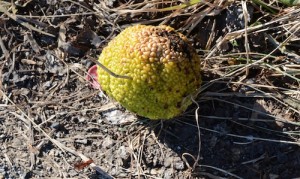 The ditch under the tree was full of these frozen osage oranges. (& they were fun to throw too!)                               
This chilly misadventure is a perfect example of how when we get outside, regardless of the weather or original plan, nature rewards us with surprises like river ice crystals, rock ice pop noises, osage oranges, and helps us deepen our place connections.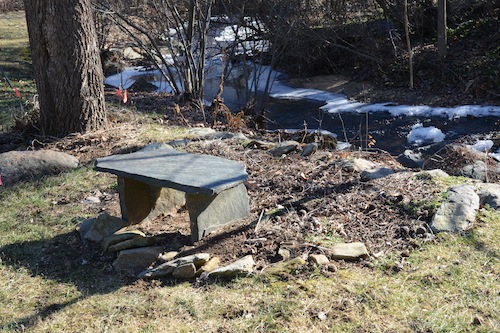 It's not always easy to veer from the original plan, or path, but it's almost always worth it! The next time your plans don't pan out as planned, look beyond at what surprise adventures nature is offering instead!
What surprise adverse weather adventures have you had lately? Share your story below!
Share your fun nature pics on Instagram #wingswormsandwonder
Seeds to Sprout:
Live in or near Virginia or maybe visiting the Blue Ridge? Check out The Rockfish Valley Natural History Center! This Rockfish Valley Foundation is a wonderful resource for all things natural Nelson County from history, geology, and kids activities to hiking, birding, and festivals. If you are in or visiting the area definitely spend some time on this site discovering all nature has to offer in this Blue Ridge gem of a county.
Looking to ease the kids into hiking on field trips or on family outings here in Nelson County or around the country? Check out the Kids In Parks Track Trails. Trough Kids in Parks you can find kid friendly outdoor hiking adventures and events.
If you sign up (for free) through the website, the kids can even earn prizes for their hiking accomplishments! (Not that the nature experience isn't enough, but this is a great way to inspire tech savvy kids to unplug for a bit.) Kids in Parks really gets kids and nature experience and even offers tips for not only getting kids to enjoy nature, but to not make them hate it! Check out the Parents and teachers tab for great connecting kids with nature suggestions!!!
Tomorrow, January 15 is the full wolf moon! Also known as the old moon, the January moon was popularly called the wolf moon because it appeared when the wolves howled in hunger.
What are osage oranges? Learn more about the tree that inspired barbed wire and is great for making bows here.
Are you thinking about building a garden this spring, but aren't sure how and wish you had someone to walk you through the process? Well get excited because the WIngs, Worms, and Wonder Let's Build a Garden self paced video course is coming soon!!! Learn more here!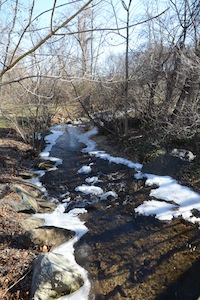 For the record: I know that playing near water in the winter can be very dangerous and do not recommend that children ever play alone near water, especially in winter. This creek is very shallow and we were careful to not walk on the ice.