I wish I could start off this post cheering you on to pumpkin seed sprouting activities to celebrate the fall season, but sadly that wouldn't be setting you, or the children, up for success. Fall is harvest time for this tasty treat.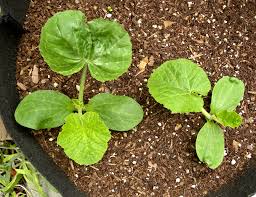 Aren't these little pie pumpkin sprouts cute?! (Photo credit greenlifeinsocal.com)
I really had to force myself not to do a little pumpkin seed planting activity at my workshop last week. I really really wanted to. It would be so much fun–decorating little pots with festive orange faces and envisioning a cute little pumpkin seed plant sprouting out of the top within a few days. But for most of us, if we aren't harvesting pumpkins now, there are no pumpkins in our 2013 future.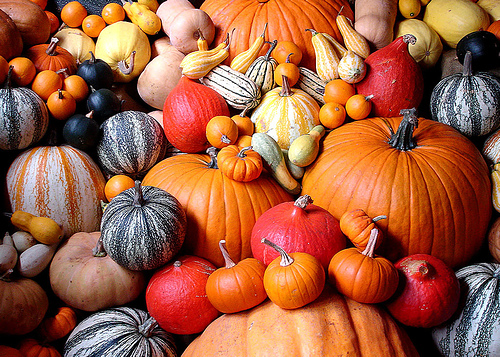 These are all pumpkins! You may like to experiment with some heirloom variety pumpkins that are different colors and shapes for fun. (Photo credit bigbloomhydro.com)
That is okay! Don't be sad because there are still lots of activities you can do to teach children about these awesome fruits while you prep for next planting season. Yep, pumpkin are fruits and technically even berries! Pumpkins are in the cucurbit family which means that they are related to cucumber, squash, melons, and gourds. Think about the characteristics of these plants. Many vine, they have hollow stems covered in little hairs, their flowers are similar shape and color, they each have internal seeds that are flat and raindrop shaped, they all have a strong outer skin, and most have an edible flesh on the inside. Have your students observe similarities in the cucurbit plants you are growing and harvesting this season and compare them to the ones you grow next season. Or, plant a few different varieties in the spring and do it then!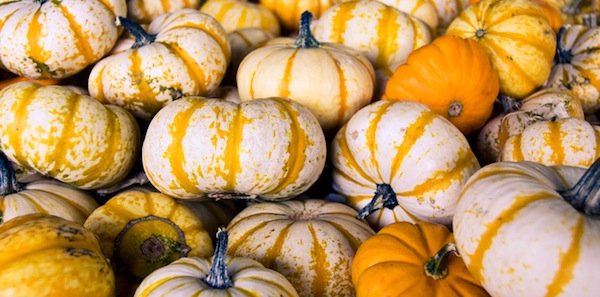 Mini Pumpkins! (Photo credit littlethingsstudio.com)
The English word pumpkin is from the Greek word pepon meaning "large melon," but the Native Americans called them isquoutm squash.  The Greek origin makes me think of the real name of pumpkin seeds–pepitas.  The actual fruit and plant originated in Central America between 7000-5500 BCE, but the variety that we think of (big, roundish, orange) was cultivated over the years to grow in colder climates. Pumpkins can be very large or very small. The giant pumpkins you see at the fair are all descendants of a pumpkin grown by William Warnock. In 1893 he grew the first record breaking 365 pound pumpkin. Today varieties have been cultivated that grow well upwards of 1000 pounds!!!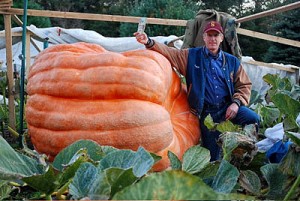 This pumpkin weighs nearly 1900 pounds and was grown completely organically! Awesome!
(Photo credit growingagreenerworld.com)
Take the opportunity before you plant to learn what the pumpkin needs (lots of sun water and space) and what pests and fungi bother these plants. For example, pumpkins are grown on every continent except Anartica, but in very humid climates powdery mildew is something to be managed constantly. This trouble maker has deterred me from growing squash anymore it is so bad in my yard! 4 blocks away in the Children's Garden though, squash grows robust and healthy because there is more wind. You may want to experiment with cucurbit plant placement in your garden and have students collect data to see in which regions this family grows best.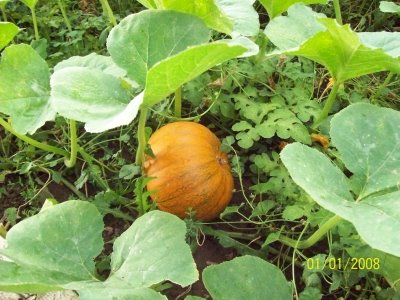 Pie pumpkins are generally smaller in size than the ones we carve
(photo credit merriemelody.blogspot.com)
Delicious and nutritious, have your students do a nutrition fact reseach on pumpkin! You could use the nutrition research lesson I made for you in my book! Then do an integrated cooking lesson with mini pumpkins. (Secret Hint: find pumpkin recipes on tomorrow's Wonder Wednesday lesson plan!)
Pumpkin Nutrition Facts (University of Illinois Extension)
(1 cup cooked, boiled, drained, without salt)
Calories 49
Protein 2 grams
Carbohydrate 12 grams
Dietary Fiber 3 grams
Calcium 37 mg
Iron 1.4 mg
Magnesium 22 mg
Potassium 564 mg
Zinc 1 mg
Selenium .50 mg
Vitamin C 12 mg
Niacin 1 mg
Folate 21 mcg
Vitamin A 2650 IU
Vitamin E 3 mg
All this nutritiousness is a great rationale for eating that second slice of pie! Your just looking out for your beta carotene intake, right? Yum!
Share your favorite pumpkin activity to do with the children in your life here in the comments or on Twitter @wingswormswondr!  
(I like to do seed and weight estimation games to tie math into the garden)
Seeds to Sprout:
Everything you need to be ready to grow all kinds of pumpkins next year from the Farmer's Almanac
Super easy pumpkin fruit roll up recipe
The University of Illinois Extension has some awesome pumpkin lesson plans and activities ready to go for you!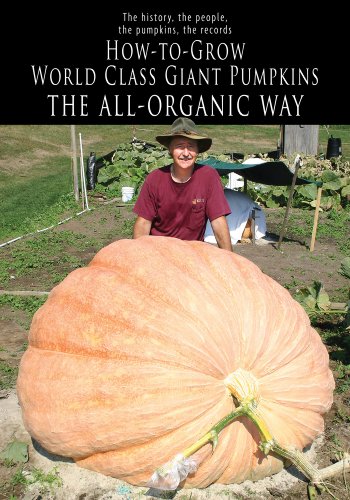 Grow giant organic pumpkins in your school or home garden with tips from this book!