This quote really stands out to me. It's Thursday October 6 and I'm writing posts early, because as I sit in my sister in law's house, evacuated from my own, trying to tie up loose ends, awaiting the arrival of a big hurricane, I have to be patient.
Nature will bring the storm at her pace on her terms. Regardless of how prepared the I may be, or how many times I ask myself did we evacuate far enough away, should we change the plan, or check the weather maps again, patience is really the best tool to employ because the storm is coming and relaxing into  the pace will just make things a whole lot easier and less stressful.
So at this point I have no idea what state things will be in, and a little patience helps me be okay with that. I'll do my best to be here in person in the near future, but if not, you know I'm doing my best to resume a normal pace to life, naturally!
Take care!
Fast Forward to the Present
I decided to leave my original post because it felt authentic to the ways that we relate to nature in times of emergency.
Hurricane update is my home and little beach town took on the storm with flying colors. Our house had no flooding or major damage which was lucky for us, although may neighbors did and the clean up continues. So patience keeps paying as local services and shops continue to get back on their feet and restore order.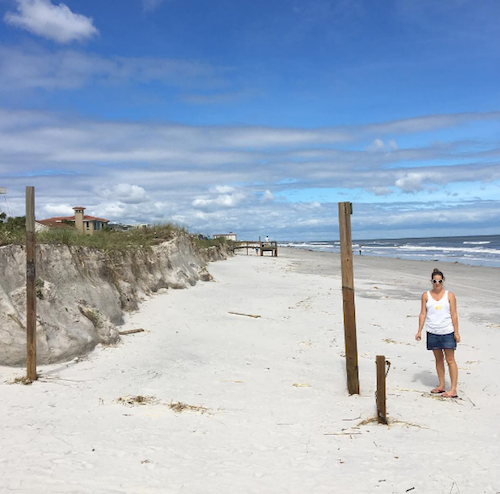 The dunes used to end a smidge east of me. Crazy right? And check out the line on the post that shows how tall they were at that point – about shoulder high on me!
To me the thing that is the most sad is the erosion of the dunes. They did an amazing job of protecting the land, but they are 50% gone now and the landscape altered majorly. Patience will be employed again as we work to restore the beach and costal ecosystems.
How does nature inspire patience in you?
Share in the comments below!
Seeds to Sprout:
A few really exciting things have happened over the past couple weeks! Check em out: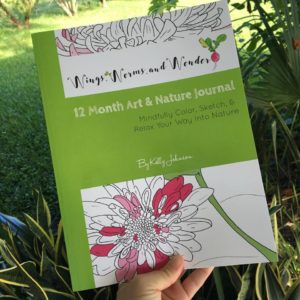 Have you seen my new book The Wings, Worms, and Wonder 12 Month Art & Nature Journal: Sketch, Color, & Relax Your Way Into Nature? It's available now. Check it out and snag a copy here!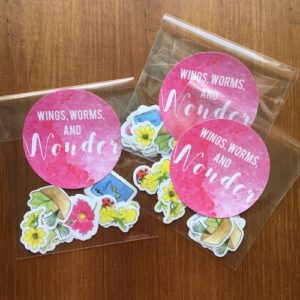 Did you see my new sticker packs are available? Get yours on Etsy today! And I also put up a new coloring page in the shop too!