Costa Rica is an incredibly eco-friendly country. From a heavy focus on eco-tourism to a culture rich in appreciating their natural environment, this small Central American country is a incredible place to get inspired and rejuvenated. They even have a national program called the Blue Flag Ecology program where schools, hotels, businesses, and even entire communities can be awarded a Blue Flag for attaining a premier level of environmental stewardship revolving around education, beach, and water quality protection.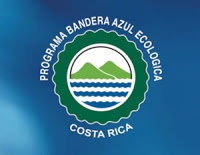 I was introduced to this program when visiting Del Mar Academy Montessori School in the town of Nosara on the Nicoya Peninsula a few years back (north west CR). This school has a beautiful campus and program with an ecological focus and has received the highest honors with their Blue Flag. Beyond a garden, the students even share their lush tropical campus with goats!
So, now that you are feeling warm and tropical as we put on our sweaters up here above the tropic of cancer, let's talk food. This week I decided to post a recipe, for obvious reasons, but I wanted to post one inspired by this ecologically focused country that may not be considered for this time of year of you live north of the Rio Grande. Not to boast, but I am lucky to have a wonderful friend who is from this magical place who allows me to come and stay for weeks and months at a time sharing her life and culture in the warm way only a "Tica" can. I also must admit that she is one of the best cooks I know, so you can see why I keep returning for longer and longer stretches at a time!
Tortillas are an integral part of Costa Rican "Typical" food and are served at every meal paired with everything from rice and beans (called gaillo pinto, or spotted rooster, and CR's naturally vegan national dish) to meats, eggs, and even papayas. These tortillas are not the big wheat type you find a burrito wrapped in, but are small and made from finely ground corn flour. They are deliciously light, satisfying, and simple to make. Give them a try this holiday season and create a new healthy and culturally diverse holiday staple.
So as they say in Cost Rica before meals: Buen Provecho! and I wish all of you a wonderful week!