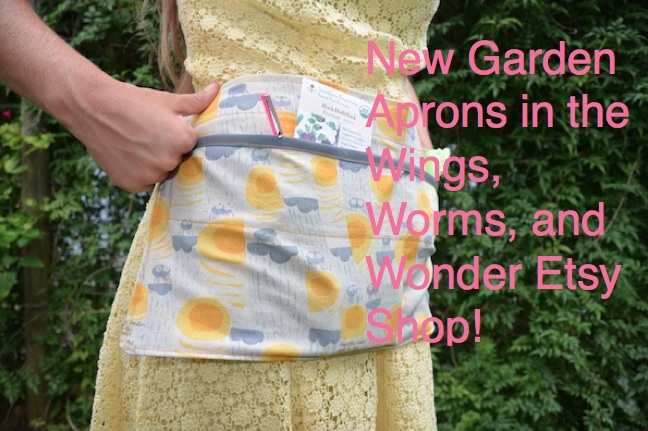 Check it out!! Brand new Garden Guide Aprons hit the Esty shop today! Handmade by me just for you! 4 variations on a fun style!
As a teacher, garden workshop guide, and aunt, I never have enough hands when I'm working in the garden or classroom, so I created the Garden Guide Apron to carry and hold all the tools and treasures needed by me and found by the children!
20 inches wide x 10 inches high with two 7.5 inch deep pockets, the Garden Guide Apron is perfect for storing garden gloves, seed packets, scissors, Sharpies, pencils, your phone for snapping pictures, small harvests, and anything else you need without being bulky or detracting from your carefully chosen outfit!
This Garden Guide Apron is 77 inches long total, including ribbon ties, and is hand sewn from certified organic fabric designed by Heather Ross for KOKKA with a super cute garden fun "Itsy Bitsy Spider" theme. This apron has chocolate brown ribbon ties and a sunshine yellow pocket finishing.
Each Garden Guide Apron is slightly different making them all one-of-a-kind items created to make your time in the garden and classroom inspiring children even more special! Due to the unique handmade nature there may be slight variations in stitching and guaranteed lots of love woven throughout!
Whether in the garden, classroom, art studio, or kitchen the Garden Guide Apron is sure to fit all your needs for extra pockets in streamlined sustainable style! Your child's teachers would love one too! Get yours today in the Wings, Worms, and Wonder Etsy Shop!