This week has been really interesting in my yard. There have been so many busy birds building their new spring nests. Yesterday, a beautiful male cardinal kept hopping on to one of my windows and looking in at me as he flittered about chipping to his partner. They were busily making a nest in the large confederate jasmine plant outside that window. At first I thought that he was crashing into the window, but then realized that he was jumping onto it! I have no idea how he was hanging onto the vertical surface.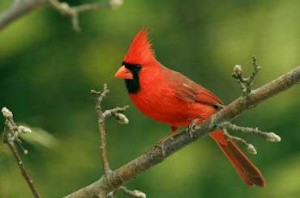 I couldn't get a shot of my cardinal. He is bigger than this guy, but just a bright.
I first noticed that this cardinal couple makes nests in either my neighbor's or my yard each year when I started nature journaling 3 years ago. Nature journaling is such a great way to attune with what is happening in the natural world right outside your door. While I always felt connected to the plants in my garden, I didn't realize how disconnected I was to the wildlife that lived in and passed through my yard until I started nature journaling. My first entry was about this particular cardinal couple's nest of eggs in my neighbor's huge crepe myrtle tree!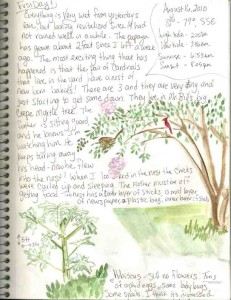 My Nature Journal: Day 1, August 2010
So as spring emerges, I hope you become inspired to find ways to creatively connect to your nearby nature!
Seeds to Sprout:
Nature journaling in the classroom ideas from the Smithsonian
Clare Leslie Walker an amazing inspiration for nature journaling
Nature journaling tips from the Sierra Club