---
To help spark our senses of wonder in all this weirdness, I've made more online classes free for the next month – on top of all the ones that are already free!
I figured there's no better way to relax than by creatively connecting with nature – for both big and little hands! So why not get creative when things get weird?
In the online school, the following courses are now free:
From Seed to Fruit
Shapes, Senses, and Sunflowers
Veggie Studies Workshop
Herb Studies Workshop
Watercolor Basics for Nature Journaling
Simply click the free course of your choice on the courses page, then scroll down to the bottom, and choose the free price option!
---
Free Wings, Worms, and Wonder You Tube video tutorials Galore!
Click to check 'em all out here!
---
I also have a guest post up on the International Nature Journaling Week blog –
"Sparking Wonder and Connection through Nature Journaling".
I hope you enjoy checking it out, and mark your calendars for June 1-7 for lots of nature journaling during International Nature Journaling Week!
The post is a great inspiration generator and it also comes with the video link to make your own pocket nature journal – one of my favorite go to small quick journals!
---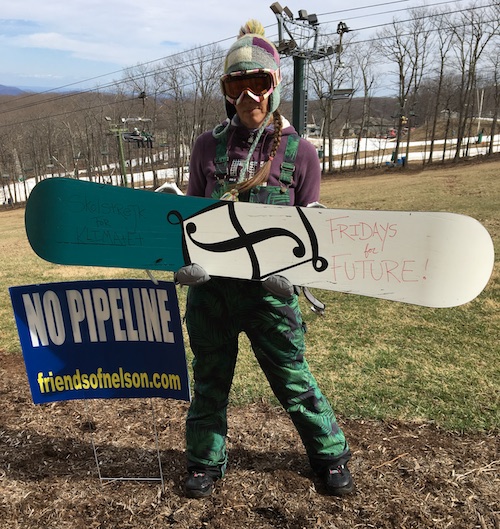 On Fridays, you could join Greta in the #FridaysforFuture #ClimateStrikeOnline.
I did this past Friday. It was a great way to spend the day outside solo – with a penned message on my board's base – to be viewed from the ground while I soared through the air on the lift or shredded a fat tail slide on the hill!
You may be thinking, but you weren't striking, you were snowboarding! True, but if this past winter's ski season (or lack thereof) proves anything, the climate is screaming for help! That's supposed to be a ski slope all covered in snow behind me!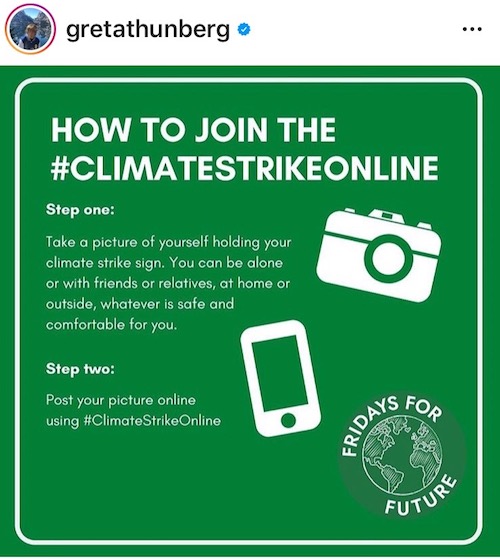 ---

If you haven't read the newest (regularly scheduled) blog post yet, click the pink link button below to head over to the website blog homepage to explore all the offerings!!
The blog is always chock full of free Wonder Wednesday activities for big and little humans to do both indoors and out! Just scroll through and find what you like, search something specific in the search bar at the bottom of the page, or contact me and ask!
(90 Wonder Wednesdays await you, to be exact!)
---
Share this email link with these free class links with your friends, teachers, school, on social media, or where ever and with whomever you like!
Take care, be sweet and patient with yourself and others, take space back from the news barrage each day, and remember nature is out there carrying on in full spectacular wonder.
If it's possible to get out there, do so. If not, make specific time for staring out the window a while.
Like my wonderfully talented arctic nature photographer friend Malin Hanning (@malin.hanning) said on Instagram,
"…the earth has been given time to breathe."
I think that is just a beautiful way to think about all this.
We are being given time to breathe in a world that rushes us, and nature, at a pace we all just can't maintain.
Remember, while we take a slow down, everyday: baby goats are still being born, juncos are still hopping from branch to branch, dolphins are still jumping through the waves, and the sun still shines each morning.
---
You are always welcome to contact me or comment on these posts if you want (or need) some specific ideas of ways to creatively connect with nature for peace and relaxation.
I'm happy to be here for you!
Post your slow down creative nature connection fun on Instagram #wingswormsandwonder !
---
Seeds to Sprout:
Through the wonders of technology,
I'd love to help you:
*plan your summer garden,
*incorporate more nature across your classroom curricula,
*or conduct a future in person or online workshop or speaking event for your group.
Click to check out the "Work With Me" page here on my website & see what offerings strike your fancy and needs, and/or respond to this email and let's chat about some options that are right for you.
Plus get a 10% discount on all online consultations scheduled for this spring!
(The Etsy shop is currently closed so all consultation transactions will be managed through paypal)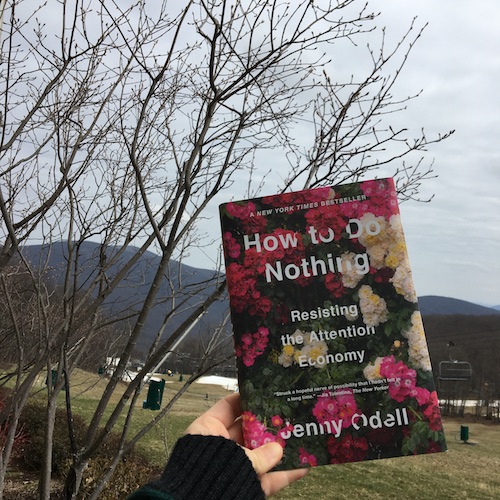 Looking for a new book to read?
I recommend this one! It's actually not about "doing nothing" at all, but rather taking and making space in our lives to let creativity flow and attention strengthen do the things we want to do rather than let our attention be sucked away, bought and sold, by media. It's not advocating dropping out or offline, it focuses on an increased awareness of developing our attention and a conscious use of media. Its really fantastic!
Click here to check out the International Nature Journaling week blog guest post (and many other great posts on nature journaling too!)