This month I've been working on some projects involving Beatrix Potter's work, where nature is obviously inherent, and the question of whether nature is still reflected in children's books came to mind. This question was brought to my attention a couple months ago through quite a few articles approaching the subject.  I may be biased, since my work revolves around children, nature, and using nature based children's stories, but in initial reaction, I felt like there are many new children's books on nature coming out, but there must be a reason for these articles too.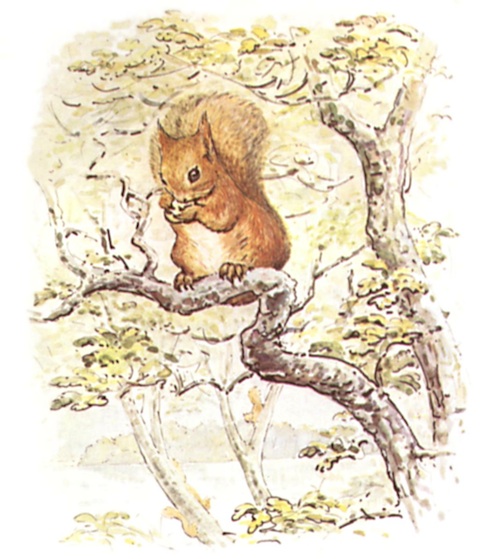 Beatrix Potter's Squirrel Nutkin portrays realistic squirrel behavior in a child friendly way.
These articles are a from a variety of sources and many are responding to one University of Nebraska study looking at how wild nature imagery has diminished in Caldecott winners over the past 70 years. The study showed, "Award-winning books from the late 1930s to the 1960s were about equally as likely to show built and natural environments. But in the mid-1970s, depictions of urban settings rose, taking the place of natural environments, to the point where nature has all but disappeared, the researchers said." The researchers concern is that, "Even though children may be learning about the natural world through other media, the authors said, they're not being socialized, at least through illustrated books, to understand and appreciate nature and humans' place in it." (source)
"Richard Louv, author of Last Child in the Woods, says this study and others suggest 'a physical disassociation with the natural world. … Nature experience isn't a panacea, but it does help children and the rest of us on many levels of health and cognition. I believe that as parents learn more about the disconnect, they'll want to seek more of that experience for their children, including the joy and wonder that nature has traditionally contributed to children's literature'….Psychologist Susan Linn, author of The Case for Make Believe, says 'the research supports growing concerns about children's lack of connection with nature."Time in green space is essential to children's mental and physical health,' Linn says. 'And the health of the planet depends on a generation of children who love and respect the natural world enough to protect it from abuse and degradation'." (source)
So in light of this media hype over 1 study of 1 slice sample of children's books, I though who better to ask than a children's librarian! Allison Frick is a children's librarian in Philadelphia who came up with the genius idea to integrate a garden into her children's library offerings! When we met at a book event this past summer, I knew I had found someone who really understood the importance of weaving nature into children's lives. What a clever way to integrate community children's gardening and literacy!  Her library's children's garden program is a great success and I believe a model for libraries across the county.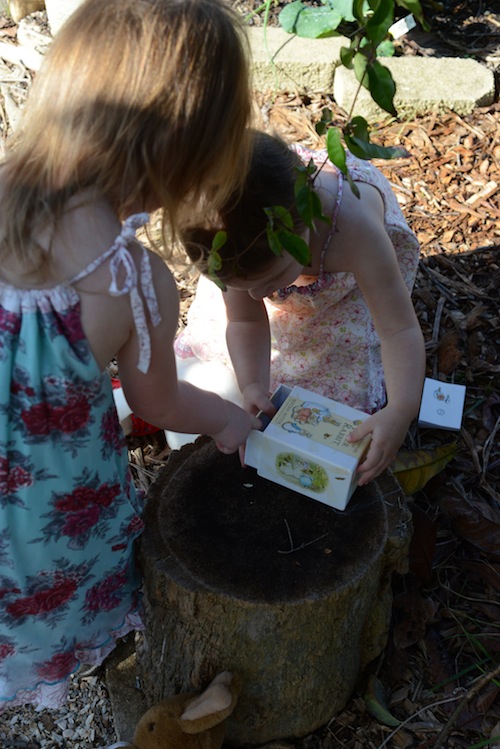 Allison importantly reminds us that anecdotal evidence is not data, but in her experience she has not noticed a decline in nature in children's books within her library. She also said that, like me, she does seek out children's books that involve nature. She has a diverse population that attend her library programs, so she uses nature in books in a very encompassing way, "One of the reasons that I like talking animal books so much for little friends is that race is not an issue. I was talking to a friend from college recently (she is Chinese, her husband is white) about how few children's books depict children that look like hers and how important it is for children to feel represented in books." I agree. It is so important that children feel represented and like contributing members of our culture. Nature can help bridge those gaps and bring people together.
Allison went through her library's new picture books section and has recommended a few for us that represent the natural world as well as diversity:
Deep in the Sahara by Kelly Cunnane and Hoda Hadadi.  "This book is not specifically about nature, it is about a young girl who wants to wear a malafa.  It is set in Muslim West Africa, and I like how they talked about things like goats coming home at night or bats filling the night sky."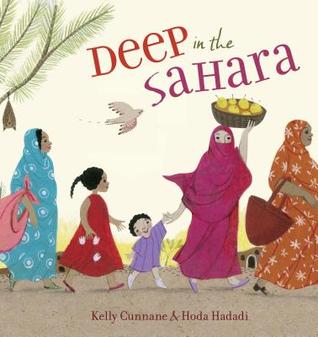 Inside/Outside by Lizi Boyd. "This is a gorgeous, words free picture book that shows a little boy interacting with NATURE and cutaway pages to show what is going on both inside and outside. I really like that the illustations are done on brown kraft paper (one of my favorite materials) and the boy is depicted as an outlined shape, so his skin is the brown of the page."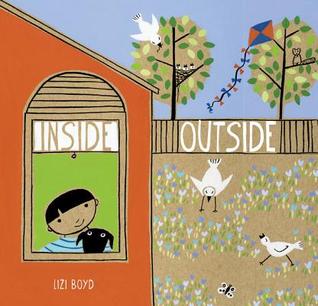 I Lost My Tooth in Africa by Penda Diakite. "Written by a young woman who really did lose a tooth in Mali, this story incorporates my favorite animal-chickens. In Mali, if you lose your tooth and put it under a basket, you will get a chicken. While this is not the wild nature like in Blueberries for Sal, there is a young lady raising chickens and watching eggs hatch, which is a pretty cool activity for children."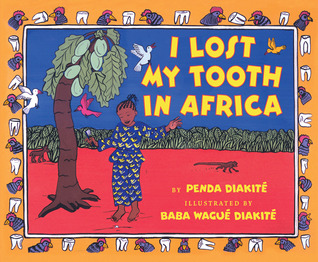 "The author of the Times article was not necessarily wrong by saying that there are fewer wild spaces now than 50 years ago.  My Dream Playground by Kate Becker and A Bus Called Heaven by Bob Graham both deal with community building and nature in urban spaces.  There is more to nature than bears. If You Want to See a Whale by Julie Fogliano is a perfect example of a child engaging with nature and getting distracted/involved with the world around him."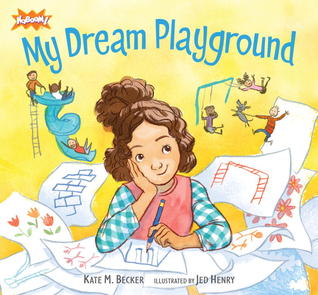 These are some fantastic suggestions and a giant thanks to Allison for weighing in on this topic! It is so great to hear from an expert in the field. I think that perhaps we as parents, teachers, and community leaders may need to vote with our dollars and support buying children's books that reflect wild nature, community integrated nature, diversity, and the biodiverse future we want for our children. Also, perhaps speak with your children's library department about incorporating more nature experiences with story time. You may get a stellar garden integrated program like Allison's!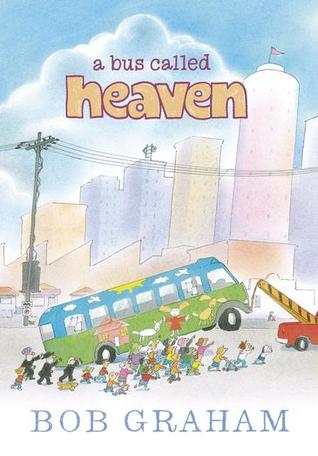 And last, a bit of news….I have written a nature based non-fiction children's book on earthworms! It will be coming out through Star Bright Books this year along with another one who's topic is still a secret! I am really excited and will keep you posted on release and tour dates!
Have you noticed a decrease in nature in the children's books in your classrooms and libraries?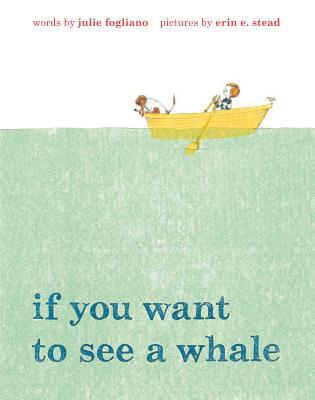 Seeds to Sprout:
Read the University Nebraska study synopsis Study: Increasingly, children's books are where the wild things aren't: Research shows steady decline in natural world, wild animals in illustrated books for kids
Then, read the articles yourself, head to your library, and see if nature is diminishing from the shelves of your children's library department.
http://parenting.blogs.nytimes.com/2012/02/29/childrens-books-lose-touch-with-nature/?_r=0
http://www.theglobeandmail.com/life/the-hot-button/nature-disappearing-from-childrens-books-study/article548359/
http://goodnature.nathab.com/has-nature-disappeared-from-childrens-books/
http://usatoday30.usatoday.com/news/health/wellness/story/2012-02-27/Study-New-childrens-books-lack-reference-to-nature-animals/53275082/1
http://blog.childrenandnature.org/2012/04/22/invisible-ink-is-the-natural-world-disappearing-from-childrens-books-and-education/
http://www.livescience.com/18605-childrens-books-nature-imagery.html
http://www.good.is/posts/nature-goes-missing-from-kids-picture-books