---
Idyllic, picturesque, awe inspiring, sublime. The words running through my head as I gaze upon a pristine natural spring in the forest. Right up until I hear my sister-out-law say,
"Y'all!!! I almost just stepped on a pygmy rattlesnake!!!!!"
We snap out of, "yay! a weekend getaway at a beautiful spring cabin," mode and into hyper responsible adult, "what do we do so no one gets bit" mode.
It was overcast, raining, and cool(-er for Florida summer), so luckily the nearly-stepped-on-snake was sluggish and passive.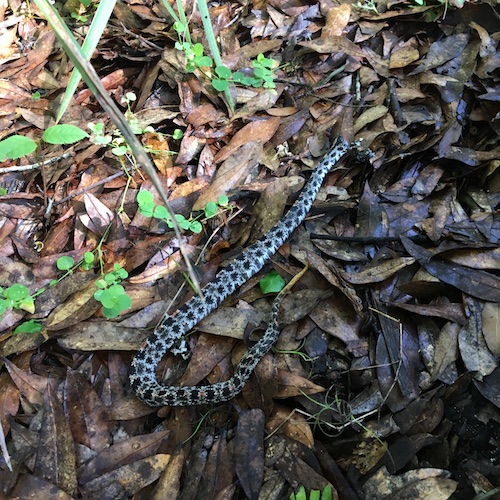 As you can see in the picture above, we decided the most responsible action was to kill the snake. Before you say, but I thought you were vegan!?! How could you kill it!? I will simply say, 4 adults were responsible for the safety of 5 children – in an area 40 minutes from the nearest hospital by car.
And… don't let the snake's small size fool you.
Pygmy rattlers are a prolific species of (highly venomous excellently camouflaged) snakes that don't give a rattle warning before they strike.
So as a group, including the children, we observed and calmly critically explored all our options. We decided that it was too dangerous for this party crasher to join us for the weekend.
The "risk benefit analysis" was unanimous in this case. Fortunately, we had packed a machete.
---

But, how could it be that…
The snake was beautiful and wondrously small, while also powerful and largely terrifying?
That's where the philosopher Schopenhauer's ideas on the sublime feelings humans get from beautiful – and dangerous – aspects of nature.
---
 
(photo credit @valuisticsJamesGreene)
Beauty, and Gators
We all thought alligators would be our major risk that weekend. They are generally the first Florida fresh water fear inducer. (& 13 years ago a woman was literally eaten by an alligator mere feet from our very cabin and spring swimming hole you see below.)
And yes, we did see a 4 footer swim up the spring run to check us out. We also encountered a non-venomous banded water snake swimming in the spring with us and another pygmy rattler in the path.

But dare I say those very elements of danger added to the wild sublime beauty of the spot?
For Schopenhauer,
"…the feeling of the beautiful is in seeing an object that invites the observer to transcend individuality, and simply observe the idea underlying the object.
The feeling of the sublime, however, is when the object does not invite such contemplation but instead is an overpowering or vast malignant object of great magnitude, one that could destroy the observer." (citation)
So basically, in simple terms, we humans can find immense awe and beauty in aspects of nature that can effortlessly destroy us.
In modern times, why else would volcano tours in Costa Rica or shark diving in the Bahamas be so popular, Niagara Falls be a classic vacation spot, or so many people like to watch lightening storms?
Or how about the wild popularity of following hurricane season's spoils on the weather channels and "shark week" on the nature channels? I think Schopenhauer hit the snake with the machete.
(Was that too soon? Sorry snake. We really didn't take your death lightly.)

Schopenhauer breaks it down like this:
"Feeling of Beauty – Light is reflected off a flower. (Pleasure from a mere perception of an object that cannot hurt observer).
Weakest Feeling of Sublime – Light reflected off stones. (Pleasure from beholding objects that pose no threat, objects devoid of life).
Weaker Feeling of Sublime – Endless desert with no movement. (Pleasure from seeing objects that could not sustain the life of the observer).
Sublime – Turbulent Nature. (Pleasure from perceiving objects that threaten to hurt or destroy observer).
Full Feeling of Sublime – Overpowering turbulent Nature. (Pleasure from beholding very violent, destructive objects).
Fullest Feeling of Sublime – Immensity of Universe's extent or duration. (Pleasure from knowledge of observer's nothingness and oneness with Nature)." (citation)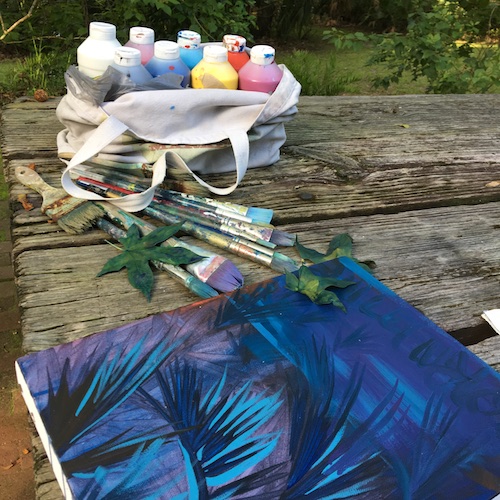 Nature's vast power is beautiful to us.
We can find balance with our fears, while connecting with the immense strength of nature. Nature's offerings of inspiration, wonder, beauty, nourishment, peace, and healing, balance with Nature's ability to kill us in a flash.
It's the duality I think, as I think did Schopenhauer, that helps us to see deeper wonders of being alive and present in the beauty and danger of nature.
The danger keeps us present, and being present in nature's beauty soothes us.
I can confidently say that the very real element of fear (snakes and gators, butterflies and flora alike), ultimately enhanced the wonder of the weekend in the woods for all.
---
Where have you experienced natural sublime, as explored by Schopenhauer?
Share your story in the comments below.
Share pics of your sublime nature experiences and creative explorations on Instagram #wingswormsandwonder
Read the next post in this 4 post series:
---
Seeds to Sprout:
Wings, Worms and Wonder turns 7 this month! Click here to check out this week's email newsletter and let me know what you'd like to see offered as we enter our 8th year!
(& make sure you're subscribed so you can get Wonder Wednesday inspiration emails and activities delivered to your inbox twice a month! Just fill out the sidebar box on the right of this post under the picture of my face 🙂
Check out the 3 other posts in this series about Nature's Sublime:
Learn more about David Sobel's thoughts on risk and the idea of "risk benefit analysis" in this blog post.
Learn what to do in the event of a venomous snake bite here.
Learn more about Schopenhauer by listening to this fun song by my friend Chad, aka EmperorX, called "Schopenhauer in Berlin".
What's a sister-out-law? It's a term I invented to call my family members on my partner's side because I'm not legally married. So "out-law" relatives rather than in-laws!
Paint some green summer leaves with acrylic paint for fun. Use them as stencils on a paper or canvas painting or just use the leaves as the canvas themselves! It's silly, it's fun, it won't last, and it's all about enjoying the process!