Nature is one of the most wonderful muses, in my opinion anyway!
The joy and peace that a creative connection with the natural world brings adds so much to life! Nature has been inspiring humans since the beginning of time, so why would we not still need this connection because we are more "civilized"?
We do need it just as much, if not more, to balance out the hustle and bustle of modern life!
That's why years ago I started nature journaling with children. I wanted to give them opportunities to connect deeply with creativity and their natural world while at school. I wanted them to have a loving and inspiring connection with the land on which they lived, the food they grew and ate, and with the wonders of the natural world surrounding them. I wanted their senses of wonder to be strong, fueled by fresh air and an experiential understanding of their important roles in the web of life.
Then I came to discover, their parents sought these connections too, as a relief from the stresses of life. Who knew grown-ups from all corners of earth and professions wanted and excuse to slow down and creatively connect? I didn't then, but I do now! That's how this blog, seedswaps, my books, eCourses, and Wings, Worms, and Wonder came to be all around!
That's how my online nature journal courses came to be. I feel so honored that novice and experienced, child and adult, nature lovers and art lovers invite me to guide them through nature journaling journeys.
What in nature inspires your creativity? Share in the comments below!
Share your nature inspired art on Instagram #wingswormsandwonder so we can see!
Seeds to Sprout:
Join me here the Week of May 16-20 for the Nature Artist Blog Interview Series! Comment on every  post to be entered to win a free spot in Draw Deeper Into Nature! Learn more here!
Reserve your spot in the May 18 live session here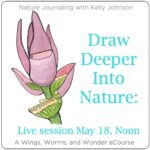 . This will also assure you don't miss any info about all the fun upcoming events and will be entered to win one of the 3 great prizes!!
Learn more about Draw Deeper Into Nature and register here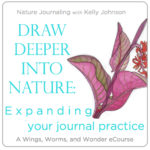 .
Why wait? (Early bird ends May 18.)
Watch info videos and register for Draw Deeper Into Nature and the Draw + Draw Deeper Bundle here (You can even get a free class!!)
(Early bird ends May 18.)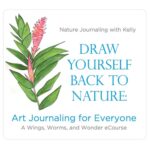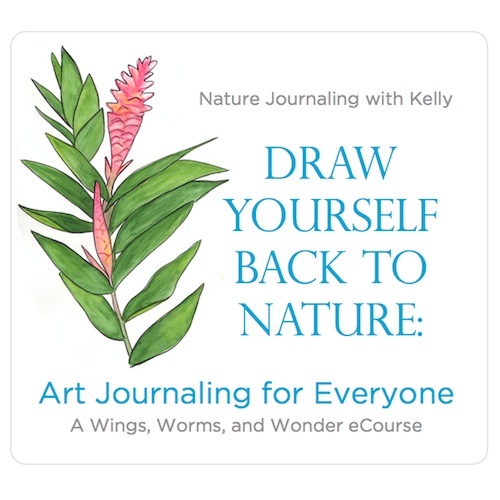 New to Nature journaling?