---
It's time to Supercharge your homeschooling!
What are your main struggles with homeschooling?
Do you want to learn about all the things Montessori homeschooling?
The Montessori Homeschool Summit online experience is the perfect opportunity to learn new things from the top Montessori experts without leaving your home!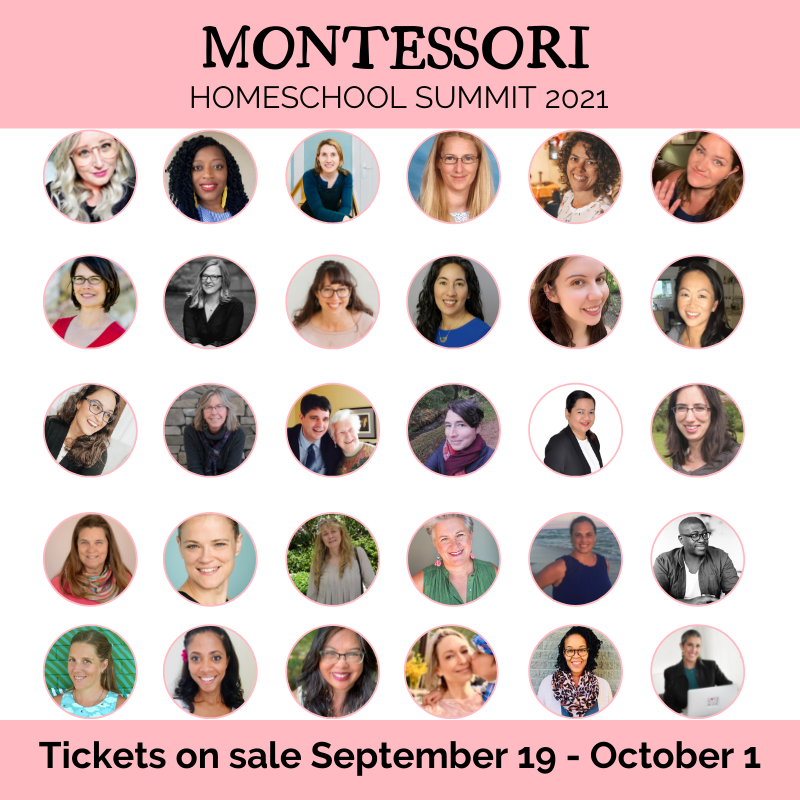 The Montessori Homeschool Summit is not only an inspiring and informing experience that will give your homeschooling a boost in all the places you want, but it's also a wonderful chance to be in community with other Montessori Homeschoolers from around the globe! All on top of having direct access to the presenters to ask questions and bounce ideas!
Online summit's are so great for the busy homeschooler's plate because you attend at your convenience. On September 27, simply go to the Summit website to start watching the presentations. Each day of the event, 6 videos will be released for you according to the list of presentations. Those are not live videos. The videos are pre-recorded.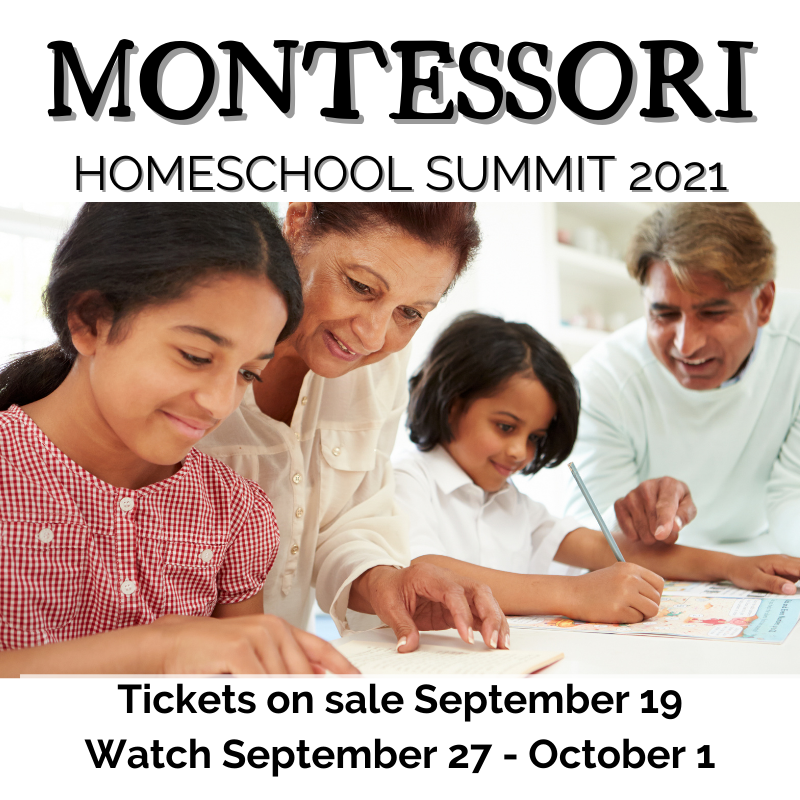 You can watch presentations right away after they are released or you can watch them later. You will have access to the videos for 1 year! So can't make it the week of September 27? No biggie!
You get all the amazing and useful content in the videos, plus all the resources and handouts under each video to download! (And I if you've been to one of my presentations at a conference before, in person or online, you know I make majorly comprehensive packets to accompany my presentations!)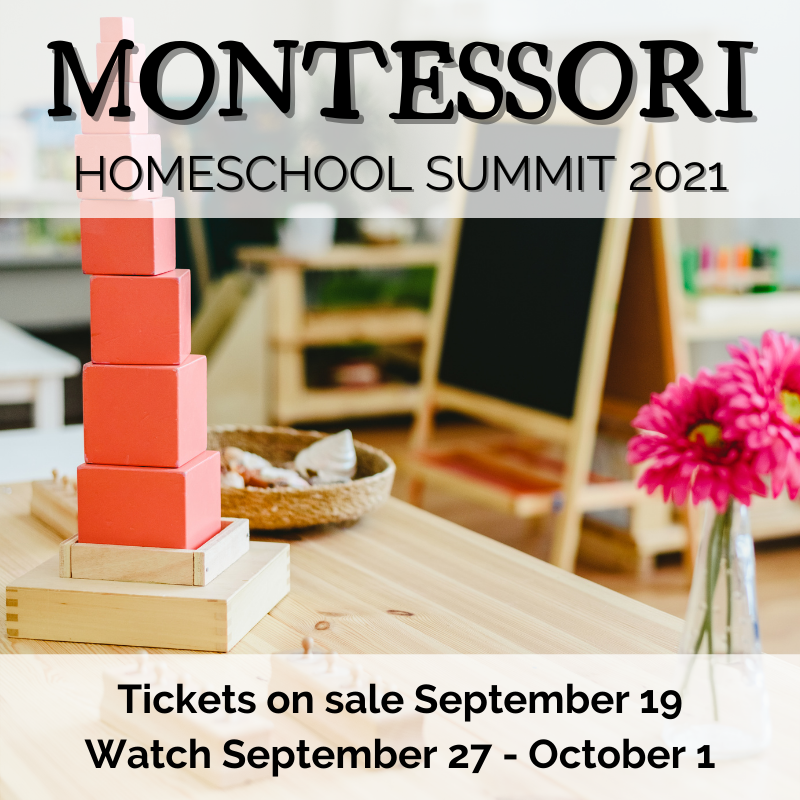 Plus, there will be a Montessori Homeschool Summit Party in the group. Join our presentation discussions, share your notes with us, vote for your favorite presenter, share your insights after watching the videos, chatting, connecting, and much, much more!
Get the in-person summit feeling, without leaving your house!
---
Logistics
Event Dates: September 27-October 1
Tickets go on sale on September 19
The last day to buy a ticket is October 1
The videos are most relevant for children from birth to 12.
Ticket price – $68.
Yep! I am both a presenter and an affiliate of the Montessori Homeschool Summit! So if you join the event through my link, you support the amazing work of Montessorians Yulia (Welcome to Mommyhood) and Kathrine (I Believe in Montessori), but also support the work of Wings, Worms, and Wonder too!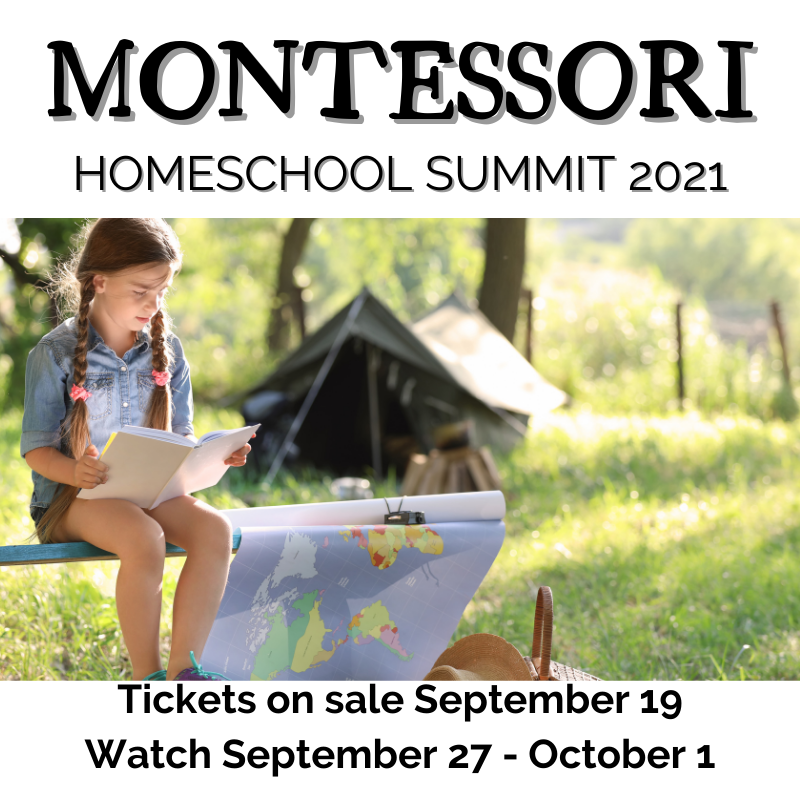 ---
My Presentation!
Creativity as a Cosmic Task: How the Cosmic Curriculum Cultivates Creative Cognition and Ecoliteracy by Kelly Johnson (Find me on day 5!)
Who am I?
This is the question on which the child begins their elementary journey. It is the question of Cosmic Task, which we as Montessorians must prepare the child to discover. The elementary Cosmic Curriculum is designed to be a map, a conceptual framework for this journey, but how do we make it practically fit the needs of the Montessori Homeschool Environment?
How can Cosmic Education, Creative Cognition, and Ecological Literacy prepare the child for Their world? What elements inherent in the Cosmic Curriculum and Montessori Method help the child navigate the discovery of their Cosmic Task and place in a beautiful biodiverse future world?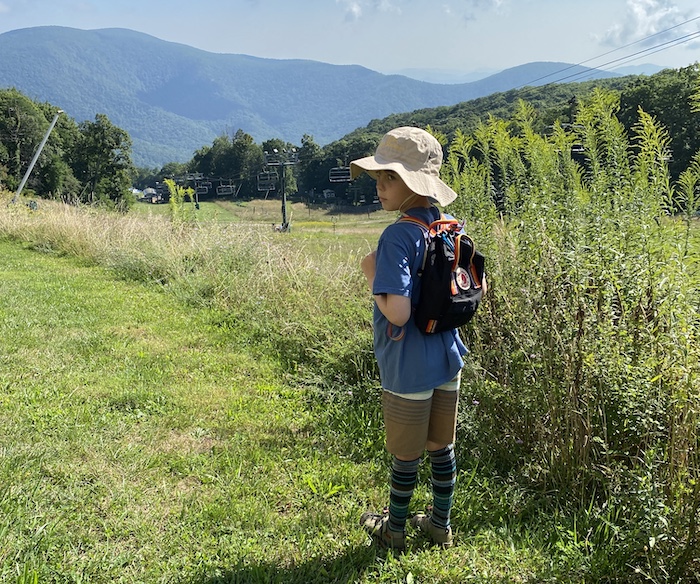 In my workshop, you will:
-Learn ways to engage the elementary age child's imagination, focus, and innate creativity through creative cognition building.
-Understand how creative cognition, systems thinking, and ecological literacy supports the elementary child's search for their Cosmic Task, and learn how to magnify and apply these skills inherent within the Cosmic Curriculum using practical concrete examples and existing Montessori curricula, and specifically, cultural curriculum lesson.
Guiding an elementary-aged child toward their Cosmic Task can seem overwhelming on the best days. Nevertheless, by drawing on humans' innate possibility for creativity, along with a biological desire for true connection and love of our natural world, the Montessori Cosmic Curriculum provides parent-teachers and their children a map for the journey.
By employing ecological intelligence and literacy, practices of mindful focus, creative cognition building, and opportunities to gain experiential connections with local nature, we journey toward fulfilling our task of preparing the child.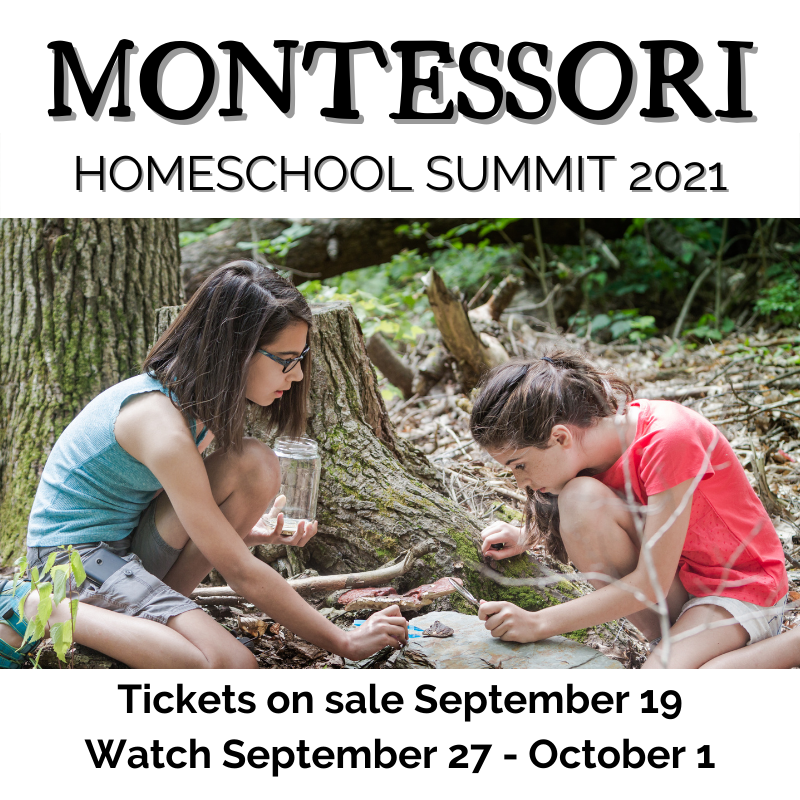 Whether you are a seasoned homeschooler, or just considering the adventure, I hope you join us in this incredibly thorough, resourceful, inspiring, and motivating event!
---
Event Schedule
All the sessions are prerecorded. The presentations are released to viewers automatically each day according to the schedule. The videos can be watched at any time after the release.
Day 1
Montessori Peace Education by Sharlie R. Burnie
Education from Birth by Junnifa Uzodike and Simone Davies
Why Handwork Is An Essential Element Of Cosmic Education by Carol Palmer
Conflict Resolution for Ages 6-12 by Laura Connor
Homeschool Wizard: Special Needs with a Montessori Mindset by Jennifer Wilmot
Artistic Expression in the Montessori Home Environment by Letty Rising and Jana Morgan Herman
Day 2
Monte-Silly: Effective Teaching is Playful! by Aubrey Hargis
Preparing Your Child for Toilet Learning the Montessori Way by Rachel Kincaid
Montessori Grammar at Home by Jennifer Kilgore
What is Guided Inquiry? How can it be used in a Montessori Homeschool Environment? by Jackie Grundberg
Guiding the Reluctant Writer by Pilar Bewley
Montessori as a Practice by Pamela Green
Day 3
Cultural Competence & Your Montessori Child by Lynda Apostol
Navigating Independence: Toddler Edition by Catherine Mason
Extra Languages (Foreign and Second languages) in the Home by Matt Bronsil
Montessori Discipline at Home by Carine Robin
The Inclusive Montessori Classroom: One Family's Experience of Belonging by Claudia Mann & Liza Jensen
Montessori in the Workplace: Applying Principles in Your Adult Life by Donna May Tomboc
Day 4
Understanding your child's behavior by Jeanne-Marie Paynel
Montessori Toddler Music, Art and Outdoor Classroom Activities by Carolyn Lucento
Using the Human Tendencies to Develop Compassionate Teaching by Claudia Mann
How to Run a Montessori-Style Homeschool Project Group by Leanna Ampola
ADHD and Montessori homeschooling – adapting the homeschool day and environment to ensure success for learners by Lisa Dei Gratia
Day 5
You Don't Have to Plan for Homeschool – And Here's What You Can Do Instead by Alicia Díaz-David
Importance of sensory stimulation during the absorbent mind plane birth to 6 by Anya Garcia
Creativity as a Cosmic Task: How the Cosmic Curriculum Cultivates Creative Cognition and Ecoliteracy by Kelly Johnson
Being a Black Deaf father Montessorian by Ashton Jean-Pierre
Parenting on Purpose by Luz Casquejo Johnston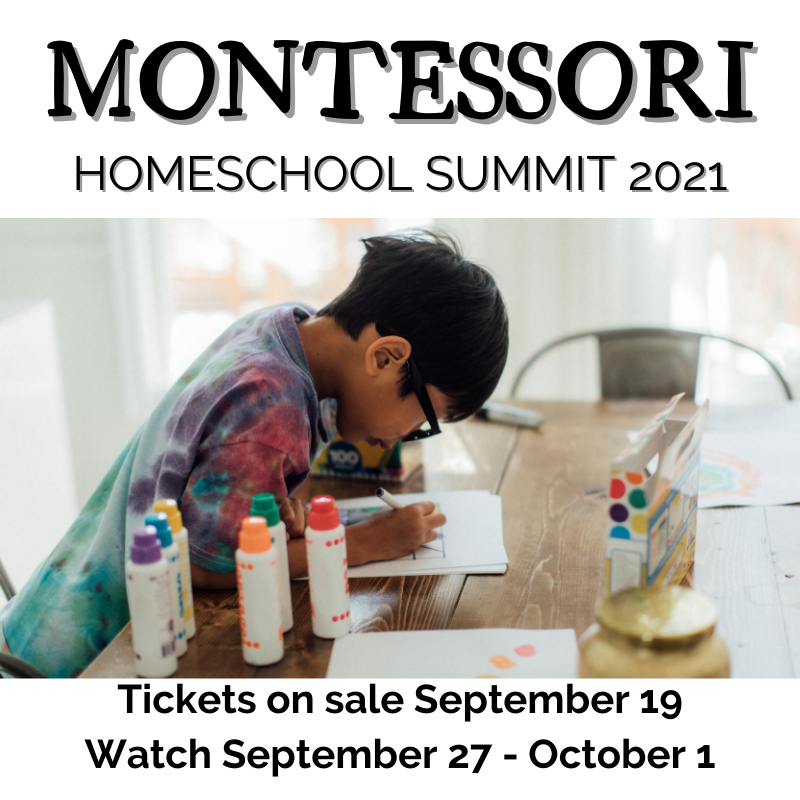 ---
FAQ
What is the online summit in a nutshell?
It is an opportunity to learn about various aspects of Montessori homeschooling from the top community experts without leaving your house.
Get the tickets and wait for the Summit to begin on September 27, 2021. Watch the videos at your own pace. Share your insights in our community with like-minded people.
What age is the Montessori Homeschool Summit best suit for?
The videos are most relevant for children from birth to 12.
Will I receive a certificate after watching the videos?
No, you will NOT receive certificates of completion. You will NOT receive a diploma. This is not a Montessori training program.
Is it like a live conference? What kind of time zone and at what time should I be watching?
All the summit videos will be released from September 27 till October 1. During each day 6 videos will be released for you according to the summit schedule. You can watch them at any time at your own pace.
I will be out of town during the event but I really want to watch it. How can I do it?
No worries. Just buy the ticket to the Summit and watch all the presentations at your own pace.
I am a teacher. Will this work for me?
Everyone is welcome, but the Montessori Homeschool Summit is best suited for homeschoolers and parents.
If you are a teacher and you want to learn more about the aspects of Montessori homeschooling for yourself or to be able to give more support to parents, then it will definitely work for you.
Be sure to check the Summit schedule and the description of the sessions to make sure it works for you.
My English is not very good, will the subtitles be available so I could better understand?
Yes, the subtitles are available for the majority of videos. In case if the subtitles are missing, you can find the transcript of the presentation in the handouts right under the video.
Can I download the videos to watch later?
No. We do not want to fill your hard drive with heavy videos. You can log in and watch them anytime.
Where can I learn more about each presenter?
You can visit Summit's Virtual Exhibit Hall (free for everyone) and learn about the work of each speaker.
Can I ask the presenters some questions?
You can visit the Summit Hub Facebook group where there are discussions for every video session. You can post your questions there.
Will there be any printables included?
The main Summit content consists of the videos. However many presenters have added very useful, informative, and thorough handouts to go with their presentations. You can download and print them.
Can I purchase each video separately?
No. You can only access the videos by purchasing a ticket to the full Summit.
---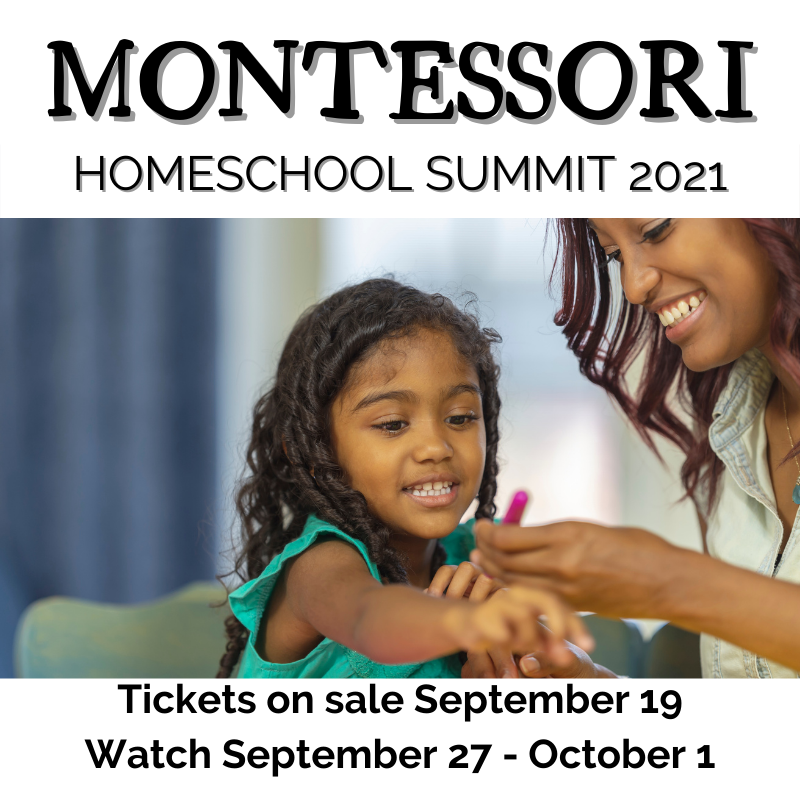 ---