---
The August guest post series continues with more fun ideas for creating themes for you garden! This week we're joined by Helen Bradford from Sydney, Australia, with some great ideas for looking to the past for garden inspiration. I love mid-century style so this is right up my alley!
Looking back also blends perfectly with your nature-study and nature journal adventures! Helen offers us some great artist gardeners to spark our wonder!
---
Blast from the Past:
Create a Mid-century Inspired Garden
A garden is something most passer-bys will see when they walk by your house. It is also something you'll see too, not only from the outside but also from your porch while enjoying a glass of ice tea or window with a cup of hot chocolate.
So, instead of going for the usual landscaping ideas, try something different and with more panache. You can even go as far as to try and go for the vintage feel inspired by the art movements.
Here I present you some of the ideas inspired by the mid-century period which can turn your garden into visual art.

Country garden style
In the past century country garden was a very popular style thanks to Gertrude Jekyll, a British horticulturist and garden designer. This doesn't mean you need to go to the country to have this kind of garden but to rather bring the country to your modern and city home.
These gardens are structured with geometric paths and patios divided by clipped hedges. Jekyll was a trained artist and so she implemented color like strong yellow, orange, and red. Self-seeding is welcomed so if you see small daisies grow in the cracks of gravel don't destroy them.
Also, growing plants in ranks from tallest in the back and the shortest up front was neglected purposefully in this style so it would bring out more natural, opened look with the imaginative and creative positioning of plant groups.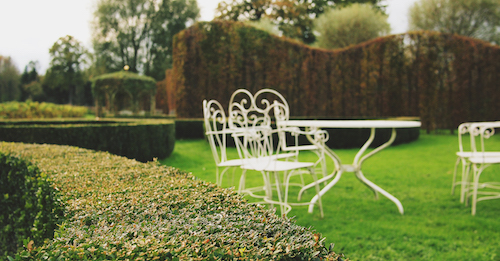 Vintage materials
One aspect that will surely point out your garden is placing various objects from the mid-century era around your garden. This can be an expensive endeavor since vintage furniture tends to be quite a burden on the wallet. You can go cheap if you keep it simple with only some ornaments here and there. Aged materials are anything from bricks and stones to even some old medallions and radios.
You can make this a DIY project with wind chimes made of old objects or old black and white TV boxes emptied from wires and tubes and turned into pots. You can use the brass to accentuate the rustic atmosphere. For example, instead of sprinklers, choose brass faucet where you can attach the hose pipe and water the plants the old fashioned way.

Futuristic garden
A very popular movement in the mid-century was futurism. It can be witnessed in the movies and decor. It's characterized by minimalistic yet well-designed objects and clean colors.
The objects used as decorations were artificially made of plastic and glass, and the only organic part of the garden was the nature itself. You can use a plastic chairs and tables placed on the clear patch of the stone podium and surrounded by white flowers.
Instead of pebbles, you can use unicolor tile shards to create pathways. You can cut the shrubs in the geometrical objects with sharp edges and flat surfaces. This way you will disrupt the free-shape of nature and potentiate order and organization, something commonly processed in the sci-fi literature of the 20th mid-century period.

Art inspired gardens
The 20th century was very significant for the art and its development. Some of the greatest artists of all time lived and created then like Dali, Picasso, Kandinsky, and others. If you are an art lover, enthusiast or even like to paint yourself, you can not only have a garden but also make it your studio.
Designate a place where you will create your art and then surround yourself with perennials popular at that period of time and trees like magnolias which will bring out that 1960s feel. You can place bent spoons in the pots with the name of plants as an homage to Dali, or create broken tile patterns on the pathways to resemble Cubism like Picasso did.
You can paint the pots of flowers to resemble some famous mid-century art like Jackson Pollock's or Frida Kahlo's. Don't expect to copy their art, but be inspired and create the one resembling theirs and being yours at the same time. You can go as far as to be inquisitive and philosophical as Marcel Duchamp and use various objects to serve as garden furniture just because you put them there, like using wooden barrels for tables and logs for chairs.

Finally
Don't be afraid to be inspired and creative with your garden and turn it into something more than just the home for plants and place where you want to rest under the shadow of a tree.
Make it an homage to the period of time when everything starts blooming and shaping itself, starting from the industrialization to changing the familiar shapes of art and thinking.
 Author Bio:
Helen Bradford is an architecture student in Sydeny, AU, who enjoys writing about health, interior and exterior design.
She spends her spare time doing fitness and traveling. Follow her adventures on Twitter and Facebook!
Do you have a favorite time period in art or gardening? Share in the comments below!
Share your garden pics on instagram # & @ wingswormsandwonder
Seeds to Sprout
Get styled with nature for back to school, work, or just to bring some fun to your everyday decor! Check out the Wings, Worms, and Wonder Society 6 shop for illustrated pencil cases, notebooks, tote bags and more!
Need a back to school teacher gift? Give the Wings, Worms, and Wonder 2nd Edition book! It will offer your child's teacher years worth of creative nature connection lessons – or for you homeschoolers it will keep you elbow deep in soil, paint, and butterfly bushes! & It ships all around the globe for surprisingly cheap!
Have you been following the August Guest post series? Check out last week's post on tips for taking nature and garden photos here!