---
It's the last day of October, and starting tomorrow life will shift into full speed holiday mode. When this time of year hits, time for nature and art can be a great release from the rush. And when we think we don't have the time is when we need it more!
I planned to offer you an art challenge of my own design this month, but as we know, plans don't always become reality. Alternately, I pose you some fun challenges I've found. I'll be participating in some of these myself in the next month.
If you have children in your life at work, home, or both, these challenges make great morning journal exercises or nature journal warm ups.
---
Challenge 1: Leaves to Draw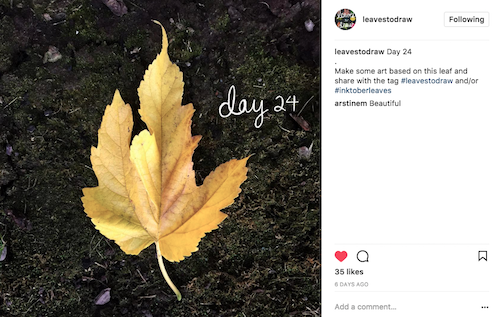 All October I participated in the @LeavesToDraw challenge, which I really enjoyed. It was a photo prompt challenge, a style which I'd never previously seen, but really liked. It offers pictures each day as prompts rather than words. I liked it so much, I'm planning to create one for you even!
Each day of the month, a different photo of a leaf was offered for the participant to create art inspired by the particular leaf. I drew the leaves in my 12 Month Art & Nature Journal's thumbnail sketch page. The page looks super, I think!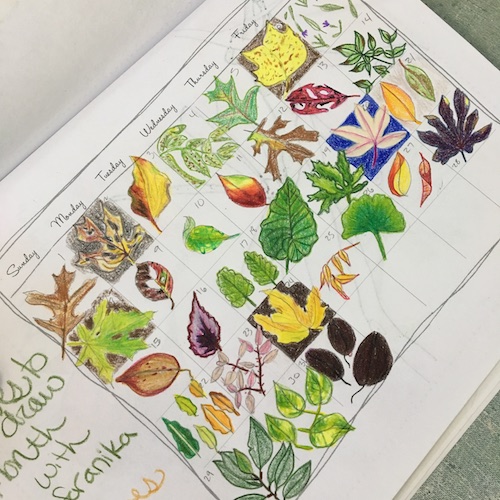 It was fun to have a fall leaf to draw in my little squares – a prompt, but the visual reference was provided for you to copy as I did, or use as a jumping off point. Down here in Florida, we don't get many fall leaves!
Even though this was technically an October challenge, it's prompt images were so beautiful, I thought why not do it in November if you like?
Challenge 2: November Botanical Challenge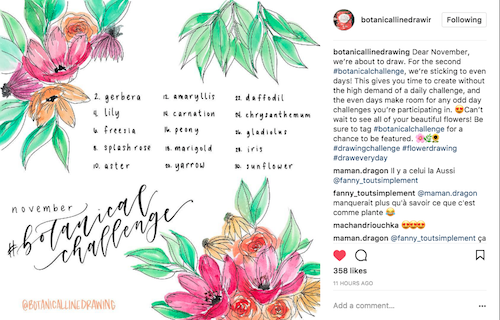 This challenge is offered by @BotanicalLineDrawing. It's interesting because it's only on even days of the month, so less pressure in busy times. Even day drawing prompts also allow you space for odd day nature outings. (You could also document these in a word or sketch perhaps?)
I decided that this is the challenge I'll be doing this month, but I'm going to fill the odd days with nature I discover in the world around me. It seemed like a nice balance, and brain rest.
Challenge 3: November Sketchbook Challenge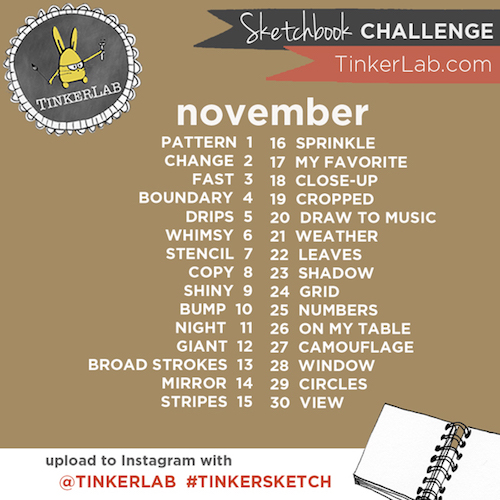 This challenge is less nature centric than the others, but is open ended enough that the prompts could easily be made nature themed with a little creativity. Plus these could be fun prompts for getting creative in ways other ways than drawing – think paint, printmaking, cooking, photo, or collage.
The challenge is offered by @TinkerLab, a great resource for tons of ideas for getting creative with kids indoors and out. Check out the link to their site below for great art challenge participation tips and philosophies.
Challenge 4: Doodle and Lettering Challenge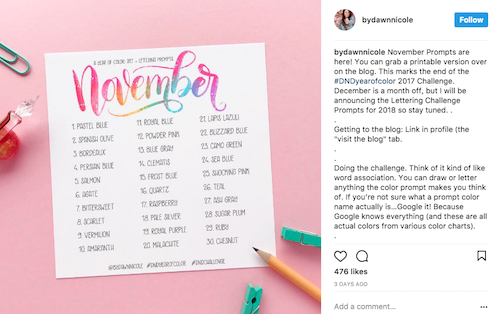 For all you word and writing lovers, this is the challenge for you! Offered @ByDawnNicole, there are some really interesting words here.
They are prompted as names of colors, but many are actually things in nature. So if lettering isn't your thing, use the prompts for nature drawing!   
You could also use these prompts as colors to try to find on your outdoor adventures, then draw or simply photograph the nature object you discovered in the color.
So what do you think?
Does a little challenge sound like a fun motivation to keep nature and creativity at the forefront of life? Will you follow one challenge specifically, or pick and choose what you like from a few and create your own? It's up to you!
If sticking to a month seems like too much at the moment, then join me for an hour of live art making Sunday, November 5! I'm a guest on Kiala Givehand's live Artsy Meet-up!
We'll explore the fun of coloring. I'll even have a coloring PDF for you.
Do challenges help motivate you or feel like another thing on the to-do list?
Share your thoughts in the comments below!
If you choose to participate in a challenge, I hope you'll post some picks on Instagram and #wingswormsandwonder so I can see what you create!
Seeds to Sprout:
Join Kiala Givehand and me in an Artsy Meet-up Sunday, November 5, 1-2:30pm est. Join here for free.
Want to do monthly prompts on your own thumbnail page? Get your copy of the 12 Month Art & Nature Journal book here! Then jump right in!
I'll be live again with the Montessori Foundation talking about Giving Nature for the Holidays November 7, 1-1:30. Join us! It's free!
Check out this Wonder Wednesday 20 post of an inspiring tree tagging Tinker Lab activity here.
Check out this Tinker Lab blog post for art challenge participation tips and ideas.
What's a post on Halloween without a little nature history on the holiday? Check out this blog post I wrote on Samhain (aka what we now call Halloween).
And….. Did you see?