After attending and presenting at 3 conferences in the past month my mind is spinning! Each conference was unique and inspiring in its own way. The NAAEE conference's strength was its deep commitment to the widespread integration of environmental education for all age levels in both schools and informal outlets like nature centers and park programs. The AEE conference's strength was its strong advocacy of promoting experiential education as a means for encouraging learning methods that build character and connection with the subject being taught, community, and place. The Florida Learn Green conference did an excellent job of bringing a wide variety environmental education resources to teachers and administrators in Palm Beach County and beyond (at the amazing price of only $20 per teacher!).
I feel so fortunate to have been able to participate in these events and am looking forward to processing all the new information and contacts I have gathered and sharing them with others. As teachers, we hope to create classroom environments that encourage a love of learning that will sustain throughout the students' lives. When we continue to immerse ourselves, as adults, in situations that encourage new types of learning, we become better teachers because our inspiration for learning and new concepts is ignited and we can relate to the learning processes that our students are going through each day. As life long learners, we level that playing field with our students and remove the idea that we know and must relay information to those who don't know. We can all evolve as learners together and the garden is one place where this can happen on a day to day basis.
Now I realize that if I was teaching full time this year that there is no way I could have ever attended all these amazing conferences. I maybe could have swung 1, maybe. But never fear teachers, there is hope! I have found a great learning resource that will bring all the knowledge of taking a course on gardening at a conference to your living room! The National Gardening Association has teamed up with Longwood Gardens and The National Teacher Institute For Garden Based Learning to offer winter online courses (in addition to their summer courses offered in person at Longwood Gardens). They state their goal is that "Classes provide you with creative and practical ways to augment classroom curriculum, while inspiring a new generation of learners who value plants and stewardship of the environment. Teachers, administrators, volunteers, and community youth educators are encouraged to participate." (citation).
Check out the program for yourself and register here.
The program was "designed to offer educators the practical knowledge necessary for building and sustaining a school gardening program. The course [will]:
Help you create a vision, theme, and garden design
Distinguish the best curriculum for classroom instruction
Assist you in developing a support network
Showcase the benefits of school gardening" (NGA 11/5 email newsletter)

So even though we can't always geographically get to the learning environments we want to, the beauty of technology is that we can balance our primary experiences with online communities and course work that will keep us returning to the garden and natural world for inspiration. I hope that this blog is becoming one of those online places that ignites wonder and the desire to get outside and keep ourselves and the children in our lives learning in and connecting with our amazing natural world. I am really excited about brining the new information and ideas I gained at the past month's conferences to you in these posts and hope that you will take what I found and blend it with your own wonder and inspiration to create new natural learning experiences. And don't forget to let me know about them! I would love to see pictures or hear new ideas from you too! Post them on the Wings, Worms, and Wonder Facebook page and share them with the world today.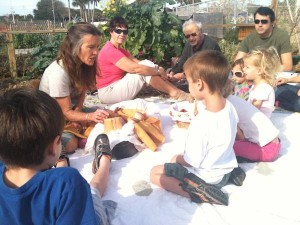 Learning together models for children the value of life long learning.