The equinox was last Thursday and spring is officially here! I even got some sunburn (not on purpose of course) yesterday to prove it!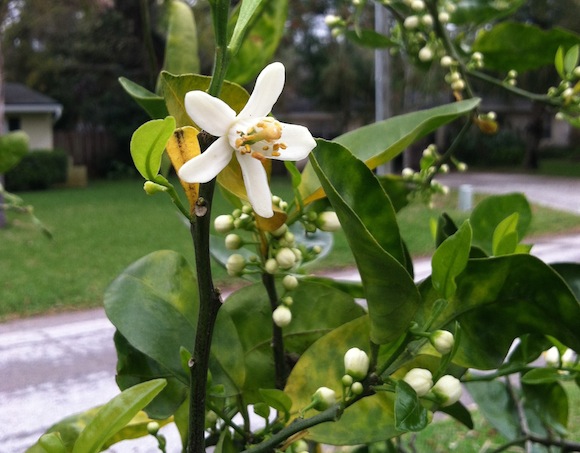 The citrus is heading into full bloom here. That's how I know it is officially spring!
This past weekend, as you know, I was presenting and exhibiting at the League of Environmental Educators in Florida (LEEF) 34th annual conference. This was a great event and, surprisingly, it is the only environmental or experiential education conference/event I have ever been to that was actually in nature! It was held at Camp Ocala, in the south end of the Ocala National Forest on the very clear Lake Sellers. It was so fun because we got to camp out at a summer camp while getting inspired to keep children connected to nature. There was even a group of Canadian high school students staying there for 3 weeks studying ecology and scientific data collection while also connecting to the natural world! It was really a full circle time.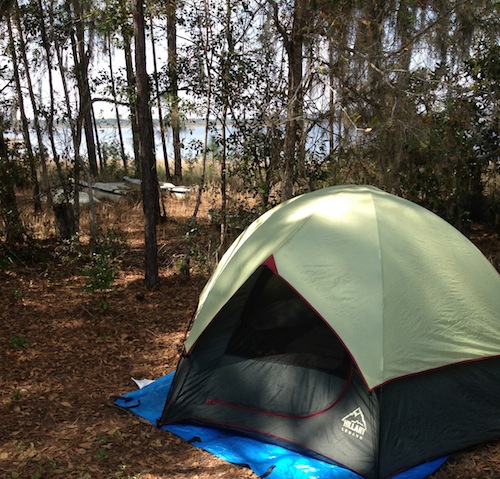 We tent camped, but Camp Ocala also has really nice cabins with heat and AC, bathrooms and showers!
One of the highlights of the weekend was meeting Sophia Marlin from the Belize Foundation for Research & Environmental Education (BFREE). BFREE is a wilderness field station in the remote and biologically diverse Bladen Nature Reserve of southern Belize. Sophia spent the first 14 years of her life immersed in the pristine nature of this region of Belize and is now finishing up high school in the states, and helping promote the great opportunity her parents offer at BFREE at events such as LEEF. She is a living example of the confidence and ease that a life immersed in the natural world brings. Her parents started BFREE in 1995 because they wanted to help save tropical rainforests, and as we and they know, hands-on experiential education and sparking wonder is the best way to do that!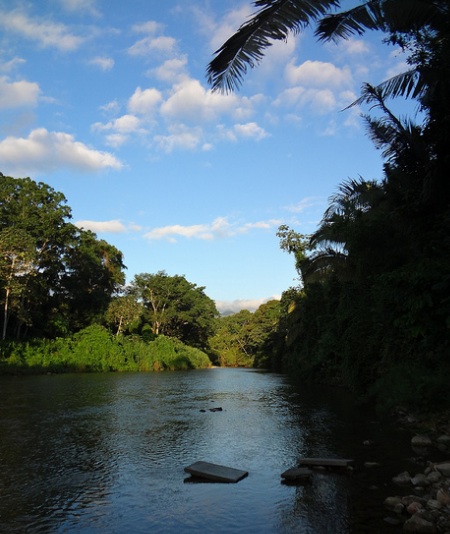 The Bladen River (Photo credit BFREE)
BFREE opens its doors to researchers, educators, conservationists, students, and volunteers through personalized programs that connect humans to the wonders of the rainforest through ecotours, research, environmental education, and conservation of the Maya Mountains, with an additional focus on sustainable development and alternative livelihoods for locals. They are full circle supporting the wildness of nature and the humans that live harmoniously within that wild. They will even arrange for local home stays so you can really get an idea of what it is like to be from the rainforests of Belize!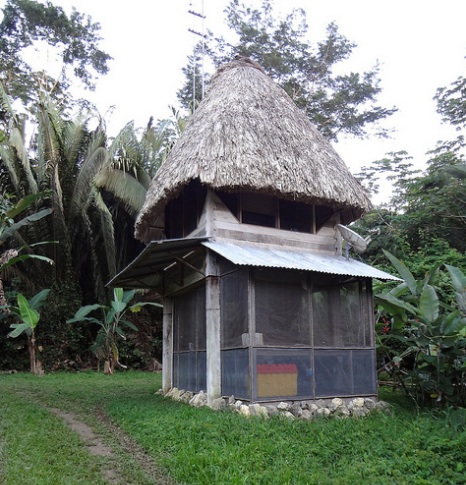 The BFREE "command central" with solar powered internet and everything! (Photo credit BFREE)
When travel blends with purpose, the experience is so much more rich. Sophia described to me how she would watch the people who came to BFREE change. Their wonder was sparked and their eyes were opened to a new way of living and being. She's a pretty insightful young adult I'd say. Those are the aspects of travel that you can't put a price on, and the aspects that inspire lifestyle changes that support social and environmental responsibility.
Belize is a great jumping off point for international and Central American travel experiences because English is the first language. This small factor can really make students traveling for the first time abroad more comfortable. Could BFREE be the location for your next big school trip? I was in Belize in 1994 (when I was 17) and it was such a wonderful place. I have memories from Belize and of connections made with wild nature there that have definitely shaped me into the person I am today. I think it is about time for me to go back, and this time I am going to BFREE for sure!!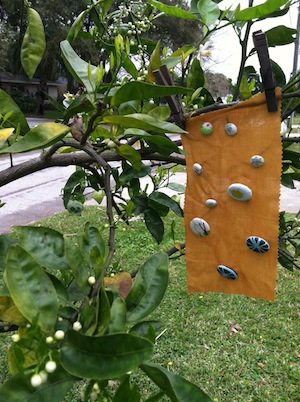 And the winner is……
So for all you newsletter subscribers, The spring Equinox prize winner is Louise Leonard! Congratulations! Remember all you have to do to be entered in the seasonal newsletter drawing is subscribe to the newsletter!
 Where in the world has your wonder been life changing-ly sparked?
Is there an aspect of nature that you feel drawn to educate and advocate for? Why?
Share with us in the comments!
Seeds to Sprout:
Arrange a hands-on day or overnight learning experience at Camp Ocala for your students! (All ages!)
Spread you wings and head further abroad! Check out the different programs BFREE offers for students and teachers! Watch this super inspiring short video of all the wonders of BFREE (but be warned, have your credit card ready you will be booking a trip ASAP!) I'd say this is more of a high school and university level excursion.
Do you live in Florida and want to learn more about local environmental education resources? Check out LEEF!
Learn more about Sand Hill Cranes and hear their unusual call here at All About Birds!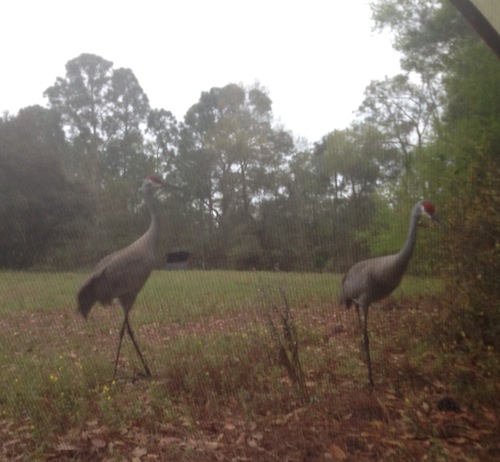 Did you know that some Sand Hill Cranes migrate to central Florida in the winter? Neither did I! I was lucky to see and hear this pair all weekend at Camp Ocala as they camped with us. They even came to wake us up Sunday morning! This shot was taken through our tent screen so sorry it is a little dark. Their red caps and long bodies are so cool!!