---
Today, a respected colleague said how as teachers, it's important to get students thinking about what they are doing rather than offering a "Just Add Water" experience.
She said she appreciated how my approach to teaching was not
"Just Add Water."
What a timely compliment in a world of quick fixes, sound bytes, and shallow connections!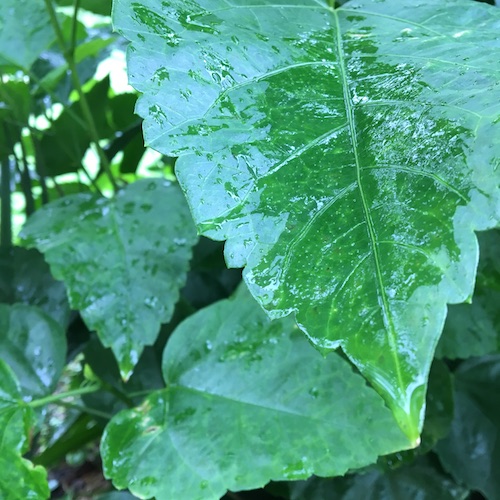 I had mentioned to this Montessori group I'm in how I'm perplexed as to the low to no enrollment in my in-person art classes, even though I offer classes that people have told me they want to take. Based on the teeny bit of feedback I've gotten (from people who decided not to sign up), all I can deduce is this –
I offer a – teach a person to fish so they eat for life, rather than a give a person a fish so they eat for a day – type of way.
Perhaps people want to just show up, paint a picture, and go home – aka "eat for a day" style. There is nothing wrong with that and there are plenty of those classes out there.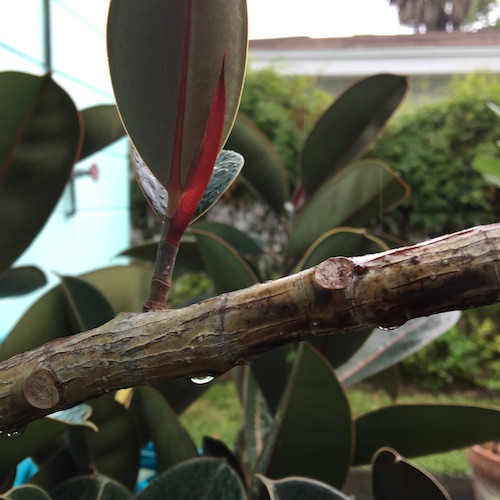 But for me, having the students buy and bring their own art supplies – an inspiring process and commitment in itself – is an important step. Then teaching them the skills and techniques in which to use those supplies for creative expression inspired by nature, offers a person the ability to "fish for life."
Or, in this case, using art as a means to connect with nature for a lifetime filled with wonder and beauty.
Then they return to their lives to spread their wonder and knowledge, rather than one person benefitting on just one day.
The drive to learn is something I love about teaching children. They crave new skills that they can apply in so many ways to their lives. They try, apply, fail, and try and apply repeatedly until they succeed.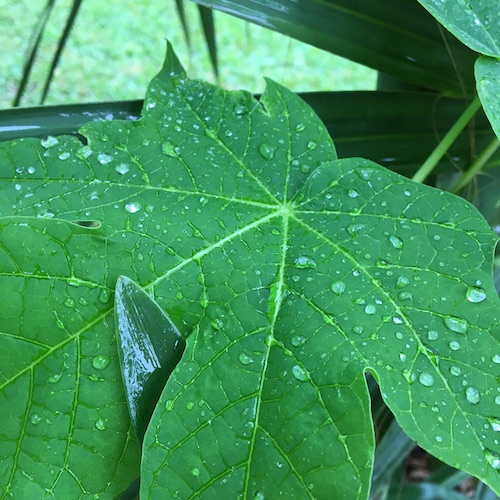 Adults seem more apt to avoid investing in learning new skills for fear of imperfection. Why is that?
Is life too busy? Too stressful? There are too many abandoned hobbies already filling up the closets? I'm not sure. Another wise colleague once said….
"People won't always buy what they say they want."
A gem of wisdom here to apply for sure. I've learned this lesson about a thousand times over the past 6 years of trying to make a small business based in nature, education, and art successful! (Haha! I sure chose the trifecta of under valued and compensated fields, right?)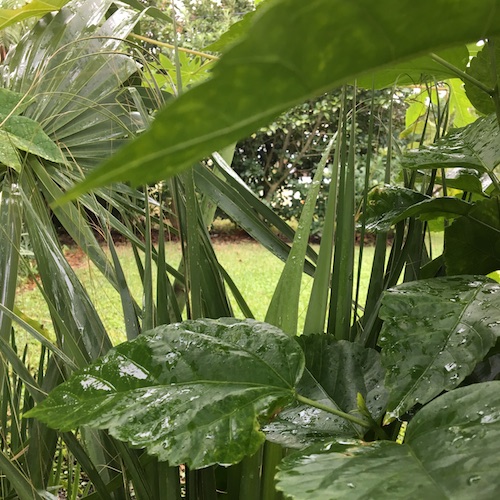 After a 6 month full force foray into the world of teaching in-person art classes locally, I think I will take a break.  I'm going to direct my heart back to my online classes and new writing and illustration endeavors – things humans of all ages can use to go deeply into their creative nature connections at their own time and pace.
And speaking of slowing down to creatively connect…
I am more than ecstatic to announce that I have FINALLY completed the Nature Journal Prompt Card Deck Edition 2!!! It took a while, but I got there! And Y'all, it looks amazing! My mind is blown!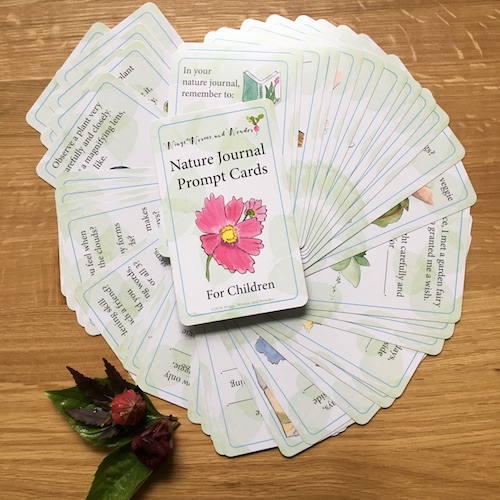 What's new about this 2nd edition you ask? Well…
*It's now professionally printed on high quality slick thick card stock
*It will be available for purchase Print-on-Demand (Aw Yeah international friends!!!)
OR
*Purchased through my Etsy shop (This option will be the enhanced version with a hand sewn drawstring pouch and some extra goodies like a little journal, etc. I'm not sure all the details on this yet.)
*New card size – 3.5×5.75 – and all are printed on both sides
*All 36 prompts are updated as well as are the fonts
*The title is updated to the "Nature Journal Prompt Cards for Children"
*It comes with a Starting a Nature Journal Practice ideas pamphlet to help parents, teachers, and community leaders get the most out of using the cards, as well as still includes the "Title" and "Reminder" cards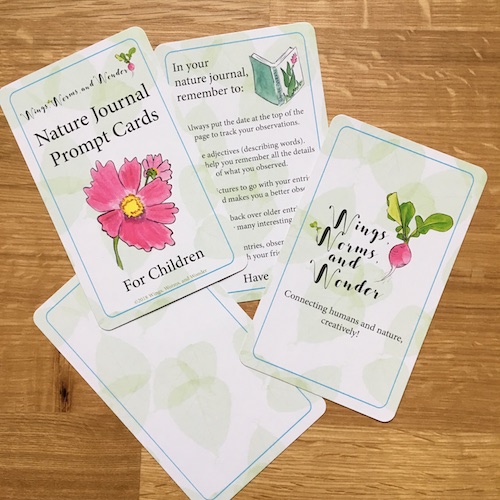 *The deck comes in a custom printed box to make it easy to take your cards on the go and to keep them organized
*It comes with 4 blank on the front "Make Your Own" Prompt cards so you can create some regionally specific prompts with which to connect to your nearby nature.
*The Using Nature Journal Prompts eCourse, Edition 2, will be updated and FREE with purchase of the Edition 2 deck as an additional resource!

I am so excited to get the new, improved, updated 2nd Edition out to the world!

These decks will be awesome gifts for:
*Teachers
*Homeschoolers
*Children who love to write stories and nature journal
*Those looking for creative activities to do together as a family
*The Young at Heart
*Those who work at nature centers, gardens, arboretums, and museums
*Anyone who loves nature!
Get your decks starting Wednesday November 21!!
I'll send you a reminder with the links once they are ready!
---
To whom would you give a gift of creative nature connection inspiration?
Share in the comments below!
Share pictures of your nature journaling on Instagram #wingswormsandwonder
Seeds to Sprout:
The Wings, Worms, and Wonder Holiday Gift Guide is coming 11/21 – Along with an Etsy shop sale special! Make sure you are subscribed to the email list to get all the holiday specials! Just head to the top of the sidebar to your right or CLICK HERE to join!
I'm also thinking I'll do a live event later this month – stay tuned for details. The info will come out in the email and on social media so be sure you're following me on Instagram @wingswormsandwonder
Thank you to everyone who supported the Art Bundle for Good this past week! Isn't Courageous Kitchen such an awesome organization? I'm so happy to have been a part of art making the world a better place!
Who are these wise women offering me such great thoughts today? Well Tammy Oesting of ClassrooMechanics Montessori Trainings and resource offered the "Just Add Water" advice and Mayi Carles of Heartmade offered the advice about the fickleness of clients