Roses. They have so many meanings and can conjure up so many different emotions from fussy aversion to pure romance. However you choose to look at roses it is undeniable that they simultaneously smell delicious and carry baggage. Now that it's June, let's take a minute to celebrate Rose Month and all the beautiful roses that are and will be blooming!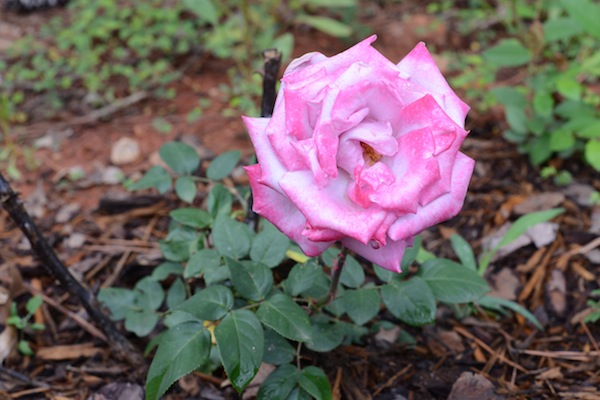 All these rose plants are growing in North Carolina and were gifts from an old friend to his wife–they keep giving and keep him in good standing! I was inspired to create this post from taking these pictures of their roses.
My first experience with roses was in my grandmother's front yard. I used to like to catch the iridescent Japanese beetles that were so attracted to them, much to many gardeners' dismay. As a teenager, I learned that roses were edible from a friend of my parents's who is a recipe consultant when she brought us over a rose petal salad to sample. As an adult working in a nursery, I learned of the trials and tribulations of growing roses in the humid Florida climate from our snowbird customers. I also learned how much pesticide and fungicide is used on the average non-organic rose and took note to never eat non-organic rose petals!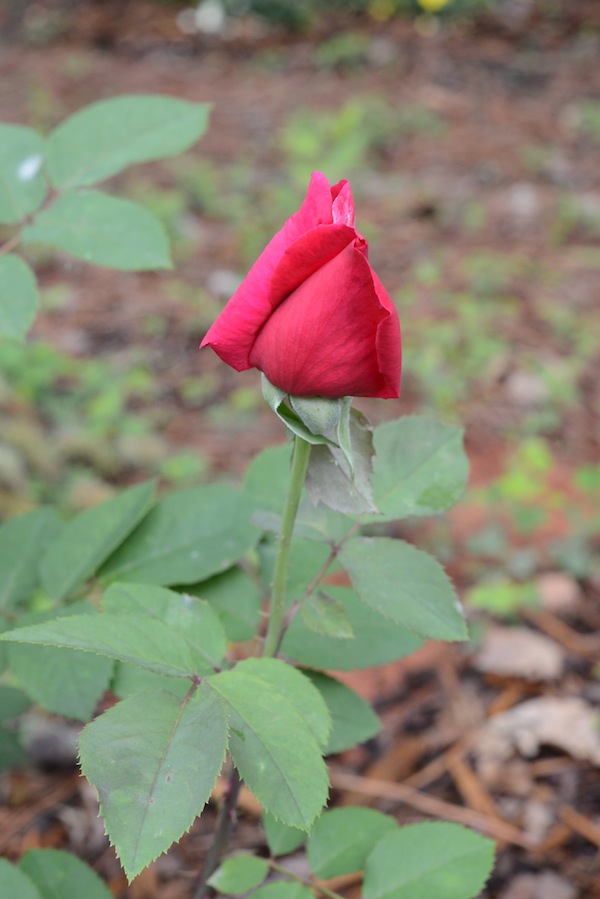 The classic rose 
Roses are native to the continental United States and remember, no matter what any old schooler says, you can grow roses organically. If you are planning on using them in salads or any recipe, be sure you know their origin. Most roses from your average florist are grown with pesticides and I do not recommend eating them. Grow your own and you'll never have to worry!
A former co-teacher once won a grant that awarded her with about 15 rose bushes that bloomed outside her classroom door throughout the year and she pretty much didn't do anything to them beyond a little pruning and watering. We always had fresh roses to smell and enjoy at dismissal. If you choose to grow roses, I'd recommend doing a little research on the best heirloom varieties for your area so you can get plants that best meet your needs whether that be blooms, fragrance, or easy care!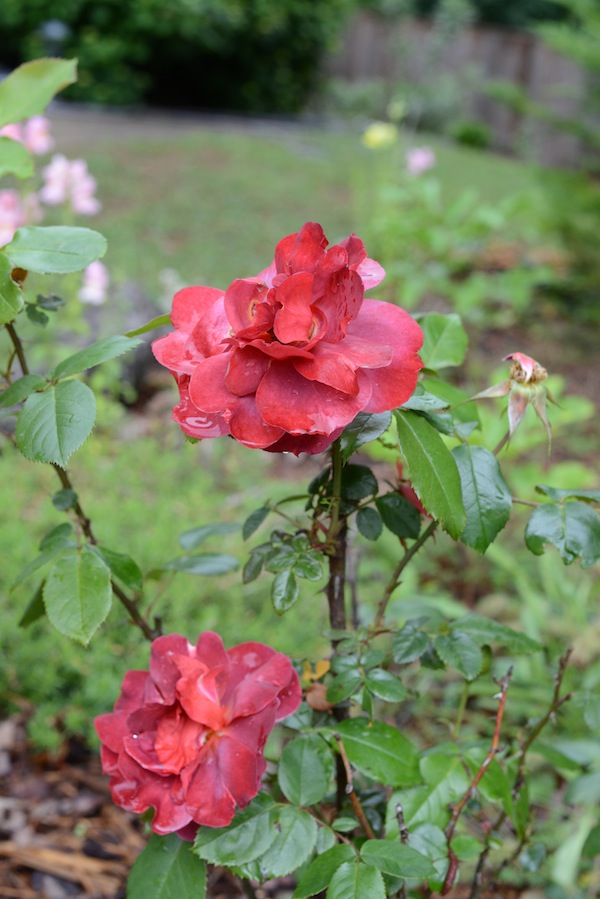 I like how ruffly these are.
Did you know that roses have been playing a role in western culture of over 2000 years! Before the introduction of the common hybrid tea rose to late 19th century gardens (the dawn of fussiness), roses were mostly valued for their medicinal and culinary uses (super common). Rose water is easy to distill and in olden times was a ready flavoring in most temperate climate households. Roses are used in syrups, pomanders, conserves, as sugared petals, the buds can be pickled, the hips are high in vitamin C, and historically the purpose of a rose boutonniere and corsage was to ward off illness through rose's aromatherapeutic properties.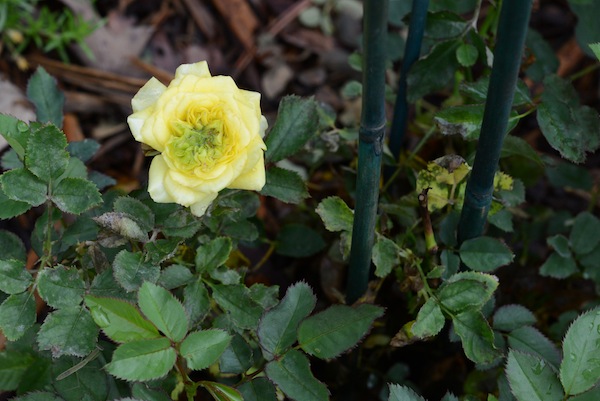 First blooms of the season
Symbolically, throughout western history, roses have represented: lust, purity, corruption, and the spilled blood of innocents (Yikes!) This symbolism contributes in part to the baggage that rose carry, especially around a certain February holiday, I think. The rose has also been used to represent goddesses Isis and Aphrodite. 
A red rose (often held in a hand) is a symbol of socialism or social democracy: it is used as a symbol by British, Irish, French, Spanish, Portuguese, Norwegian, Danish, Swedish, Finnish, Brazilian, Dutch, Bulgarian and other European labour, socialist or social democratic parties, mostly adopted in the period after World War II. The White Rose was a World War II non violent resistance group in Germany. In the United States, the rose was named the floral emblem in 1986.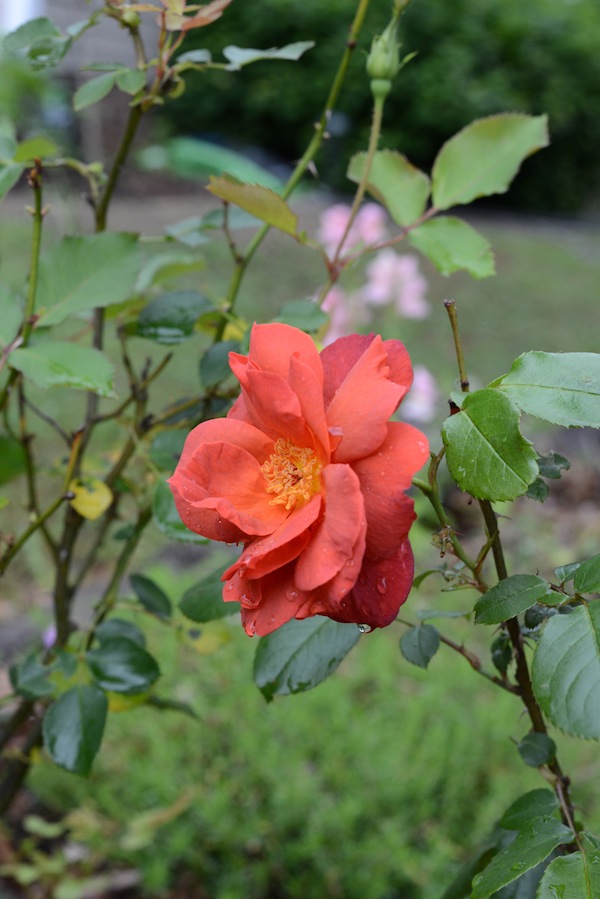 I love the raindrops dripping off this flower's petals.
How do you feel about roses? How do they connect you to place and memory?
Seeds to Sprout:
Celebrate National Rose Month-some ideas and info
Organic Gardening's Rose Craft recipes for rose water, potpourri, and jelly
Moroccan Carrot-Rose salad recipe (I like to up the rose water in this for a more fragrant taste)
Earth 911's 10 uses for wilted roses
Uses for and properties of Bulgarian  rose oil
Rosa damascena (Bulgarian origin) properties versus Rosa rugosa (Chinese origin) from Mountain Rose Herbs