Okay, so you know how excited I normally get about nature journaling, right? Well multiply it!! Today, I have some really cool journal inspired possibilities to share with you!!
First: I want to VIP invite y'all to check out the How to Art Journal website and join the Journaling Journey! Kiala Givehand, the creator of the site and art journaling coach extraordinaire has rounded up a few of us to contribute to the blog (as I mentioned before) and as a kick off we have created a journaling journey that you can join for free!! This is a great intro into the world of creative journaling – or if you have already been journaling , this would be a really fun journey to explore different journal spread techniques.
Sneak peek!! Here is my finished nature journal spread from the Journaling Journey!
The way the Journaling Journey works is you go to the blog, sign up for the updates and you will get a free video via email that teaches you how to make a really fun and simple easy stitch art journal. At the end of that email you get a link to the next journaler who will teach you a technique they particularly love so you can begin filling up your journal. After each technique you learn, you will be given a link to the next! I am the 3rd. In my video we get to spend time in a canoe, see how I nature journal, and then try a journal spread of your own inspired by my style. By the end of the journey the entire journal you made in video 1 will be filled and you will have a lovely piece of art + 6 new techniques with which to inspire the children in your life to journal! Fun right?
Here's my easy stitch journal I learned how to make in the first video of the How to Art Journal Journaling Journey. I added a ribbon and button to my binding and matched my cover decoration to them. 
This is such a fun project to do this time of year as seasons change and old year gives way to a new. It is such a wonderful way to reflect on time, life, relationships, experience, and dreams! The journal is also a great way to take time out as holiday life revs up. It is an excuse to turn inward and enjoy nature through nurturing your connections with yourself and your natural world.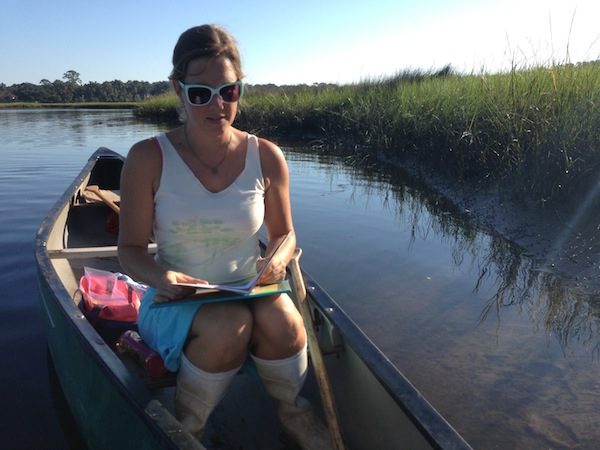 See I am really in my canoe! My journals include nature history facts, illustrations of varying botanical correctness, and my impressions of the nature I am relating with.
Second: This one is still in the works, but I'm so excited about it I wanted to tell you. I am especially excited about this for my public school teachers. I discovered that nature journaling provides you the end or the means to meeting every one of the K-12 writing standards!!
I am not a fan of the standards and have spent a lot of time purposefully avoiding them, but I know they are a reality of many teaching experiences, so I have decided to create materials that will show you how through the writing standards you can integrate outdoor learning into your class everyday!! Yay!!! Art, creativity, and nature in schools everyday!! Keep your eyes on the blog for the release of these awesome new materials and resources!
This garden discovery could be a fantastic writing prompt for fiction of nonfiction! What is the relationship between the snail and those mites? WHat are those mites and are they helpful or harmful in the garden?
Third: I am offering new workshops based on using nature journaling and school gardening to meet the K-12 writing standards! In these fun hands-on teacher workshops I'll come to your school and together we will explore all the ways  the school garden can work for you to meet your standards requirements. At the end of each workshop, you will leave with an entire 9 week unit that ties writing to your school yard and garden based on the theme of the workshop!
Themes currently include Exploring Science, Art, and History with Beatrix Potter, School Gardens are Write On, and Exploring the Versatility of Nature Journals for Meeting Writing Standards.  Email me and let's get a workshop set up at your school!!
 Which new teacher workshop would you choose?
Or have another workshop idea?
Let me know in the comments below!!
Who should you ask about setting up one of my new workshops at your (or your child's) school?
Seeds to Swap:
Join the Journaling Journey and  be sure to share your How to Art Journal journey spreads on Instagram @how2artjournal and #wingswormsandwonder your nature journal spread
Did you see this link I posted on social media this weekend? if you are still looking for some educational halloween activities to do this week, check out these 19 STEM based Halloween projects
Have you checked out all the ways we can work together? No, well it's not too late! Let's get together and get more gardening into your home, school, or community!
This box turtle in the garden bed would have inspired a week or more worth of writing and research inspiration for my students! How about yours?