Day 3 of the Draw Deeper Into Nature Interview series. Isn't this great so far? So inspiring!!!
Today we meet tropical plant lover
Jenny Kiker of Living Pattern!
And today we also have our live session at 12 noon est!! I hope you will join!
We'll be chatting nature journaling and creative connection PLUS we'll do a painting activity! AND I'll be giving away 3 free gifts, including spots in the course!! Register quick! Just click the link below!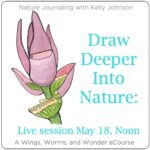 If you missed the live session, still be sure to comment on every post in this artist interview series so you can be entered to win a Spot in Draw Deeper Into Nature!
Okay! Back to the interviews!!
Let's get to know Jenny!
1. You have such a wonderful way of expressing of the feel of tropical plants. How did you come to know these hot weather plants so well?
I grow most of my inspiration now but when I was a kid, my grandmother always took me had me helping in the garden. I was drawing since I was 6 and drew plants for practice but did[n't] really start to combine my two passions until I was in my 30s.
Me too! I learned the gardening from my grand parents in Virginia, always made art, but didn't relate the 2 until I was in my 30s too! And we are both alumni of the same art school and transplants to Florida as well!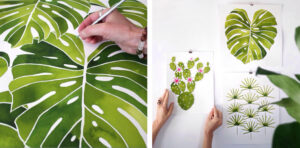 2. What's your process for creating one of your images – giant or small – from sketch to finished piece?
I always draw on tracing paper. I like the way the pencil moves on it and it makes it easier to refine my lines. Then I make tiny marks on my watercolor paper and begin to paint. I always mix my own colors too. The most important part of painting is finding the right color.
So true. Finding the right color and discovering your palette is so important to developing your style and inspiring you to get into the flow of painting.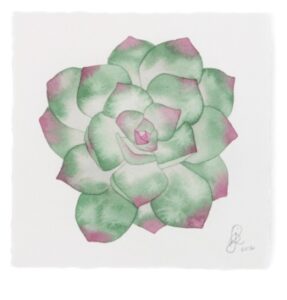 3. What tips do you have for nature journal novices on working monochromatically on foliage and keeping such fantastic depth and detail?
Practice 🙂 lots and lots of practice.
I hear that! Nothing replaces time spent with pencil or brush observing, experimenting, learning and practicing!! And of course celebrating all the successes and surprises that happen when you are making art regularly. It's easy in our instant gratification modern life to forget the importance of practice time.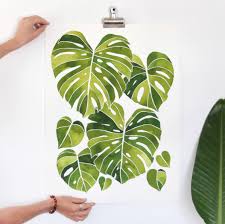 4. What type of watercolor do you like best and do you do any sort of masking or outlining to get those awesome crisp edges?
No masking fluid. I keep the brush parallel to the direction I'm going and try to stay calm and meditative.
Your crisp edges are such a gorgeous compliment to the looseness of the interior of the leaves. That contrast is where the magic happens.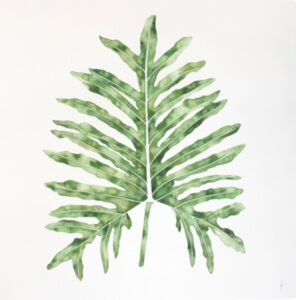 5. What's your favorite smell in nature and is there a story why?
My favorite smell on nature is creek. Something about the algae in the water and moist air makes me feel like home in North Carolina.
Isn't it so comforting how a smell can make us feel like we are at home. SO powerful!
Jenny's BIO
Jenny's creative process starts with a combination of drawing from observation and imagination. She lets the subject inform where the line wants to go and how it wants to feel. Color is the emotion in her work. The ink is free to deepen and soften, just as color would in nature.
Jenny has grown Living Pattern as a way to connect herself and her audience to the still delicateness of nature and to themselves. It is a learning process that changes day by day. "If you'd like to refer to me as
@livingpattern
, you absolutely can! It has grown to be my pen name."
Jenny likes tracing paper, what material do you like to do your sketching on? Share in the comments below!
Share pics of your nature sketches on Instagram #wingswormsandwonder so we can see!
Comment on every post interview this week (May 16-20) to be entered to win a free spot in Draw Deeper Into Nature!
Winner announced Monday May 23!
Seeds to Sprout:
Check out Jenny at @livingpattern
Follow on Instagram here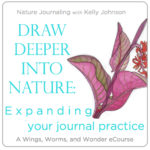 Be sure to register here for the live event Wednesday May 18 at noon!!! I'll be giving away 3 prizes including a spot in the course!
Learn more about Draw Deeper Into Nature and register here
Or if you are new to nature journaling, Watch info videos and register for Draw Deeper Into Nature and the Draw + Draw Deeper Bundle here!
Early bird pricing ends TONIGHT!! May 18, at midnight est!!
The Draw Deeper Into Nature eCourse Starts May 23, Registration closes May 28!