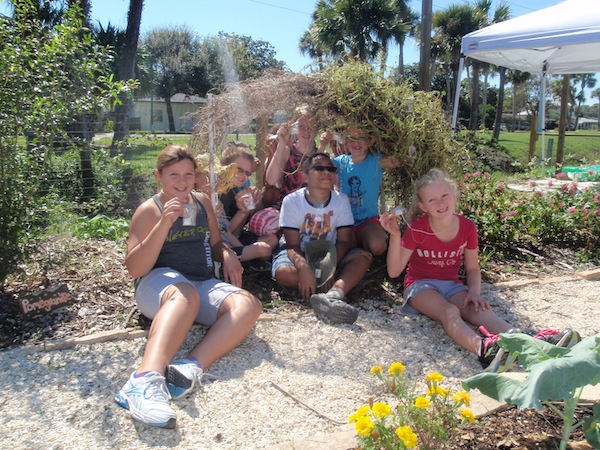 What is that super fun looking project around those children's necks? You're about to find out!
Today I have a surprise for you!! This week's posts have been pretty link based, and on one hand I feel like I should apologize for not offering you super inspired content, but on the other, I think that sometimes it is ok to go light and focus on offering opportunities that you may not have had time to seek out. I like to keep it fresh, and different times of year (and life) call for different things. Besides you are busy writing those grant proposals to meet Friday's deadlines right? You don't have time to be clicking on all kinds of new info this week!
It has been a busy past 2 weeks for me too with 2 out of town conferences, 3 out of town guests, an out of town vacation long weekend, a sick partner, an earache for me, a super exciting secret project that I will let you in on by the end of the month, and taking a 21 day course on streamlining and organizing routines. Staying on top of things has been challenging, but rewarding! These busy times of year make us appreciate balance. I also think that we are maybe more productive when a lot is going on because it requires us to hone our organization and time management skills.
And now………..Surprise!!!!  I created Greenhouse Necklace Kits!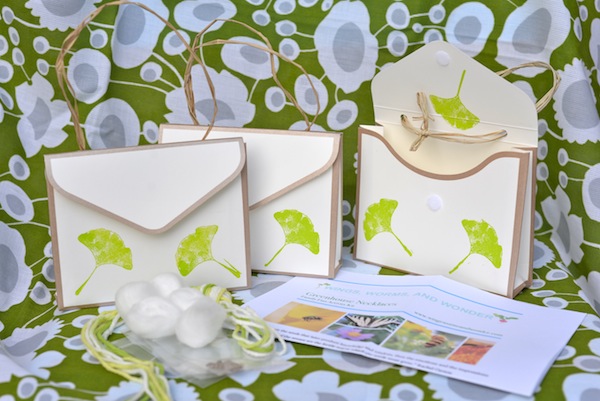 Have you seen them in the shop? Did you see them debut in person at the Learn Green Conference Monday? These are small group  (or family size) kits  that come with the instructions for leading a Greenhouse Necklace creation activity, extension activities and recipes, and all the supplies you need to create 5 greenhouse necklaces packaged up in a cute little pouch! These kits would make great gifts for Xmas, Hanukkah, and Kwanzaa because they are inexpensive, fun, earth friendly, and are something to do with family and friends rather than just more stuff!
This is a little experiment that I am doing to see what y'all think of kits based on some of the lessons in the book, so weigh in. I am also considering creating classroom kits, so if you would be interested in a classroom size kit, email me and I can create one custom for you!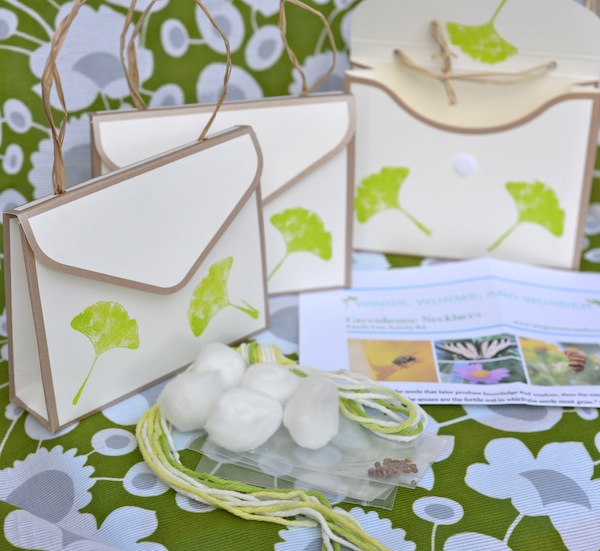 And finally, to thank you for all your continued support online and in person, I have a little offer going on through December 31 on the Etsy shop. If you buy a book and a kit, enter the coupon code StockingStuffer2013 (sorry about the Xmas spin on that code) and you will get a 10% discount! Yahoo!
What do you think about the new kits? If you like them, share a link on your social media sites and Pinterest boards!
Tweet me if you would be interested and maybe I'll make some class sets up for the Etsy shop if there's enough buzz! (or of course you can send an email or comment on this post)
Seeds to Sprout:
Get your Greenhouse Necklace Kits while supplies last! This run is a limited edition!
I couldn't resist just a few more professional development ideas to round out the week–
Check out Green Teacher Magazine's free webinars! More coming for 2014… (It's a great magazine too with lots of lessons and activities!)
The Institute for Humane Education also offers workshops and online courses–"Humane education is a lens, body of knowledge, and set of tools and strategies for teaching about human rights, animal protection, environmental stewardship, and cultural issues as interconnected and integral dimensions of a just, healthy society. Humane education not only instills the desire and capacity to live with compassion, integrity, and wisdom, but also provides the knowledge and tools to put our values into action in meaningful, far-reaching ways so that we can find solutions that work for all."