And the winner is……
Kryste!!!
Congratulations!! Your name was drawn from the group of people who commented on every post in the Artist Interview Series to win a spot in Draw Deeper Into Nature! Check your email for an email from me with details!
And giant thank you so much to everyone who played along! Your thoughts and memories, experiences, and plans are all so wonderful and I thank you so much for sharing!!
I hope everyone got as much inspiration from these wonderful artists as I did, and do!
AND each of these 5 artists are specially featured in the Draw Deeper Into Nature eCourse and some are participating – Which opened today!
Want to keep up the creative nature inspiration, join the fun with this course?
(registration closes for good Saturday, so act now!)
Over the 4 weeks in the course we explore: 

* refining & growing nature journaling and art techniques,
* deepening nature connections,
* developing personal aesthetics and styles,
* experiencing the joy of practice,
&
* we connect with our breath,
* experiment with new media and techniques,
* and offer gratitudes to the nature we love
+
* we spend time with a community of like minded creative seeking deeper meaningful connections with the nature outside our many doors.
In the course you get:
*4 video art tutorials to develop new skills, techniques, and mediums
*4 art or nature connection audio tutorials to deepen connections
*A bonus nature printmaking tutorial
*Extension resources for each tutorial and week 
*4 art exercise challenges to develop your techniques
*4 outdoor creative connection challenges
*8 featured nature artists to inspire you
*4 live sessions to talk about your process, connections, share journals, and ask questions.
*Access to the course for the life of it.
Awesome right?
So much creative nature connection fun!!
Share what you'd like to learn about nature journaling in the comments below!
Seeds to Sprout: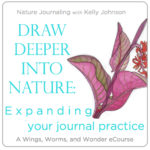 The Draw Deeper Into Nature eCourse Starts TODAY, Monday May 23, Registration closes May 28!
Or if you are new to nature journaling, Watch info videos and register for Draw Deeper Into Nature and the Draw + Draw Deeper Bundle here!