Developing a strong connection to place during childhood is incredibly important for raising children who grow into adults that are invested in both their communities and their natural world. Progressive educators recognize that place-based education not only fills environmental education's curricular gaps, but also doesn't carry the stigma of environmental advocacy biases. Basically, it is keeping children connected with the natural and built communities of which they are part. So, I am very excited to off you this interview today with place based scholar (and my good friend) Samantha Hutchinson and  tomorrow's Wonder Wednesday lesson plan is one of Samantha's own!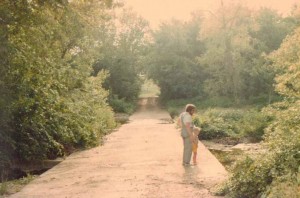 Photo of Samantha and her dad (catawbabean.com)
Samantha grew up in the heart of the Ozarks where she spent her childhood running and exploring the mountains. When reflecting on her connection to the Ozarks she describes her relationship as a "fish that knows I am swimming in water" and states that her narrative is in the "trees, plants, and animals around me." She works hard to help her students and community members recognize their connections to place and change the culturally perceived stereotypes of southerners portrayed by the mainstream media. She provides a voice for the Ozarks in the global online community, using her 5th generation knowledge, through social media as a venue to "reengage with indigenous information…presented in a palatable way" that she hopes will encourage the reader (Ozark resident or not) to connect with their environment. Through her online work she explores historic the Nature-Study theme of science versus sentiment by looking at southern agrarian philosophy, what it means to be southern, and what it means to derive life, love, and inspiration from the land. Samantha believes that  the 3 things she does best are to "write, inquire, and create." I definitely agree!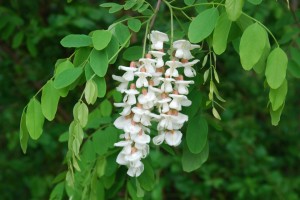 Honey Locust (photo by Samantha Hutchinson)
Through her physical teaching and online engagements she hopes to help high school students develop social media and web skills through bioregional journalism and place-based study. On top of this amazing work she runs a regionally focused Etsy shop, creates a blog and podcast, is an artist and writer, and  last but not least is a mother of 3!
What do you suggest that someone do to begin to connect themselves, their children, or their students to place?
Discover the botanical gardens, hiking trails, and museums in the area. I have always enjoyed engaging with my local community as a tourist. I research my area through travel sites and area chambers of congress and use that information to plan "tourist time". It's a fun change of perspective and has often resulted in amazing discoveries. I often encounter people who have lived in the same region for years, who have never been to any of their local attractions, yet they are acquainted with places outside of their regions. It's great to travel and explore other regions, but it is vital to explore your region. Local libraries are excellent resources for families and individuals on a budget. Participating in local organizations offers great connection to the local community and instills civic pride. It is a great opportunity to develop social networks outside of work. I once came across a piece of advice on how to live like a wealthy person that recommended volunteering for local events because it gives you free admission and a chance to hob knob with the movers and shakers in your community. I have found this to be very good advice.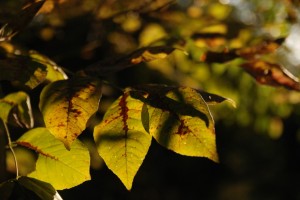 Autumn in the Ozarks (photo by Samantha Hutchinson)
Do you have a favorite place-based lesson that you've taught to your students or children? What makes it your favorite?
For a sophomore geography class we did a letterboxing project. After studying the five features of civilization, I asked the students to collectively invent their own civilization. We then created five letterboxes that provided clues about the five features of their invented civilization (we also included a clue about how a person could find the next letterbox) and we hid the letterboxes at different locations in our community. I enjoyed this lesson because it engages all seven intelligences and there is a potential for collaboration. The lesson could be taken farther by engaging other classes to locate the letterboxes and attempt to decipher and explain the invented civilization. By doing that, several classes can gain a more integrative perspective on how humans interpret their pasts. Geocaching could certainly be incorporated as a means of reinforcing mapping skills. Younger classes should be considered, because it is a lesson that would work well with 6th to 12th grades.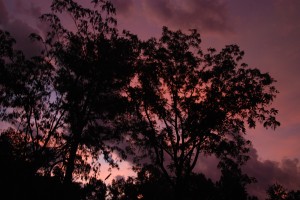 There is NO was (photo by Samantha Hutchinson)
Do you remember a particular childhood nature experience that sparked your sense of wonder and helped form your environmental ethic?
I don't have a particular nature experience in childhood because my entire childhood was spent in nature. I grew up with the saying: "We live so far back in the sticks, you have ta pump in sunshine!" I was a wild child with stringy platinum hair, scabbed-knees, and I always had river water sloshing in my ears. I always had to be, wanted to be; in the dirt, in the woods, in the creeks, and in the river.
What is your favorite smell in nature and is there a story why?
Southern dirt. Because whenever I travel, especially by car, I can always smell home on the east side of Tulsa. Dirt in the American South has a very specific, rich smell.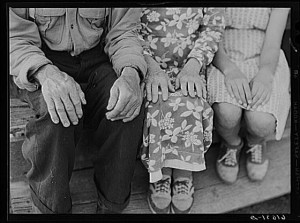 Image of an Ozark family (photo credit Library of Congress)
I hope Samantha's dedication to place has inspired you to look at your place and how you teach place a little differently. She is a great inspiration to me for sure! Check out Samantha's lesson plan tomorrow and learn more her sites below!
Seeds to Sprout:
Samantha's website Catawba Bean
Her wonderfully irreverent environmental collaborative podcast Ecohyphen
Her Etsy shop Hillbilly Hoarders where she offers rare vintage finds from deep in the Ozarks.
Her Pintrest boards Catawba Bean and Samantha Becker-Hutchinson
More resources on Place-based education
The Place-Based Education Evaluation Collaborative resource page.