If you've been on social media or read the newsletter the past week, you've probably noticed that I've been living it up in Chicago at the American Montessori Society Annual Conference. It's always a treat to get to go to the AMS conference because it is really awesome to see so many people in one place committed to the Montessori Method and working their best to bring its magic to children and families around the world.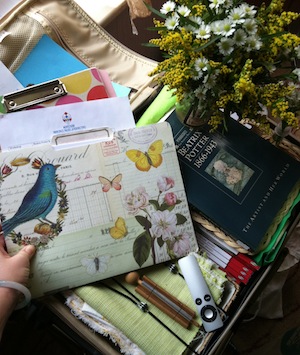 Here's a sneak peak into my conference workshop supply suitcase! I normally travel ridiculously light, but when it comes to conference prep and having a beautiful set up for both my own inspiration and that of the participants, the workshop gets its own suitcase!
Although there were about 3,500 people at the conference, I know it's only a small handful of the amazing people out there dedicated to Montessori specifically, and progressive education generally, who are making learning better for children everyday.
This post is for those of you Montessorians who couldn't make it to the conference and those of you Unschooling, Steiner schooling, Democratic schooling, Radical schooling, and every child development centered methodology in between! And for those of you who could to reminisce on the fun!
Saturday was the day I presented, so I didn't go to workshops that day so I'd be my  super focused best, but Friday and Sunday I went to the full schedule and have a 4 highlights for you! This post is a little long but offers some awesome ideas from the conference, so stick with me!
So I write this to you from my sleeper car on the train as we roll fast through the night, midwestern town lights flashing by, rain against the window sounding like warm static on an old record. Pretty idyllic for sure. Riding the train is self care for me because it is so dang romantic!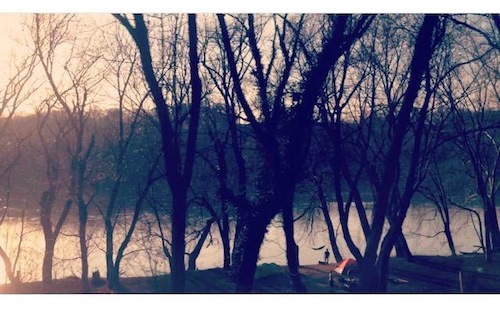 I read that Amtrak will give you free tickets if you write on the train and Tweet about it, so if you're out there Amtrak, I would love free tickets to blog on the train, or better yet, let's go cross country and I'll work on my next book!
I kicked he conference off with a workshop and a keynote on social and emotional intelligence, which I thought was really awesome that these topics were being explored. The workshop, Supporting Social & Emotional Well being in Students, Colleagues, & Yourself looked into understanding the type of school climate and culture that you want to be in, the importance of active listening, growing empathy, self awareness, self management, and relationship skills.
This one really hit home for me because this kind of personal preparation and self care work is something I am really conscious of and when I was teaching I created important boundaries with my time and my to school and home from school transition routines.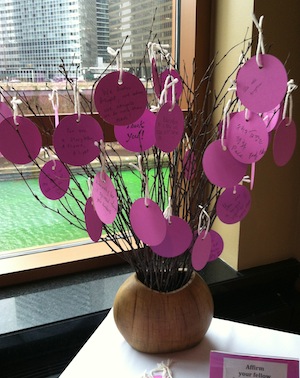 This little tree was on the Peace Table at the conference. It is a place to hang compliments, encouragements, or inspiration for your friends, family, or colleagues. All you do to make your own is: get a little tree or vase of branches. Cut out shapes, string them with loops, and put in a basket beside the tree. Then, depending on whether you make this for home or school, students or family members can leave special compliments, encouragements, or bits of inspiration for each other by writing on one of the shapes and hanging it on the tree. A fun caring activity!
Montessori stresses the importance of the preparation of the teacher which is one of my favorite aspects of the method. It is so important, yet so easy to overlook or push to the back burner. When we aren't prepared professionally, and even more importantly, physically and mentally for the day, we aren't at our best to serve the children.
The presenters, Eric Dustman and Jeff Groh, stressed the importance of SEW: Social & Emotional Well-being for teachers, staff, and students to create a happy and healthy school culture. The 5 aspects of SEW as laid out by casel.org and aligned perfectly with Montessori's Learner Outcomes are:
Understand and manage emotions

Set & Achieve positive goals

Feel & show empathy for others

Establish & maintain positive relationships

Make responsible decisions
When we embody these behaviors, help the children learn to do the same, and allow SEW to become a part of our personal and school cultures and actions, we can create truly meaningful educational and professional experiences.
Obviously this is a really in-depth and important topic, so I'm going to create another post on that focuses on more details of SEW and nature connection coming soon!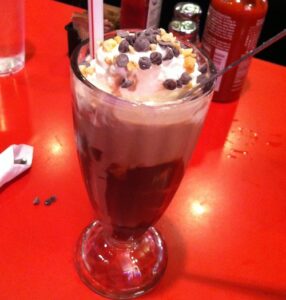 Another way I self care is seeking out delicious vegan treats in cities where I travel! This was part of my breakfast today at the Chicago Diner, a classic staple since '83 on the vegan tour! Vegan chocolate peanut better milkshake with hot fudge and whipped cream! (Don't worry, I drink coconut water with seaweed greens every morning to be healthy too.)
You know me, so of course I attended a couple nature and gardening related workshops! The first was "Getting Back to Nature with Erdkinder" by a secondary teacher who spoke about his experiences teaching and his school's program. For those of you not in the Montessori world, translated from the German, Erdkinder means Earth Children.
Montessori stressed that in the physically and emotionally tumultuous time of adolescence, the youth need to be immersed in nature.
She envisioned boarding schools on farms where the students engaged fully in the practical work of running a farm including the physical aspects, but also the quiet, fresh air, and peace of nature immersion, as well as the economic and academic learning. While presenter Jarrett Murgolo's NC school is not a boarding school, the secondary teachers and students do go on week long farm stay excursions beyond running their school permaculture gardens and chicken coop.
Their program revolves around ideas of Gardens, Wellness, and Community service with focuses on recycling and composting, no waste lunches, healthy eating programs using locally sourced whole foods, gardening and food production (which they sell at farmers markets for their micro economy work), and community service building within the school and wider community.  Sounds pretty fantastic right? I wish I went to that middle school!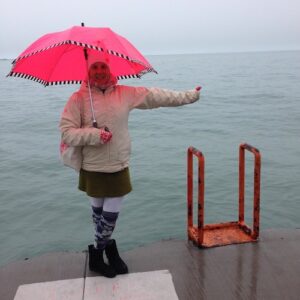 It may be chilly and windy, but with the right prep every day is great for discovering nature. Today I visited Lake Michigan, my very first visit to a Great Lake. It was so beautifully blue and so big it looked like the ocean!
I followed that up with a workshop by friend Jayne Cobb and Mara Fulk "An edible Outdoor Environment for Every Climate." This was so wonderful because not many people are helping teachers discover the right veggies to grow at the right time for their school gardens. This is one of the main things I stress in my book, as well as work on with schools in consultations.
As a beginner, it can be really tough knowing what to plant when depending on where you live and how the growing season aligned with your school year. Jayne guided participants through understanding their climate zone and how that effects gardening as well as the all the great opportunities a greenhouse can bring to a school garden in both warm and cool climates.
She also spoke on soil conservation which is perhaps the most important thing you can do for your garden – and it opens a world of exploration for the students! An understanding of soil effects everything in the garden from watering and feeding schedules to harvest yields and pest issues.
Jayne presented a fantastic quote by a farmer friend of hers that, along with her workshop and a new book I bought at the conference, inspired me to create an upcoming post on soil for you! I don't have his name, but farmer friends says in response to a question once asked to him about when to water,
"Touch the soil.
If you connect with the soil, you'll know when to water."
And that can't be more true. I promise you will know once you get to know your soil and the plants that thrive in it!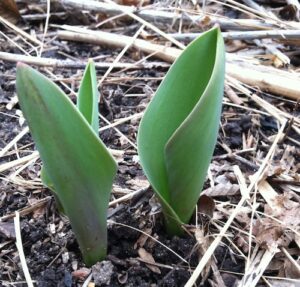 I noticed around the Chicago how designated planter areas on the sidewalks appeared to mulched with chopped Xmas tree branches, which I thought in its own right was a great and attractive idea, but turns out they were keeping bulbs warm from the snow! The branches were removed yesterday and voila! Looks like spring is here!
The final workshop of the conference was pretty out of left field for me and a 3 years ago I would have NEVER gone to: "'Improv' Your School", presented by teacher and improve actor from Taiwan Matt Bronsil. In the past 2 years I have become secretly enamored with Improv. 
I've been to a few improv shows and read a book on public speaking by an Improv actor where I learned about the cardinal rule of improv,
"Yes And…"
I love this idea because if you apply it to your daily life, you allow space for so many interesting opportunities to sprout! So I headed to this workshop hoping to learn more about "yes and…" and perhaps try a bit myself. And I did!! It was a blast. Super fun and spontaneous, but also a great way to really keep your thinking sharp!
I'm not saying that I'm going to drop it all and become and actor (I wouldn't subject you to that!), but I'm really understanding the value of how improv techniques can help you be prepared for whatever life throws at you – and that in and of itself is a fantastic form of self care and perfect for working with children!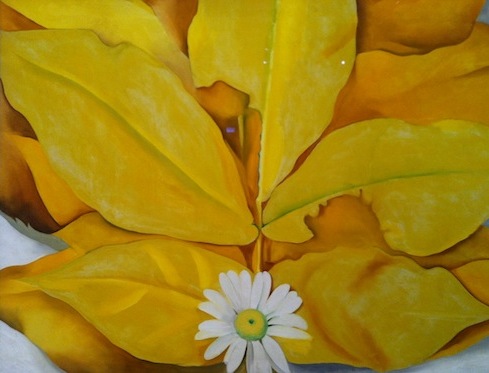 Visual art is probably more what you would expect of me over performance art. Sorry no pics of me improv-ing!! Getting out to museums, soaking up inspiration, and in this case seeing top notch paintings I've only seen in art history books is another way I engage in self care a home and away. This is a Georgia O'Keefe.
Keynote speaker psychologist Mitchel Adler said in his talk "Thriving Together with Emotional Intelligence,
"When we feel good about ourselves, we have more to give to others."
So whether it's through little messages, gardening, improv, and any and every other form of self care, be sure to make, AND TAKE, the time to do the things that help you feel like the best form of you. You and the children in your life are worth it! What a great theme for an education conference!
What is your favorite way to take care of you? Do you have a favorite technique for making the time? Share in the comments below!
If you were at the conference, share your favorite take aways in the comments below too!
Be sure to tag your fave self care idea pics on Instgram #wingswormsandwonder
Seeds to Sprout:
If any of these workshops (or mine on teaching ecological literacy through the lens of Beatrix Potter) sound like something you'd like to hear for yourself, check out the AMS website and see about getting the recording. I'm not sure if you have to buy the whole conference set or if you can get them individually.
Want to learn more about Montessori's Ideas on Erdkinder? Read her book From Childhood to Adolescence of which the Erdkinder Essay is part. It's a fantastic book for understanding the developmental needs of the teenage transition. Or check out this article from the North American Montessori Center.
Has your curiosity for Improv been sparked? Check out Matt's work with using improv while teaching english in China on his website Montessorimatt.com. Then check out his improve group to see and learn some improv games you can do yourself at Taichungimprov.net
Spring Sale this weekend!!!! Join the newsletter today to get the details, discounts, and be entered to win a spot in the Journey Within eCourse! It's at the top of the right side bar! Easy! and get my eBook today when you join!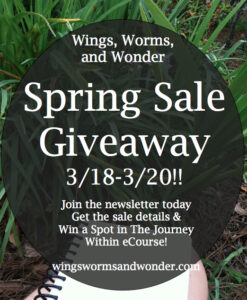 (Feature image background painting by Monet taken at the Art Institute of Chicago)